VW I.D. BUGGY is an all-electric dune buggy you have to love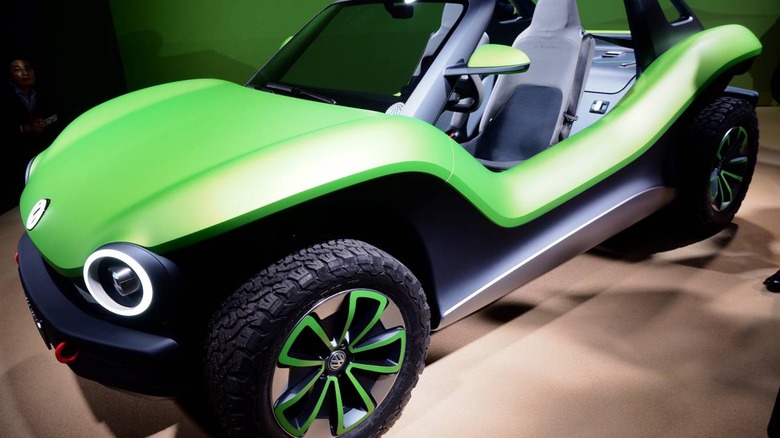 Electric cars can be earnest, sensible, and green, but Volkswagen is taking the opportunity to show EVs can just as much be silly, playful, and neon green, with the VW I.D. BUGGY concept at the Geneva Motor Show 2019. The latest in the I.D. family – and, like its siblings, the latest to use Volkswagen's modular electric drive matrix (MEB) platform – it's a reboot of the classic sixties dune buggies.
Back then, the dune buggies were based on another unexpectedly flexible architecture. That was the chassis of the Beetle, with its four-cylinder boxer engine at the rear. With a third-party fiberglass body added, you had just about the most fun you could experience on the beach.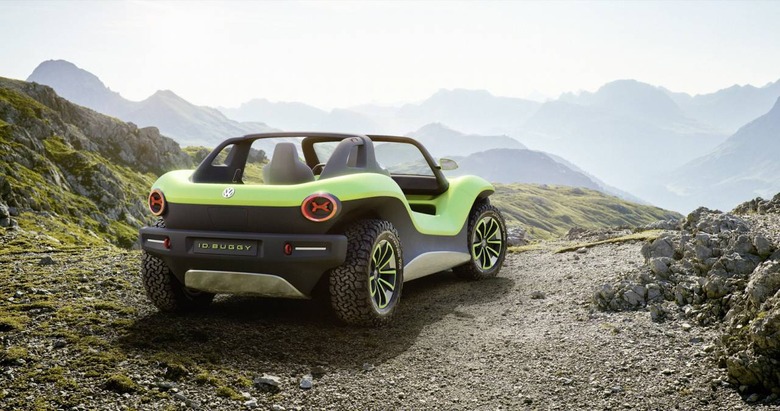 The 21st Century BUGGY
For the I.D. BUGGY the concept is similar. In its case the modularity comes from the MEB architecture underneath: VW's platform gives plenty of flexibility, whether for a front- or rear-wheel drive vehicle, all-wheel drive, different battery sizes, and different body styles.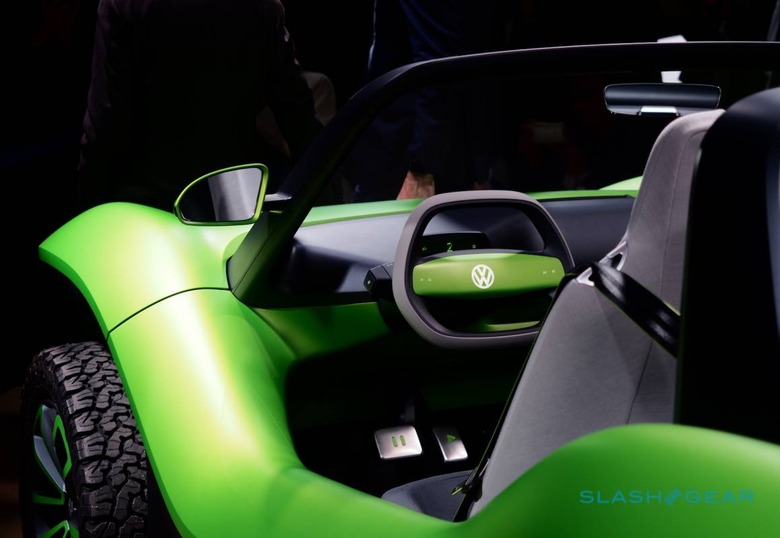 For the newest Geneva concept, it's a rear-wheel drive setup with a 62 kWh lithium-ion battery mounted in the floor. That, VW says, would be enough for 201 horsepower dan 155 miles (on the European WLTP cycle; US EPA range would be lower). For the I.D. BUGGY concept specifically, VW has then added a two-seater body on top.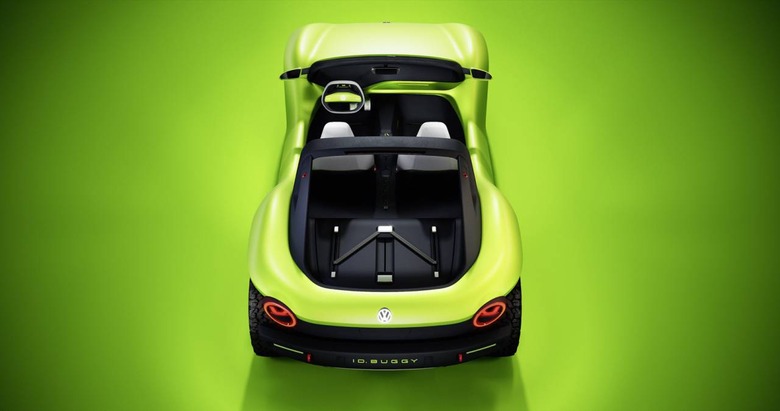 However it needn't always be that way. The BUGGY could just as easily have an additional electric motor, for example, added to the front axle. That would make it all-wheel drive.
Alternatively, it could have a 2+2 seater cabin attached, giving space for up to four. More extreme still, the whole composite upper body could be removed, leaving the MEB chassis behind. That would then allow third-party manufacturers to add their own bodies.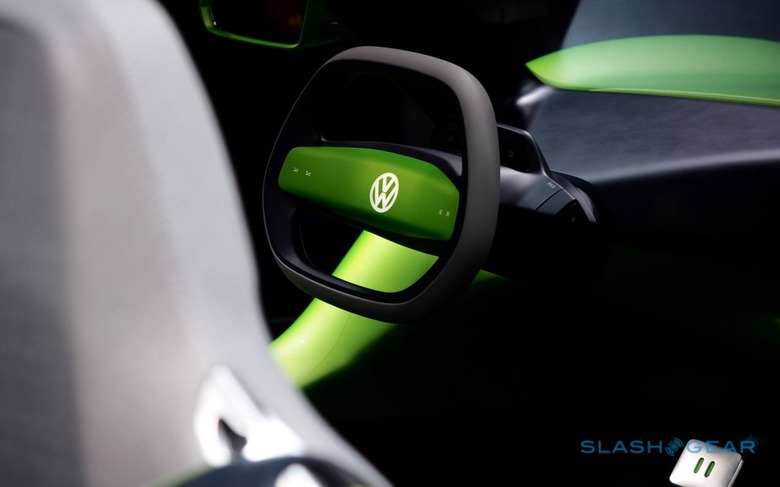 A distinct exterior
That, of course, would mean giving up on the design VW has created, which would seem like a shame given how good the I.D. BUGGY looks. A bulging hood with oversized fenders and a large tail-end tap into classic dune buggy cues, while the illuminated VW badging and oval LED headlamps and taillamps bring the concept right up to date.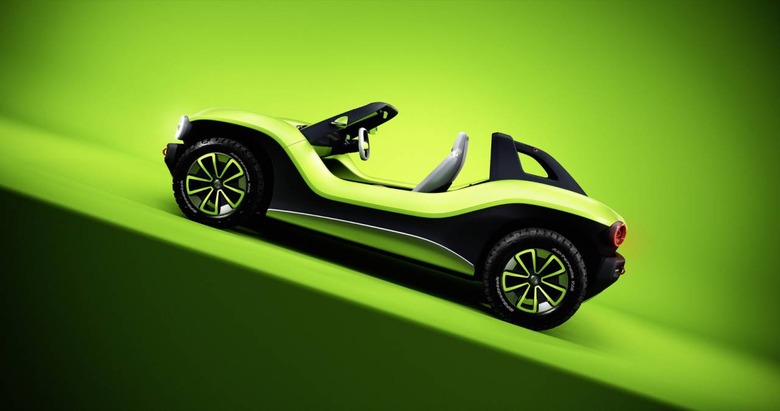 It's been finished in a two-tone paint job. The top half is matte Fern Green, while the bottom is textured Grey Tech Blue. There's a reinforced windshield frame, while the targa bar doubles as a rollover bar. You don't get windows, or indeed a roof, but VW has made a matching black tarp that can provide a modicum of weather cover.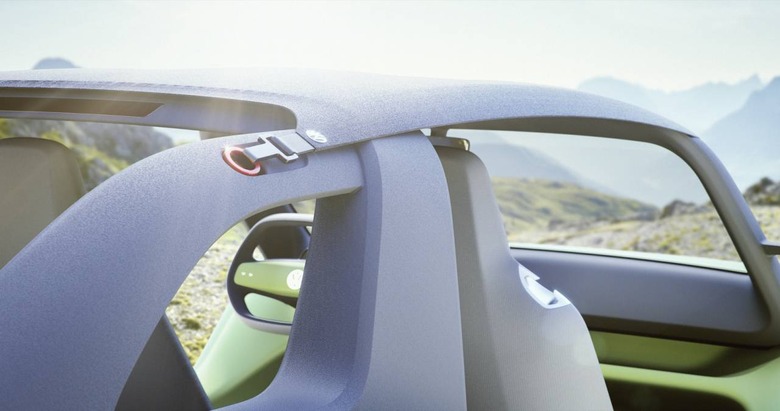 There are more practical details, too. The bumpers have integrated steel eyelets for towing, while there's a solid aluminum underbody guard and aluminum side sill panels to help avoid scuffs or more dangerous hazards while off-road. At 160-inches long, 74.4-inches wide, and 57.6-inches tall, the I.D. BUGGY has a 104.3-inch wheelbase and 9.4-inches of ground clearance.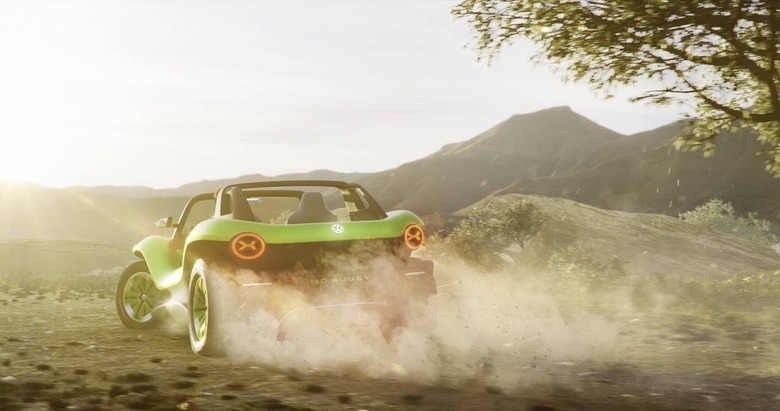 It rides on 18-inch wheels and BFGoodrich All-Terrain T/A off-road tires – 255/55 up front, and 285/60 at the back. They look even bigger given the car's short overhangs.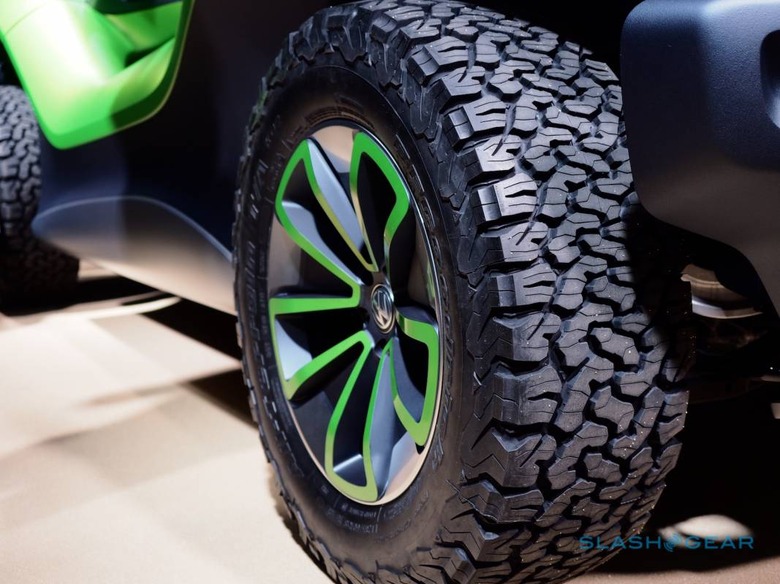 A spartan cabin
Things inside are as rugged and basic as the exterior, no bad thing given the I.D. BUGGY is pretty much open to the elements. Fern Green continues inside, meeting Grey Tech Blue soft-touch paint on the rest of the trim. Anti-slip flooring has been added, and the seats have integrated headrests and belt guides.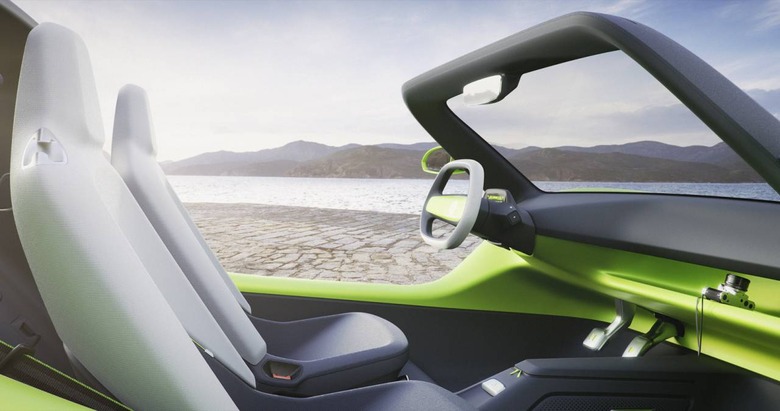 The steering wheel is hexagonal in shape, and trimmed in Nappa leather – thankfully it's water-repellent, too. VW has put touch controls on it as well, and there's a digital instrument cluster for the essentials. A "Hey you" display allows the car to greet its occupants, VW says.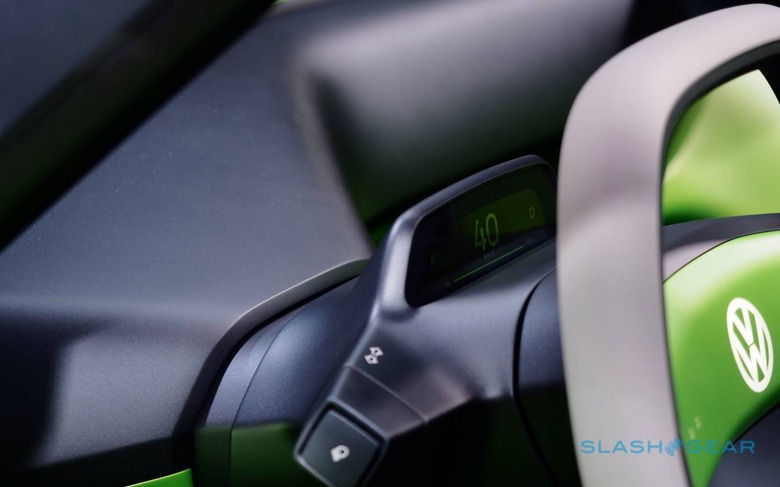 Whimsical style, sensible platform
While the I.D. BUGGY might be playful, Volkswagen is completely serious about its architecture. Just as with the I.D. BUZZ, I.D. CROZZ, and other I.D. family cars, it's the platform that the company sees underpinning numerous electric vehicles from across its portfolio of brands.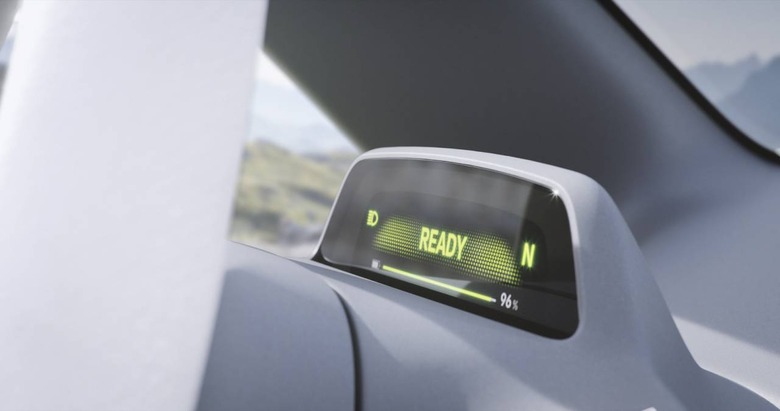 In the case of the modern-day dune buggy, that means 201 horsepower and 228 lb-ft of torque. 0-62 mph arrives in 7.2 seconds, and top speed is electronically limited to 99 mph. If there was a second, front motor added, an "electric propshaft" would distribute the power between the front and rear axles.
Now, the I.D. BUGGY bad news
Right now, Volkswagen is calling the I.D. BUGGY concept just that – a concept. It's intended to highlight the MEB platform's flexibility, not be a car that VW intends to actually make. That seems, frankly, like a missed opportunity.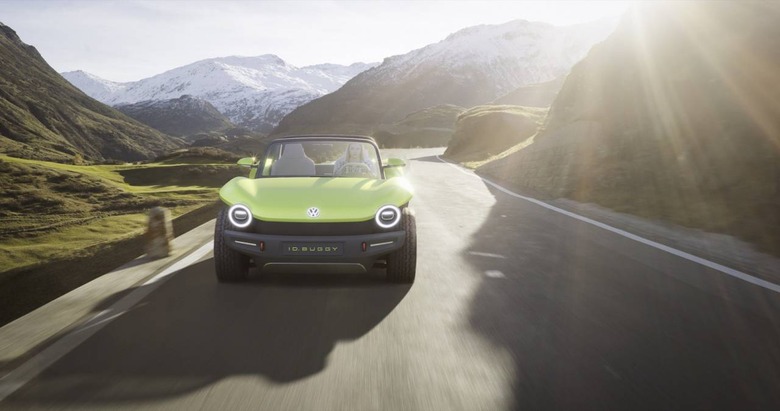 Still, we're not completely without hope. The VW I.D. – also known as the I.D. Neo – started out this whole MEB journey, and has graduated to production form. Volkswagen plans to launch it commercially, and then follow it with an all-electric crossover based on the I.D. CROZZ. With ambitious sales goals for electric vehicles, and the Electrify America charging network growing, it's in VW's best interest to get as many EV options out there on the market as possible.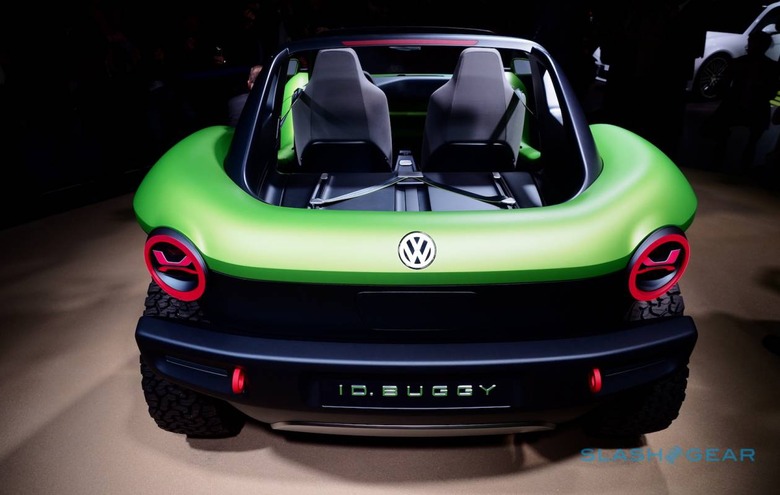 Whether that means the automaker could eventually be persuaded to make a production version of this electric dune buggy remains to be seen. The aftermarket for new bodies on existing electric vehicle platforms isn't non-existent today, but it's certainly in its infancy, and no automaker has really embraced the idea in the way that VW did with the original Beetle back in the 60s. That could prove to be an untapped sales opportunity once the I.D. family has cemented its place in Volkswagen's range.