VW ID.3 holographic head-up display teases the future of EV cabins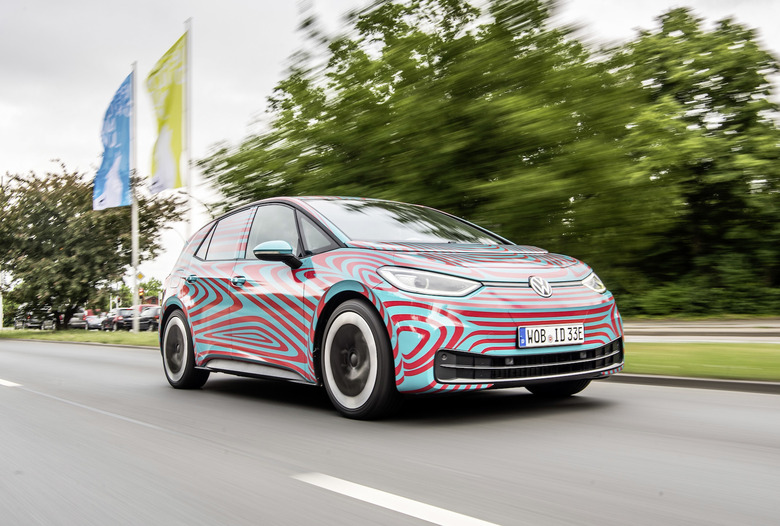 Volkswagen's new ID.3 electric car is almost ready for its big reveal, but VW is already sharing details about the augmented reality dashboard the high-tech hatchback will feature. The ID.3 will be VW's first production vehicle based on its brand new MEB all-electric platform, but it turns out that won't be the only fresh gadgetry drivers can play with.
Announced back in May, the ID.3 will be offered in three variants, differentiated primarily by their range. The most affordable will be under 30,000 euro ($33k) in Germany, and rated for around 205 miles of driving on the European WLTP test cycle.
However larger batteries – topping out at 77 kWh in the ID.3, though other MEB-based cars may offer even bigger – will get up to 342 miles of driving on a charge. VW says that on a 100 kW charger drivers will be able to add around 180 miles of range in 30 minutes. It's also guaranteeing the ID.3 battery capacity for eight years, or just shy of 100,000 miles.
That's all well and good, but it's the dashboard that has had us curious. VW inadvertently teased the interior of the ID.3 earlier this year, a multi-display configuration with the center console topped by a large touchscreen. A second display – with a drive shift knob on the side – handles all the driver's information, with minimal physical controls offered.
What we didn't see, though, was the ID.3's new augmented reality head-up display. That's been detailed by Volkswagen today, and comes on the heels of the automaker snapping up a minority stake in SeeReal Technologies. The German specialist had already been working with VW from the end of 2018.
Though head-up displays, or HUDs, aren't new in cars, VW says its ID.3 system will be a lot more capable. With it, "information will be projected into the driver's field of vision, with direct links to the driver's environment," the automaker promises.
The key is seemingly how SeeReal's system delivers properly scaled depth. Current HUDs are effectively a layer of data floating in the driver's line-of-sight, and typically with a focal length that would make it appear to be floating several feet ahead of the car. With SeeReal's system, though, a holographic 3D display is created. That could potentially take into account the position of things in the real world.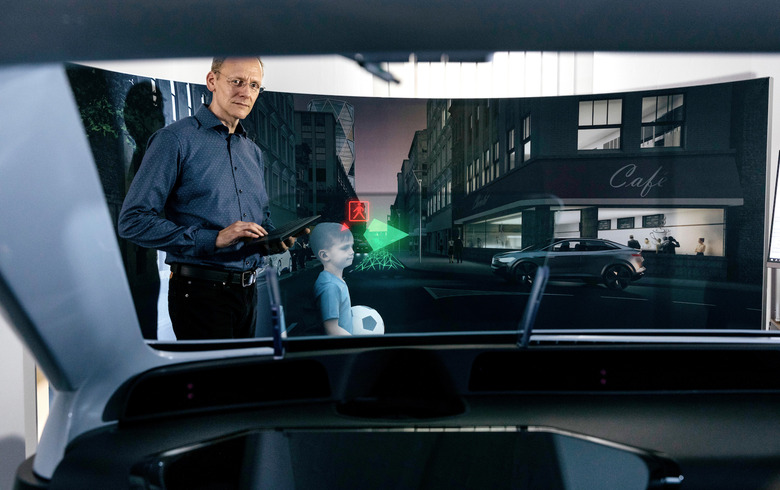 VW could use that for augmented reality driving directions, where arrows perceived by the driver as floating ahead of the car shift in relation to the junction they're indicating. Alternatively, the same AR system could be used to highlight potential hazards that active safety systems identify, or flag possible available charger locations if the EV's battery was running low.
The automaker isn't saying exactly what it plans to do with the holographic HUD in the ID.3, but the possibilities are certainly varied. Later generations of the system, meanwhile, could embed the technology into the dashboard and do away with traditional controls in the process.
"In future," VW suggests, "conventional dashboards may become obsolete and vehicles may be controlled via virtual switches and displays. All occupants would be able to use "touchable" three-dimensional displays with natural vision for information or interaction."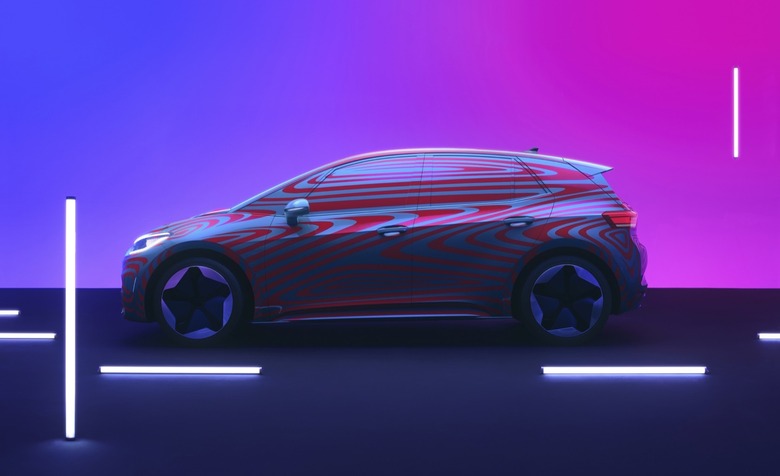 Volkswagen showed off one possible interface that operated in such a way back in May, with the VW Golf GTI Aurora concept. That put a holographic interface of floating controls in the trunk, though at the time the automaker wouldn't be drawn on how long it might be before production versions arrived. "The holographic system can be realized using technology modules that are already available today; it is no longer just in the realm of science fiction," Mark Möller, Head of Development at Volkswagen Group Components, said of the prototype interface. "However, it will be some time before it can be used in production vehicles."
The VW ID.3 will be fully unveiled – without its striking camouflage – at the Frankfurt Motor Show in early September. SlashGear will be there to bring you all the details.