Vuzix STAR 1200 augmented reality headset hands-on [Video]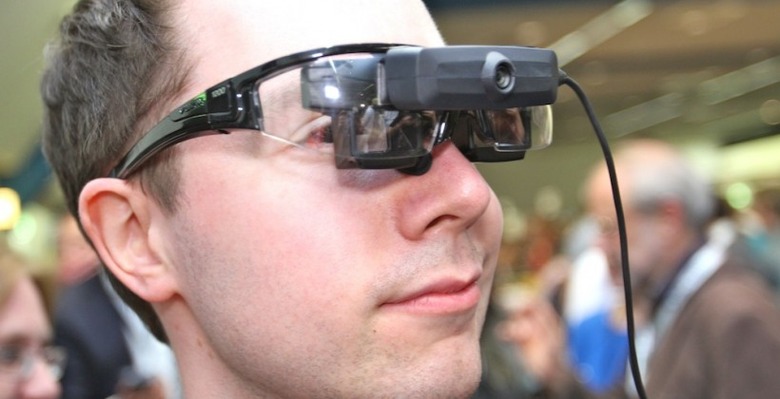 Vuzix has demonstrated its latest augmented reality (AR) glasses for the first time, the Vuzix STAR 1200 (See-Through Augmented Reality), intended to drive development of personal head-up displays. Shown to SlashGear at ShowStoppers during IFA 2011 today, the STAR headset is a development of the WRAP 920AR we tested all the way back at CES 2010; however, the STAR system uses a pair of transparent 852 x 480 displays that allow you to see the real world with computer graphics overlaid on top.
Those displays mimic a 16:9 aspect 60-inch display viewed from 10 feet away, but it's the camera and sensors that make it particularly special. As well as tracking 6-degrees of freedom with the same plug-in motion sensor as offered for the Wrap 1200, the STAR set has a front-facing 1080p HD camcorder. The camera is removable, with a pair of screws underneath, allowing you to use the perhaps more discrete camera integrated into your smartphone instead.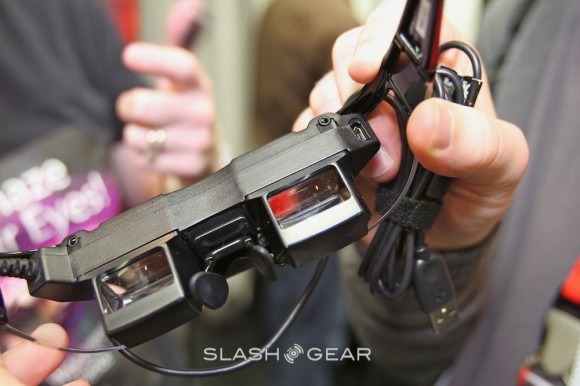 Just like other Vuzix headsets, you can individually adjust each eyepiece to suit various levels of eyesight (or wear them over glasses, though it's a clunky and heavy option and we felt like it might slide off at any moment) as well as adjust the nosepiece and tilt the eyepiece section inside the glasses frame. Audio output is supported too, while inputs include composite and component for hooking up to a PMP or DVI and VGA for your computer. USB is used for the AR software, and Vuzix says most apps – as long as they have the right connections – should work with the STAR.
Vuzix STAR 1200:
[vms 369e16ea3f9117ca4515]
Sadly we couldn't actually test that, as Vuzix didn't have anything set up to actually feed AR data into the STAR 1200. Right now there are apparently only two such headsets in the world, one at ShowStoppers and another in the US. Unfortunately, Vuzix is targeting the STAR 1200 headset at developers looking to push AR software and services, rather than the general public. That adds up to limited availability when it begins shipping in the next few months, and a $4,999 price tag. We may have to wait a little longer before AR gets integrated into our regular glasses, but hopefully the STAR 1200 will help pave the way.