Vuzix WRAP 920AR eyewear hands-on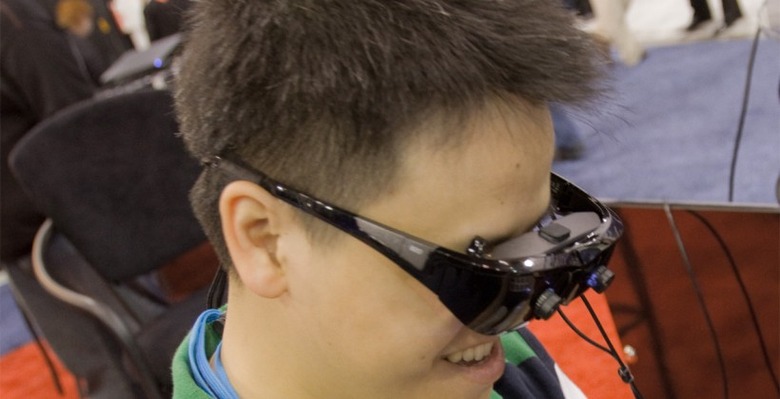 Do you know what's difficult to demonstrate on video?  Vuzix's WRAP 920AR augmented-reality video headset, that's what – after all, while to the outside observer  you could be merely enjoying some hands-free media playback from your PMP, in actual fact the eyewear is blending together a real-world view with computer-generated imagery on a virtual 67-inch display.  We caught up with Vuzix to try the 920AR headset out, and collared Michael Kwan to pose for some photos and a brief video.
The system basically incorporates a set of Vuzix's WRAP 920 eyewear while the two cameras together create a 1504 x 480 image that can be viewed in 3D.  A motion-sensor tracks movement – including exact X/Y/Z position and roll/pitch/yaw – and moves the on-screen display according to your head movement.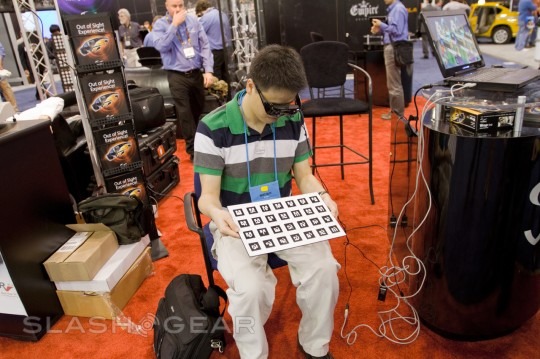 In their demonstration, Vuzix had the 920AR hooked up (via USB 2.0) to a laptop, and handed us a board of AR glyphs which the software could identify, track and overlay with different graphics.  Those graphics moved around in sync with head movements.  Of course, the practical applications are pretty much up to the PC and Mac developers to whom Vuzix are hoping to bring on board; the obvious use is gaming, and we saw two similar systems – from the University of Singapore and Scope – last month.
However, since you could feasibly walk around with the 920AR headset in place (and not trip over) there's also the potential for more futuristic heads-up display use from a wearable computer.  The responsive performance of the Vuzix system has us wondering about when we'll be able to connect our smartphone and have not only AR apps like Layar overlaid onto our everyday viewpoint, but floating SMS, email, IM and Twitter alerts too.
The WRAP 920AR headset will go on sale in Q2 2010, priced at $799.99.  Vuzix also tell us that existing WRAP eyewear owners will be able to buy the stereo camera kit and motion-tracker to upgrade their systems, though no pricing or availability has been released.
[vms ef229b342c437fe2b95f]