Voltitude V1 folding electric bike up for expensive preorder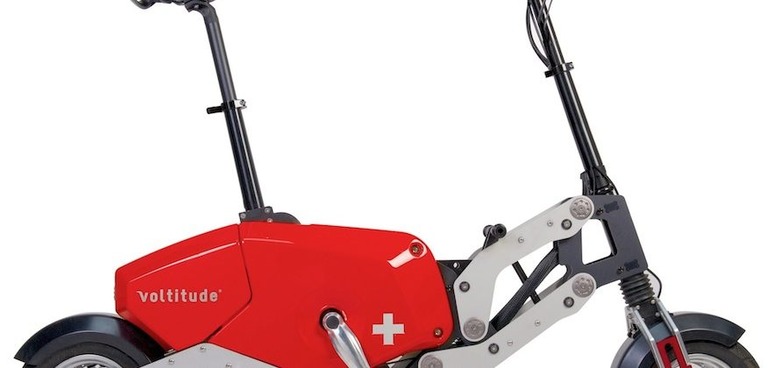 Swiss folding electric bike start-up Voltitude has begun taking orders for its eye-catching urban transport alternative, a collapsable battery-powered bike with a roughly 25 mile range. Intended to make the final jaunt between public transportation and your home or office more straightforward, the Voltitude V1 borrows the best of scooters and pushbikes for something that can be trundled off the train and have you at your desk in short order.
While you're at your desk, you can charge the V1 up with a power brick that's apparently akin in size to that of a laptop. A full charge takes six hours, or you can top the bike up to 80-percent in four hours. Overall, the V1 is good for up to 25 miles of assisted cycling, with a maximum speed of up to 16mph.
The standard V1 is a Swiss Army Knife red, but Voltitude also has a special V1 Carbonesium limited edition that it likens to a luxury watch. That tunes the 250W motor for extra perkiness, and replaces parts of the frame, fork, bodywork, wheels, and other elements with magnesium and carbon fiber.
EasyFold Action:
That adds up to a weight saving of 1.5kg; with the battery in place, the regular V1 tips the scales at 27.5kg and the V1 Carbonesium at 26kg. It doesn't come cheap, however; the V1 is up for pre-order at CHF 4,990 ($5,472) while the Cabonesium is CHF 7,990 ($8,762). They'll ship on March 30 2013 and April 30 2013 respectively.
[via Gizmag]