Voltitude folding electric bike packs Swiss style [Video]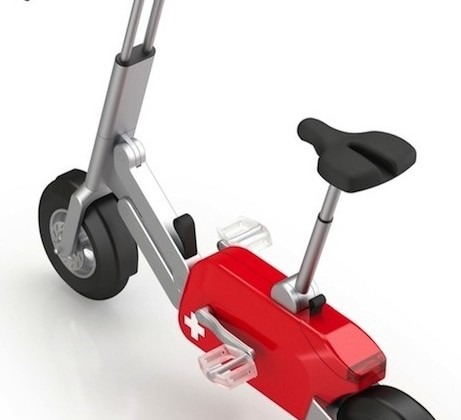 We're big fans of folding bikes here at SlashGear, ever since reviewing Sinclair Research's seriously small A-Bike, but an electric boost to our feeble geeky legs is always welcome. Swiss firm Voltitude is promising just that, a compact bike that can fold and unfold in seconds and which uses a 9.5Ah Li-Poly battery good for up to 18 miles.
Video demo after the cut
Inspired by a city scooter, the Voltitude bike has disc brakes and is rear-wheel drive; it has integrated front and rear LED lighting, and takes around four hours to charge with a power supply said to be around the same size as you'd have for a laptop. When folded you can trundle the bike along next to you, or hit the "walk" mode button and have it power along at up to 3.7mph (or roughly walking pace).
A five, seven or eight speed gearbox and up to 15.5mph top speed (with some pedal assistance) round out the key specs. Currently the Voltitude bike is being sold in limited numbers as part of a trial in Switzerland, but the company expects to broaden that to worldwide sales in September. No word on pricing, however.
[via Born Rich]