SlashGear Review: Sinclair Research's Folding A-Bike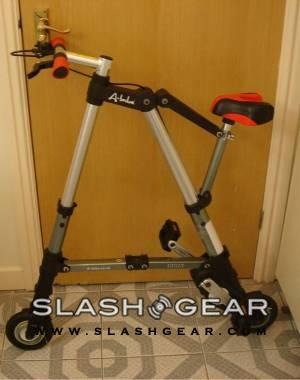 Toward the end of last month there was a very special 25th birthday: on the 23rd April 1982 the Sinclair ZX Spectrum was launched on an unsuspecting British public. Here in the UK Sir Clive, the founder of Sinclair, became something of a figure of fun after the failure of his C5 personal transportation machine (a swish name for an electrically-assisted recumbent tricycle), a 1985 effort to tackle urban transport, and few are aware that his research – and the marketed results of it – continues to this day. A chance link from a ZX feature led me to Mayhem UK, official distributors of the latest Sinclair product, the folding A-Bike.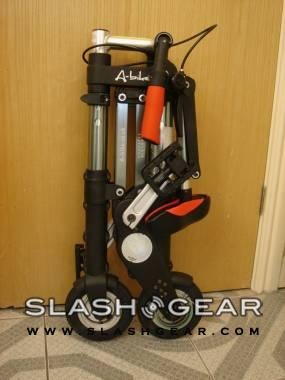 Folding bikes are nothing new, in fact the concept has been available for many years – perhaps most notably by Brompton, who have been selling collapsing bicycles since 1976 – and each finds its own balance between wheel-size and folded-size. Larger wheels make for a more comfortable ride and, usually, greater pedalling efficiency, while smaller-wheels are less suited for travelling any significant distance but can invariably fold down to a far more compact package.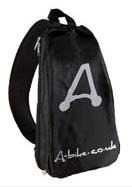 The A-Bike, as is obvious from the photos, falls definitely into the latter category; its 6-inch wheels perch almost comically at the end of each aluminium limb. What you lose in visual gravitas you gain in portability, however. It weighs just 12 pounds (5.5kg) and, when folded, measures 26 x 12 x 6 inches (67 x 30 x 16 cm); small enough to fit into a reasonable rucksack or, alternatively, the collapsing bag Sinclair Research supply.
It's a straightforward concept. You're not supposed to see the A-Bike as the sole replacement for your commute; it's meant to bookend the journey, preferably done by public transport. Take the train into the city, then finish off the short trip to your office – and, because it's always fun to ride around indoors, to the lift and then to your very desk – on the bike. Cheaper than a taxi and healthier too.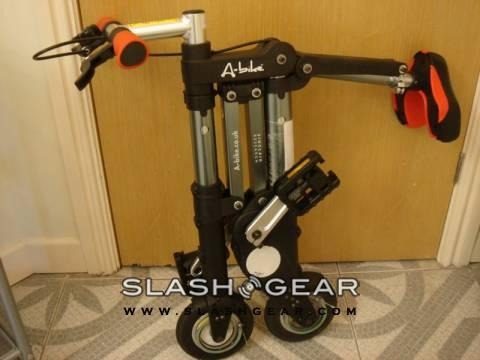 Unfolding the A-Bike takes – with a little practice – around ten seconds, struts stretching out and handlebars locking into place. It all feels surprisingly sturdy; I was expecting something flimsy and suitable only for kids, but once you're used to the tiny wheels riding is oddly fun. The brakes are progressive and effective, while the numerous reflective panels give at least a vague sense of visibility to other vehicles. What you're definitely visible to are pedestrians; the A-Bike is not a vehicle for the shy or retiring, and you should expect at least a couple of questions from curious bystanders on each trip (and, on the flip side, a few people pointing and laughing).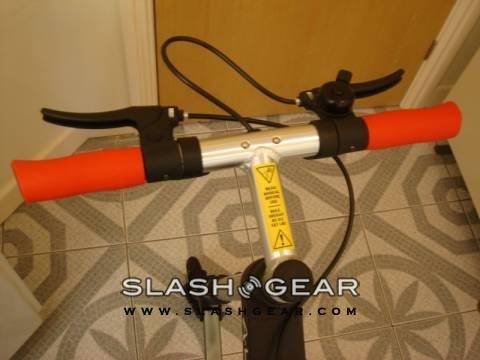 Personally, my commute takes me thirty-five minutes and I park right outside the office, so the A-Bike was never going to replace my car. Living close enough to local shops to make me feel guilty driving there, however, repurposed the bike as basic urban transport when we needed more milk or the paper. Storage was never an issue thanks to the A-Bike's clever folding trick; standing up in the corner of the hall, the enclosed chain and crankhouse means no grease or oil rubbing off on walls or carpets (or trouser legs, for that matter).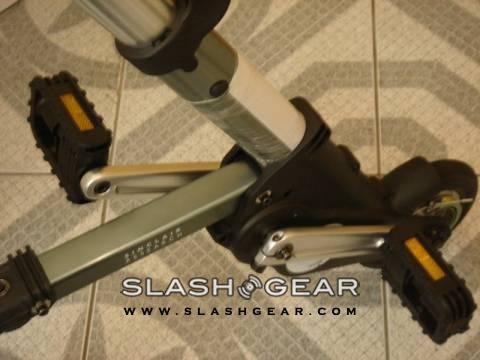 Oddly enough, while I expected my cycling friends to most appreciate the A-Bike, they turned out to be the most critical group. A saddle which is, admittedly, not the most comfortable long-distance (or even really medium-distance) perch, the lack of gears and a perceived sense of frivolity seemed to offend their day-glo sensitivities. Far more enthusiastic were the non-cyclists: some saw it as an ideal addition for the car boot, another thought it useful for their motor-home, while young people flocked to it as a replacement to the push-scooter. Few were put off by the £149.99 price-tag ($298), although how many of them will actually go on to buy the bike as opposed to seeing it as a luxury or a frippery is unknown.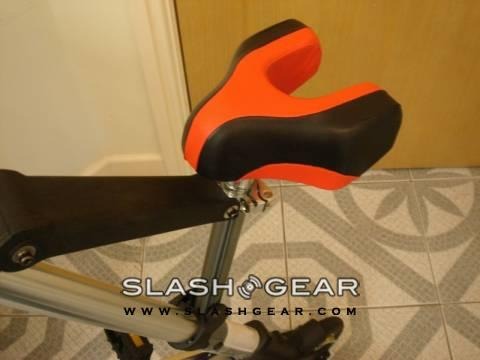 In the end, only you know whether the A-Bike suits your lifestyle or not. If you regularly commute into work or school and have a shortish walk at either end then perhaps the saved minutes biking would make it worthwhile to you. Similarly, if you live in town and have neither the space nor the inclination for a car or full-sized bike, then the A-Bike could be an easily stored and fun alternative. It's one of those things that could easily be written off as a toy, but having tried it myself it's anything but; yes, it's entertaining and it gets attention, but I'd like to think that this latest invention of Sir Clive's will last more like the Sinclair ZX than the ill-fated C5.
Many thanks to Mayhem UK for the loan of the A-Bike.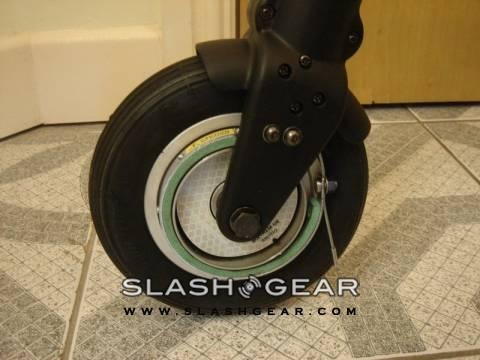 [rating: 3.5]