Watch the VW I.D. R Pikes Peak's full record-smashing hill climb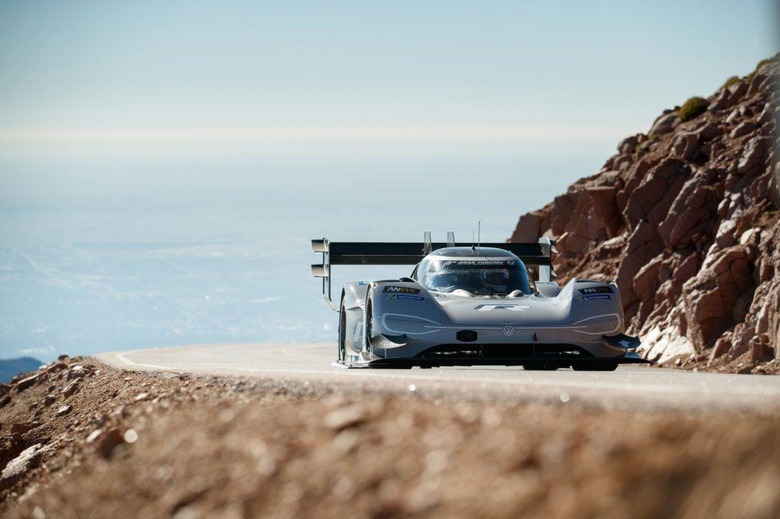 VW has released the first full video of its record-breaking Pikes Peak run, showing the Volkswagen I.D. R Pikes Peak electric racer storming its way up the legendary hill climb. The record – an impressive 7 minutes 57.148 seconds – was set on June 25, and both VW and EV fans alike had been chomping at the bit to see the International Hill Climb footage in full.
That's been delivered today, courtesy of the Pikes Peak IHC helicopter that films most of the cars entered in the race. It's not quite the 4K in-cabin footage that we've been hoping for, but it's certainly sufficient to show just what sort of speeds driver Romain Dumas was achieving on the turn-filled route.
In doing so, Dumas and the VW I.D. R Pikes Peak bested former record holder Sebastien Loeb's 2013 run by a whopping 16 seconds. Not bad at all, when you consider that the automaker only announced it would build a Pikes Peak car 250 days ago. The result is a 671 horsepower custom racer.
While you might assume that all you'd need is a decent-sized battery, powerful electric motors, and decent grip, the Pikes Peak International Hill Climb rules don't make it quite that straightforward. For a start, electric cars need to support being fully recharged within 20 minutes, and using electrical systems on-site. In VW's case, that came courtesy of generators at the foot of the mountain, running on non-toxic glycerol that burns with little in the way of exhaust fumes.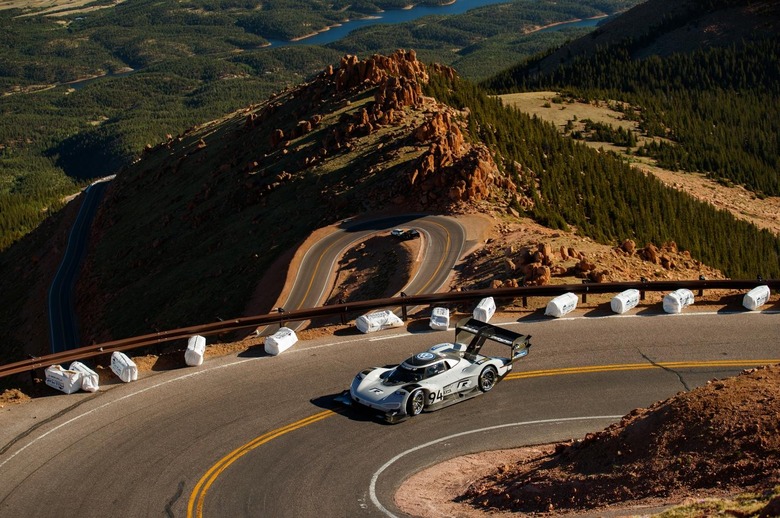 The realities of severe altitude change also played a considerable factor. By the time the 12.42 mile course – which consists of 156 corners – has been completed, it's risen from 4,720 feet to 14,110 feet. That demanded a vast rear wing on the I.D. R car, just to keep it glued to the road. The whole vehicle, including the batteries, weighs under 2,425 pounds.
For VW, of course, this isn't just about winning a title. It's also hoping to use the I.D. R Pikes Peak to kickstart attention for its production electric car range, sales of which will begin in the US from 2020. Those models may not have the same sort of horsepower as this particular hill climb record-smasher, but they'll be a fair amount more affordable – not to mention hold more than just a driver.