VW I.D. R Pikes Peak racer crushes overall record on America's Mountain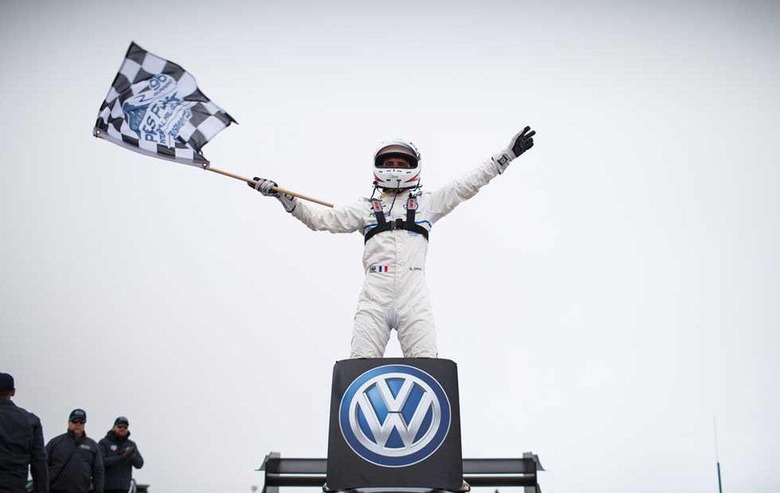 VW had a very impressive run in qualifying for the Pikes Peak International Hill Climb last week. That top place run gave VW the best starting time overall, assuming Romain Dumas and his electric I.D. R Pikes Peak racer could keep it on the road. Dumas was able to keep the car on the road on race day and absolutely dominated the track and the rest of the field.
The VW electric racing car streaked up the mounting in a total time of 7 minutes 57.148 seconds. That time was fast enough to set a new overall record as the fastest time in the history of the Pikes Peak Hill Climb. To put the time in perspective, the former record holder for fastest time was Sebastien Loeb and Dumas bested that record-setting time by 16 seconds.
The Pikes Peak International Hill Climb is an institution and has been run 96 times since inception in 1916. VW's car was specifically built just for the hill climb boasting minimum weight, as much downforce as possible, and maximum power. The car tipped the scales at under 1,100kg.
One of the key elements of the car is the huge wing to make up for the downforce lost at elevation thanks to the thinner air. The car also had to be charged in under 20 minutes per the rules of the race. Electricity to charge the batteries was created using generators that ran on glycerol.
The car had engines that together generated 500 kW of power. With the new overall record falling to VW, you can bet automakers participating in the event next year will have the automaker in their sites.
SOURCE: VW