Vodafone iPhone 3GS now available in UK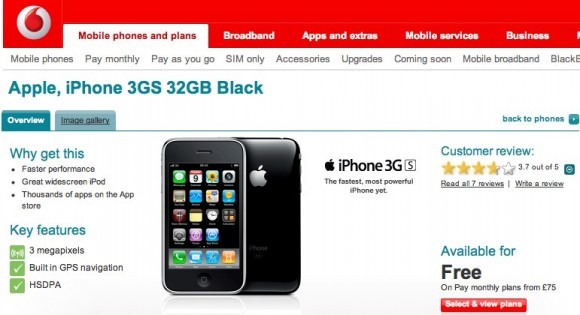 As promised, Vodafone have become the latest UK carrier to offer the iPhone 3GS and iPhone 3G.  The carrier has begun selling the Apple smartphone today, with the 16GB version of the handset available from free on two-year contracts of £45 ($73) per month upward.  Alternatively the 32GB iPhone 3GS is free on two-year contracts of £75 ($122) per month.
The cheapest monthly tariff Vodafone are offering is £30 ($49), at which point the iPhone 3GS will cost you either £149 ($243) for the 16GB version or £239 ($390) for the 32GB model.  The 8GB iPhone 3G, meanwhile, is free on £35 ($57) or above plans, again assuming a 24-month contract.
Vodafone also offer 18-month agreements, though you're looking at either more expensive plans or bigger upfront handset costs in return for reducing the lock-in period.  O2, Orange and Tesco Mobile already offer the iPhone 3GS in the UK.