Vodafone BlackBerry Storm 2 9520 arrives October 26th in UK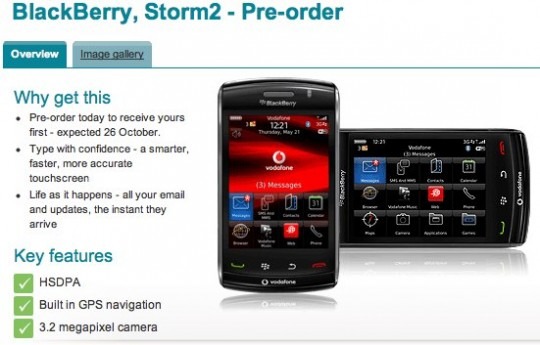 It's beginning to get a little ridiculous now: after Walt Mossberg reviews the BlackBerry Storm 2 ahead of any official confirmation by RIM themselves that the device actually exists, now Vodafone UK have announced that they'll be the first network to offer the second-generation touchscreen smartphone.  Available to preorder from today, and with deliveries set to begin on October 26th, the Vodafone Blackberry Storm 2 9520 is priced from free with a new plan costing £35/mo ($56) upwards.
As we already knew, the Storm 2 delivers a 3.2-megapixel autofocus camera, 2100MHz UMTS/HSPA, quadband GSM/GPRS/EDGE, Bluetooth 2.1 and WiFi b/g, together with 2GB of onboard memory and a microSD card slot.  The display is 3.25-inches 360 x 480 resolution, and uses RIM's updated SurePress touchscreen system.
The Storm 2 9520 will come preloaded with BlackBerry OS 5, with various touch-minded enhancements such as inertial scrolling and easier number selection.  We're expecting Verizon to announce their version any moment now, and who knows, maybe even RIM will have something to say.
Press Release:
BlackBerry® Storm2™ available first through Vodafone UK

- Second generation smartphone features a range of new enhancements including SurePress™ Technology and Wi-Fi –

The highly-anticipated BlackBerry Storm2 can now be pre-ordered online on Vodafone UK and customers ordering it today will receive their new smartphone from 26th October.

Available first in the UK through Vodafone, the BlackBerry Storm2 is available for free on pay monthly price plans from £35 with 600 minutes, unlimited texts, unlimited BlackBerry Internet Service, unlimited Vodafone Mobile Internet and broadband on a 24 month contract.

Customers who want to be the first in the UK to have a BlackBerry Storm2 smartphone can pre-order today at http://shop.vodafone.co.uk/shop/mobile-phone/blackberry-storm2

The second generation of RIM's innovative and award-winning smartphone significantly improves the BlackBerry® touch-screen platform with new technology and features among its hundreds of hardware and software enhancements.

The BlackBerry Storm2 smartphone from Vodafone features:

· New SurePress technology based on an electronic suspension system that provides the user with tactile feedback when the touch-screen is pressed

· Fast performance Wi-Fi capability

· 3.2 MP camera with variable zoom, autofocus, flash and video recording (with enhanced speaker performance)

· Flexible storage, including 256MB flash memory and an expandable microSD/SDHD memory card slot

· Thinner, sleeker and cleaner lines than its predecessor, the BlackBerry Storm 9500

· Enhanced BlackBerry OS 5

- Ends -

Note to editors

The BlackBerry Storm2 smartphone (model 9520) from Vodafone features:

New SurePress Technology

The BlackBerry Storm2 smartphone introduces a new SurePress™ technology based on an electronic system that provides the user with tactile feedback when the touch-screen is pressed. The new system responds equally to gentle pressure applied anywhere on the surface of the screen and makes clicking the display practically effortless. Typing on the smartphone's virtual keyboards is easier, more comfortable and more accurate. The new SurePress technology also allows the user to type a letter with one thumb even while their other thumb may still be touching or resting on another letter, enabling faster typing and multi-key actions such as Shift or Alt -key combinations.

Hardware Features

Smooth design and premium finish with sloped edges, chrome accents, glass lens and stainless steel backplate

Large (3.25"), dazzling, high resolution 360 x 480 display at 184 ppi

Capacitive touch-screen with integrated functions (Send, End, Menu, Escape) and new SurePress technology that makes clicking the display practically effortless

Global connectivity support: UMTS/HSPA (2100Mhz), quad-band EDGE/GPRS/GSM and Wi-Fi® (802.11 b/g) networks

3.2 MP camera with variable zoom, autofocus, flash and video recording

256 MB of Flash memory

2 GB of onboard memory storage and a microSD/SDHD memory card slot that supports up to 16 GB cards today and is expected to support 32 GB cards when available

Premium and easy-to-access phone features, background noise suppression technology, loud distortion-free speakerphone and face detection (proximity sensor) that prevents accidental clicks and blanks the screen while the user is on the phone

Media player for videos, pictures and music, plus BlackBerry® Desktop Manager for both PCs and Macs, and BlackBerry® Media Sync for easily syncing iTunes® and Windows Media® Player music with the smartphone*

Vodafone's music client pre-installed, giving access to an extensive catalogue of artists

A 3.5 mm stereo headset jack and dedicated volume controls

Bluetooth® (2.1) with support for Secure Simple Pairing, hands-free headsets, stereo headsets, car kits and other Bluetooth peripherals

Built-in GPS for maps and other location-based applications, as well as photo geotagging

Access to BlackBerry App World™, featuring a broad and growing catalog of mobile applications developed specifically for BlackBerry smartphones. Categories include games, entertainment, IM and social networking, news, weather, productivity and more. Applications developed for the original BlackBerry Storm are fully compatible with the BlackBerry Storm2

BlackBerry® Internet Service and BlackBerry® Enterprise Server support

Removable, rechargeable 1400 mAhr battery that provides approximately 6 hours of talk time on 3G networks and 280 hours of standby time

BlackBerry OS 5

More responsive experience and includes usability and visual enhancements such as inertial scrolling, spin boxes that make it easier to set dates and times, gradient shading on buttons and more use of animation

Typing accuracy and selection have been significantly refined

BlackBerry® Browser improved with faster JavaScript and CSS processing as well as support for Gears and BlackBerry Widgets

Customers running BlackBerry® Enterprise Server 5 will gain the ability to:

- Set follow-up Flags on the handset like they can in Microsoft® Office Outlook®

- Manage Microsoft Exchange email folders (Add, Rename, Move, Delete) on the handset

- Access remote files shares (Windows Shares); Save, View, Edit, and Email documents from remote file shares

- Forward appointments and view calendar attachments on the handset

- Benefit from wireless sync improvements for Contacts, including sync for multiple contact folders, personal Distribution Lists and contacts in Public/Shared folders

* Certain music files may not be supported, including files that contain digital rights management technologies.

The BlackBerry and RIM families of related marks, images and symbols are the exclusive properties and trademarks of Research In Motion Limited. RIM, Research In Motion and BlackBerry are registered with the U.S. Patent and Trademark Office and may be pending or registered in other countries. Wi-Fi is a registered trademark of the Wi-Fi Alliance. All other brands, product names, company names, trademarks and service marks are the properties of their respective owners. RIM assumes no obligations or liability and makes no representation, warranty, endorsement or guarantee in relation to any aspect of any third party products or services.