BlackBerry Storm 2 gets the Mossberg review; RIM still tight-lipped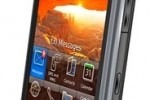 We'll let you into a secret: embargoes are the janky, frustrating glue that keeps the tech business rolling, and it doesn't take much to bring everything crashing down.  Someone has obviously been fiddling with Walt Mossberg's clocks, as the AllThingsD writer and generally bearded-lovely has pushed out his review of not only the Motorola CLIQ – you can read our opinion on that phone here – but of the BlackBerry Storm 2.
The review comes on the heels of Verizon's CEO scooping RIM to their own Storm 2 announcement, as we discovered yesterday.  There's no way of knowing exactly whether Mossberg had special dispensation to publish early – it wouldn't be the first time he's had privileged access ahead of everyone else – but since we're still hungry for Storm 2 details we'll forgive him anyway.
What does Walt reckon about the Storm 2?  He's a bigger fan of it than its predecessor, praising the improved touchscreen and better on-screen keyboard, while the inclusion of WiFi gets an obvious thumbs-up.  Less convincing, though, is BlackBerry OS itself, which "cries out for a major overhaul in a touch device like this"; "RIM's menu and folder metaphor" Mossberg suggests, "seems tired on this device."  The browser also gets something of a smackdown.  Still, set to arrive – so he claims – most likely in November for around $200, we reckon RIM will find a fair few buyers.  First, though, they have to announce the phone themselves.