Vizzywig 8HD turns your Apple Watch into a recording control room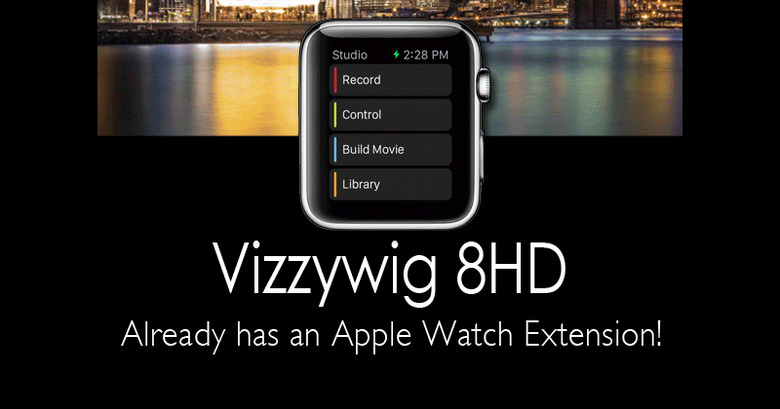 Remember Vizzywig? Yes, the very same people who developed that insane, and insanely cool, 4K video recording app, which, by the way, they are now marketing as "8HD". Well, here they are with another insane idea, and this time, they are targeting Apple's newest baby, the Apple Watch. No, you won't be recording videos from the smartwatch, since it has no camera. Instead, you will be controlling everything from your wrist. And we're not talking about starting or stopping recording only. You can even edit and stitch it all up on your smartwatch.
Prepare to be blown away by Vizzywig's marketing spiel. The Apple Watch extension for the Vizzywig 8HD app means that you can conveniently control your 4K, HD, and GoPro recording at a safe distance. But why stop at one? Vizzywig 8HD can actually connect together up to 24, yes 24, iOS and Android devices! It can even record simultaneously from an iPhone and a GoPro. And all of this you can orchestrate remotely on your wrist. Switch between cameras on the fly when you want to, and you will probably want to.
But wait, there's more! Why stop at recording? Simply tap on the Apple Watch to select recording footage and photos from your gallery, GoPro, or Dropbox albums, pick a soundtrack to go with it, dictate a title and a subtitle, and off it goes to be processed into a final masterpiece ready to upload to YouTube. And you didn't even have to take out your iPhone to do it.
It's definitely an interesting, if not insane, concept that perfectly matches Vizzywig 8HD's insane app. Don't get us wrong, genius is often times mistaken for insanity, and this Apple Watch extension could very well be a stroke of genius as well. It definitely stretches the limits of what you can comfortably do on a smartwatch.
Be prepared, however, for the cumulative costs of this proposal. Aside from the Apple Watch itself, which is already not exactly wallet-friendly, not to mention still quite limited, the Vizzywig 8HD app will also cost you. $99.99 to be exact. And if you plan on doing multiple camera shots, whether with other iPhones, Android devices, or GoPro cameras, those would also count towards the TCO of this setup.