Vizio's 21:9 58-inch Widescreen due March; 50- and 71-inchers in 2H 2012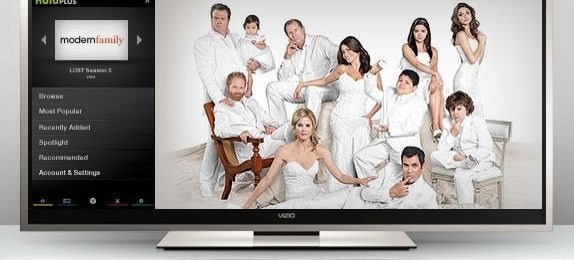 Vizio's first CinemaWide 21:9 Smart TV will go on sale in March, it's been confirmed, in time for the for the NCAA men's and women's March Madness basketball tournament. Priced earlier today at $3,499.99 for the 58-inch XVT 3D CinemaWide TrueLED XVT3D580CM, the new set will be the only model Vizio offers for several months, USA Today reports, with other sizes not expected until the second half of 2012.
Announced back at CES 2012 in January, Vizio initially promised three CinemaWide models. In addition to the 58-incher, there's also to be a smaller, 50-inch XVT3D500CM and a huge 71-inch XVT3D710CM. All three will offer smart TV functionality, including streaming content from Hulu Plus and Netflix, using either wired ethernet or integrated WiFi b/g/n connectivity.
There's also a Bluetooth remote control, complete with a built-in QWERTY keyboard for easier searching. Users can watch a regular 16:9 aspect widescreen TV show as well as browse through smart TV apps simultaneously, thanks to the wider LCD panel.
Interestingly, Vizio has also created its own technology for sending 21:9 aspect content over a regular HDMI cable. That's despite the CEO being midway through developing an updated standard which would do just that; "we really wanted to lead that change" Vizio VP of product management John Schindler said of the homegrown tech.