VIZIO 2017 Displays and Speakers revealed with Google Home and Chromecast inside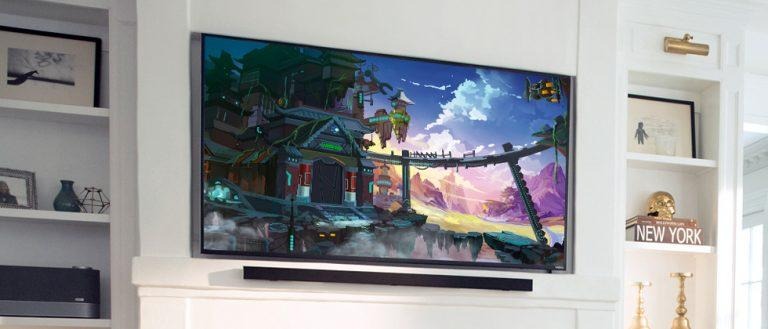 This morning VIZIO revealed its 2017 collection of displays and audio products. In this collection were (and are) a wide array of new technologies and resolutions as well as both wired and wireless pieces of equipment. Both the VIZIO SmartCast P-Series Ultra HD HDR XLED Pro and M-Series Ultra HD HDR XLED Plus Display collections have been revealed alongside the VIZIO SmartCast Crave Go Multi-Room Wireless Speaker and a set of sound-bars for HDTVs.
VIZIO SmartCast
VIZIO is on board with Google's push for an interactive, natural voice-toting smart home experience. As such, they've enabled VIZIO SmartCast to work with Google Assistant on devices like – for example – Google Home. Using "OK Google" with Google Home allows the user to request that music be played on the VIZIO Sound Bar – apps like Google Play Music, Pandora, and Spotify will be ready to roll at launch.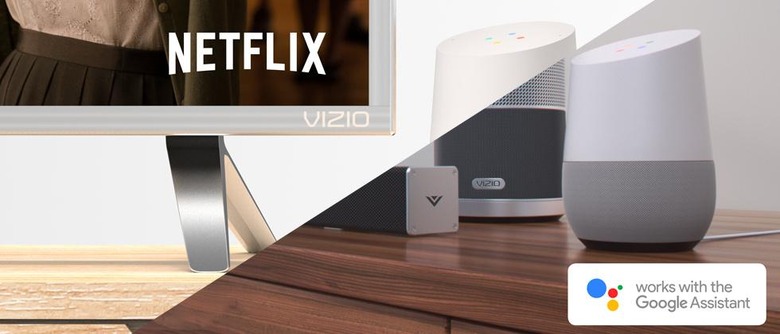 A number of devices in the collection below are able to be cast to, too. Google Chromecast inside means the device is capable of streaming content VIA the Chromecast button in Android and iOS devices inside apps that support Chromecast.
Sound Bars
Six new sound bars will be released by VIZIO in this 2017 collection. The smallest of these is the VIZIO 28-inch 2.0 Sound Bar, which will come in at $80 USD. Then there's a couple of 36-inch 2.1 sound bar system releases, and a 32-inch 5.1 sound bar. That 32-inch system will cost $250.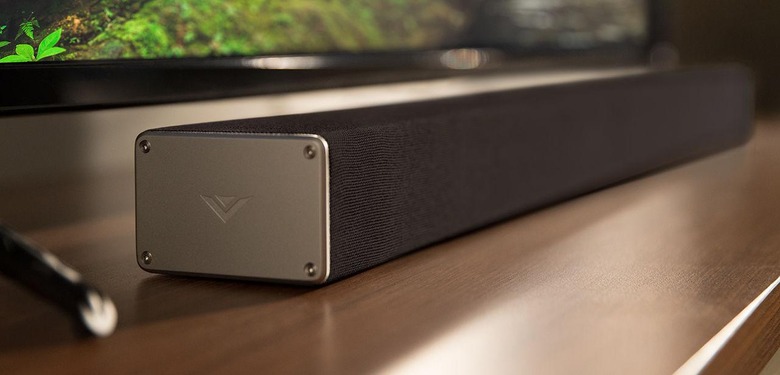 There's also a couple of VIZIO SmartCast sound bars with the functionality described in the section above. These devices both come in 36-inch lengths, one with a 3.0 Wireless system for $150, the other with a 5.1 Wireless system for $249.
SmartCast Crave Go
The VIZIO SmartCast Crave Go is a multi-room wireless speaker with Chromecast built-in. That means that any smart device capable of casting audio to Chromecast devices will be able to do so directly to the SmartCast Crave Go. As it is with other Chromecast-inside devices, multiple devices can be connected with the Crave Go over Wi-fi. The SmartCast Crave Go will be available at VIZIO online immediately if not soon for around $200 USD.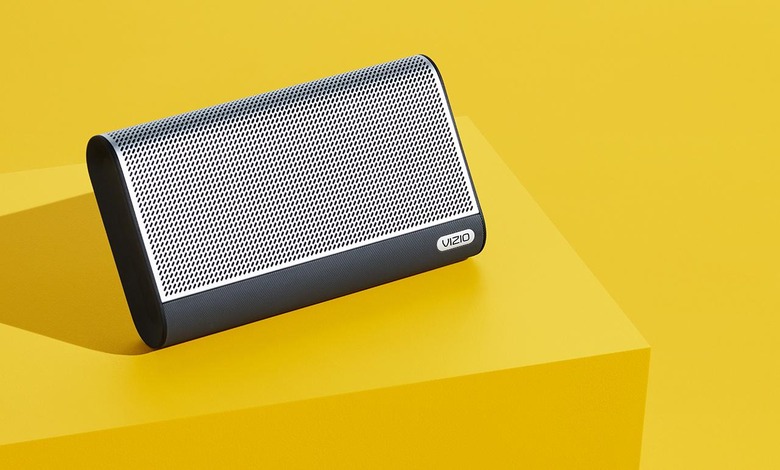 The whole lot of VIZIO SmartCast devices can be connected to using the VIZIO SmartCast Mobile app. This app is available for iOS and Android devices via their respective app stores.
SmartCast M-Series
The 2017 VIZIO SmartCast M-Series offers w die range of TV set sizes for prices between $800 and $3,000 USD. That includes the 50-inch, 55-inch, 65-inch, 70-inch, and 75-inch VIZIO SmartCast M-Series Ultra-HD HDR XLED Plus Display. These sets will be available at VIZIO online immediately if not soon.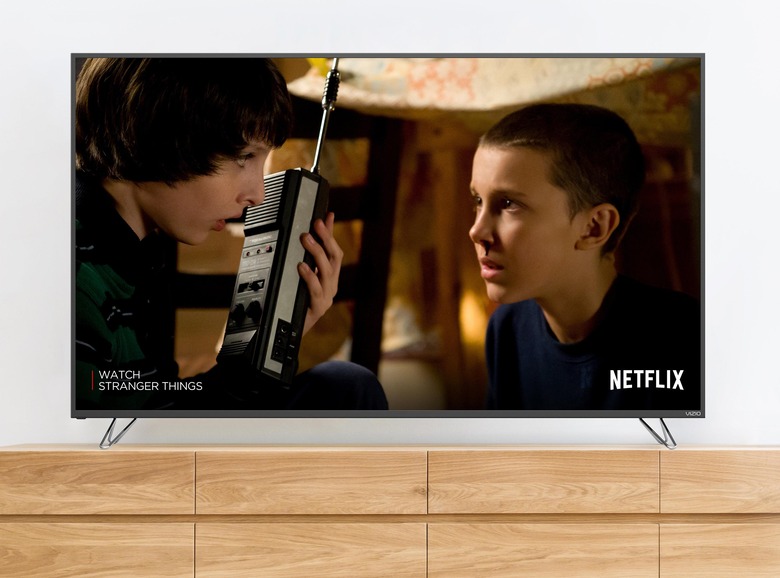 The image at the head of this article is also one of the several M-Series sets in this collection. While the display comes with the legs you see in the image immediately above, they're all capable of being mounted to walls. Just so long as you have the right mounts, of course.
SmartCast P-Series
The SmartCast P-Series feature Chromecast built-in. The P-Series display collection will have this feature with an over-the-air update to 2016 SmartCast Ultra HD and all 2017 SmartCast models. These machines will have access to featured content as well as a curated list of apps browse-friendly and usable with each set's included controller.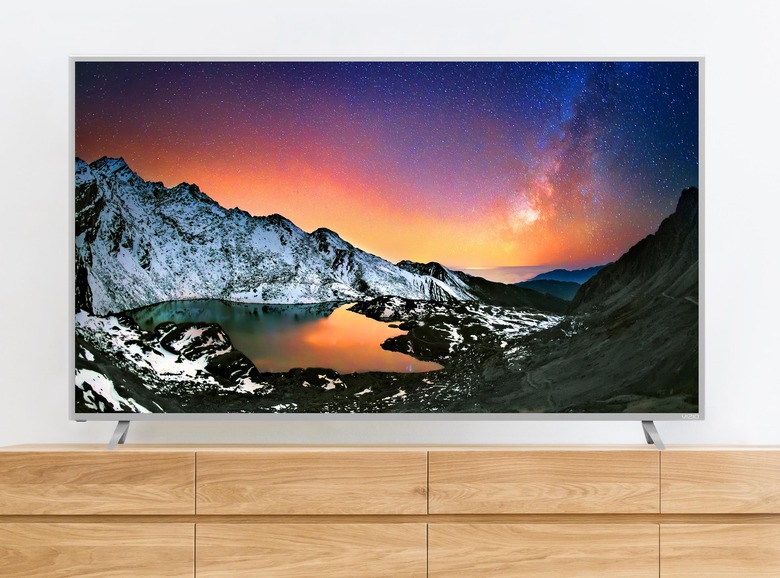 The SmartCast P-Series will be released as three different units. There'll be a VIZIO SmartCast P-Series 55-inch Ultra HD HDR XLED Pro Display, as well as a 65-inch unit and a 75-inch unit. This series is available through VIZIO online and will cost approximately $1,300, $2,000, and $3,500 for the 55-inch, 65-inch, and 75-inch models respectively.
Wrap-up
Many if not all of the devices shown above coming to VIZIO online immediately if not quite soon. With that being true, it'll be interesting to see how quick the company follows up with software updates to their 2016 model displays and audio products of the past. VIZIO is quickly becoming more than just a second-tier brand name with their yearly releases of top-tag devices – with software support and quality on their side, they'll be gunning for that number one spot in no time.