VIZIO brings Google Home integration to SmartCast devices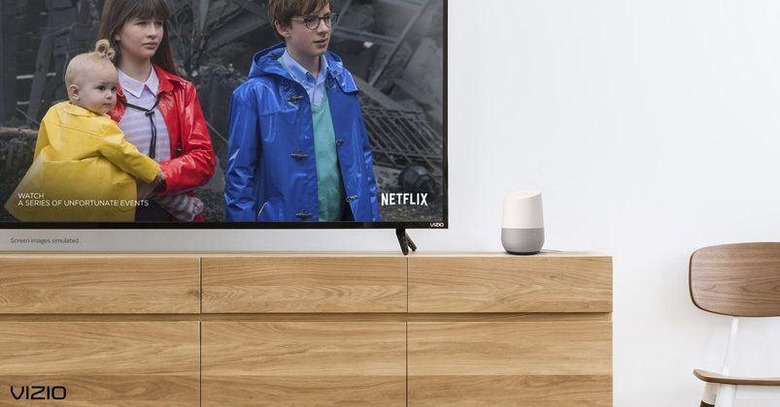 VIZIO has announced that its range of SmartCast devices will now play nice with Google Home. Using this new functionality, you can control your TVs, soundbars, and speakers with your voice, with a variety of different commands centered around "OK Google" available. As some of you already know, SmartCast devices are built on Google's own Chromecast technology, which basically makes Google Home support a no-brainer.
Assuming you have "Quick Start Power Mode" enabled on your TV or display, you can tell Google Home to begin playing a movie and the TV will power itself on automatically. This functionality is compatible with apps like Netflix and YouTube, and it means not having to manually search their libraries when you already know what you want to watch.
When it comes to music, you'll be able to tell your Google Home to begin playing a song from Google Play, Spotify, or Pandora. It should be noted that you'll need a Premium membership to do this with Spotify. In the case of Pandora, you'll only be able to search available radio stations – that is, at least until Pandora's Premium service comes online, something that presumably happen later this year.
VIZIO has already launched a line up of nine different soundbars that support SmartCast. Just as well, P-, M-, and E-Series displays have SmartCast functionality built in. With a selection of standalone speakers joining the group, there's a pretty healthy variety of SmartCast devices available. That's not too bad considering SmartCast was only launched about a year ago.
VIZIO didn't really give a timeline for the roll out of this update, but it's presumably hitting all (or at least most) SmartCast devices today. If you count yourself among the group of Google Home early adopters, give this new functionality a spin and let us know what you think.