Vivo Nex S hidden camera exposed in "clear phone" mod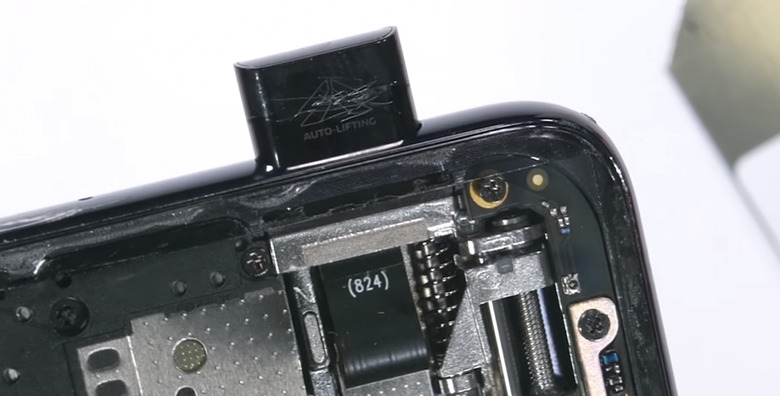 Today the backside see-through edition of the Vivo Nex S shows what's going on inside one of the strangest phones ever made. The Vivo Nex S is a smartphone with no immediately apparent frontside camera. Instead of an exposed camera, this device has a camera that pops up when it's activated by the camera app or a 3rd-party app.
In a JerryRigEverything "clear edition" video for the Vivo Nex S, we're able to see how the auto-lifting camera works. The mechanism is surprisingly robust – more than just your average spring-loaded smartphone element. This machine has an oddly satisfying set of gears, connectors, and metal pieces of several sorts.
UPDATE: When I say "revealed," I mean the mechanism which makes the phone is revealed. We can see it in action as we've not been able to see it before.
This isn't the sort of device you get fixed easily. If one of your primary concerns in a smartphone is your ability to access accessories, this probably isn't the phone for you. Unless Vivo makes accessories for the phone firsthand, it's unlikely there'll be any on the market at all. What with such a seemingly-niche device and a release outside the United States, those inside won't easily access either accessories OR the device itself.
This smartphone was also the subject of a durability test from the same Jerry – have a peek at the full set of tests and see how realistic they are for you. Notice how not-so-great the device does in these bonkers breaking tests, too.
There's a Vivo Nex teardown in the mix as well. That's the one you're going to want to look at if you're all about figuring out what's up inside, still-style. And don't forget to look at our analysis of the situation: Vivo Nex shows China's phones are faster to fun than Samsung, Apple, etc.