Vivint Sky hands-on: The Smart Home starts learning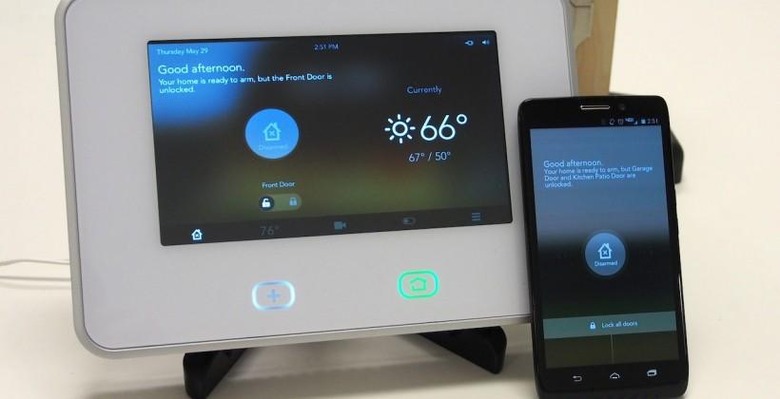 Upstarts like Apple may be plowing into the smart home segment, but security and automation stalwart Vivint isn't taking that lying down, launching a new system called Vivint Sky. Centered around a new, 7-inch color touchscreen and a cloud system of Vivint's own creation, Vivint Sky promises not only centralized control in the home and remote smartphone apps, but learning algorithms that automatically pick up on the users' own patterns.
Like the old GoControl, which we reviewed back in 2012, the SkyControl wall panel is the hub of the home automation system. It replaces the old monochrome display with a new, 7-inch capacitive touchscreen, along with an all-new interface that now matches the UI on the iOS and Android apps.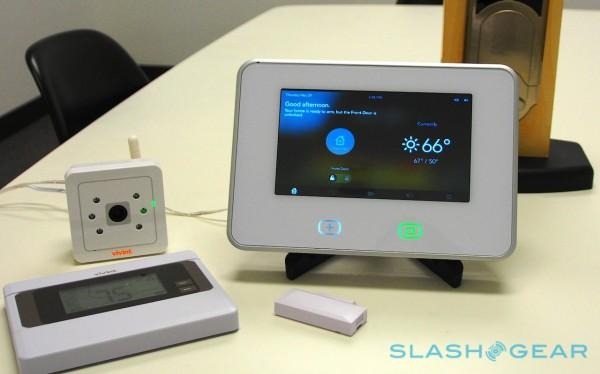 It's not the only change to the control panel. As well as boosting the Z-Wave wireless range, the SkyControl also has its own WiFi router inside, and is capable of creating its own network should the home network be missing or out of range. There's still a cellular data connection if DSL/cable isn't available, able to support all of the features aside from streaming video.
As before, there's a combination of security, remote surveillance, HVAC, and appliance control handled by the system, with Vivint offering a number of packages to suit different needs. All get a more naturalistic way of interaction, though, which Vivint CEO Todd Pedersen told me was a deliberate attempt to target those outside of the "sub-1%" he believes are currently embracing the smart home.
Pedersen and his team took a step back from their own GoControl installations, and tried to identify the points at which functionality was subpar or simply missing. "We asked ourselves, what did we wish this was doing?" he explained to me, with the decision coming to embrace a touchscreen and minimal buttons to make Sky "more human, more intuitive."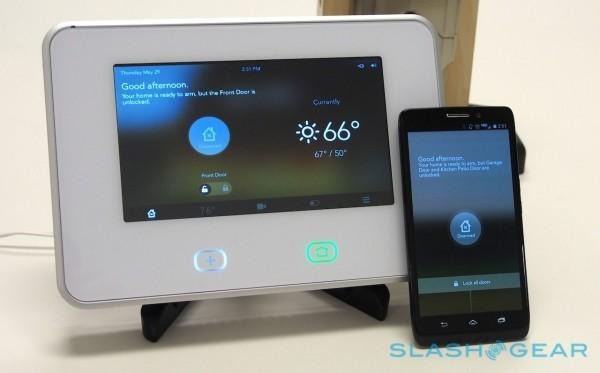 The result is an interface broken down into a few simple categories for the main areas of functionality, with swipe gestures navigating between them. On-screen messages are shown in easily understood language – you're told that the front door is closed but unlocked, for instance, rather than "Zone 1 is unsecured", and the UI can be customized with photos of the actual home in question – while the response time is now much faster than before, with a final confirmation that the status has changed.
Depending on the package installed, there's a combination of door and window sensors, motion detectors, appliance modules that can be used to remotely control lamps, for instance, and a wireless thermostat for heating and AC duties. HD video from the streaming security cameras can be viewed both on the SkyControl panel itself, and remotely from the iOS and Android apps; you can either see live footage, or recorded video, with Vivint Sky cueing up likely clips of interest based on when there was movement around that time.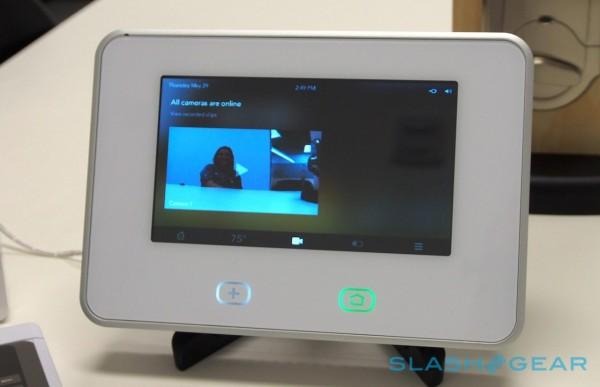 Meanwhile, even if you don't have an internet connection, footage can be stored to the internal 2.5-inch HDD bay. 1TB is good for up to 120 days of HD quality video.
So far, so good, but what Vivint is counting on to truly differentiate Sky is its learning abilities. Rather than work reactively, Sky aims to be proactive in how it runs throughout the day. At launch, the system's ability to learn will be moderate, tracking patterns of when people are home or away, though Vivint has ambitious plans for future upgrades (which will be remotely installed).
After a few weeks of observing the comings and goings of a family, VP of Innovation Jeremy Warren explained to me, Sky will start prompting the user to switch settings to more frugal levels, like turning down the thermostat, as well as ensuring that the security system is turned on. A pop-up notification in the mobile app will give the option to agree to the changes.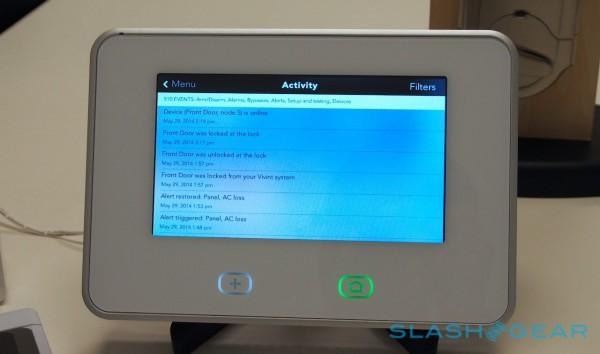 If the user consistently agrees, Sky will eventually switch to an opt-out mode instead: automatically changing the HVAC settings and enabling security, with the user given the choice to reverse that decision. Finally, Vivint will simply carry out the commands automatically.
"It's like having a smart executive assistant," Warren suggests, pointing out that – just like such an assistant – Sky will be carefully attuned to the possibility that it's pushing its boss too far. The settings page on SkyControl will offer the option to step back through the permission levels, for instance, while if users consistently ignore the mobile prompts, after a while Vivint will stop pestering them.
At the other extreme, more adept users will be able to set up their preferences from the start, rather than waiting for the system to learn them.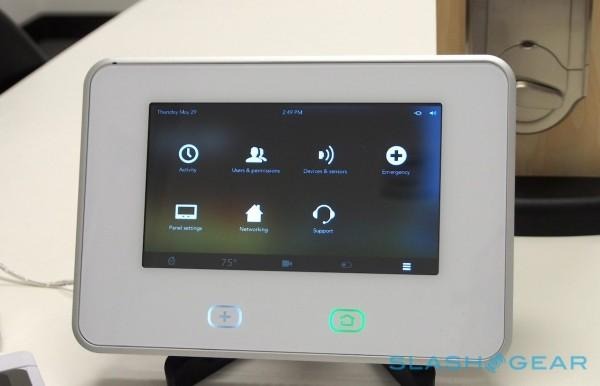 The machine learning is still in the early stages, though Warren did reveal some of the future abilities Vivint is planning. Tailoring alerts to the individual context of the user is high on the agenda; for instance, using phone GPS to figure out if one member of the household is driving, and so choosing a different, less busy person to send a time-critical alert to.
Vivint's new apps also open the door to more flexibility. There's now support for controlling and monitoring multiple homes from the same app, useful if there's a holiday home you want to keep an eye on, as well as shared entry access. Visitors or family can be registered as guests in the Sky app to allow them similar control as the home-owners.
As systems go, it's certainly consistent. Vivint's old GoControl panel was hardly the epitome of simplicity, looking more akin to a thermostat on steroids, and the different pieces of the package – the mobile apps, for instance – didn't match the main UI. The SkyControl touchscreen isn't quite as smooth in its transitions as, say, an iPad (though to be fair you're unlikely to be using it as often) but it does put all the most relevant information at a high level.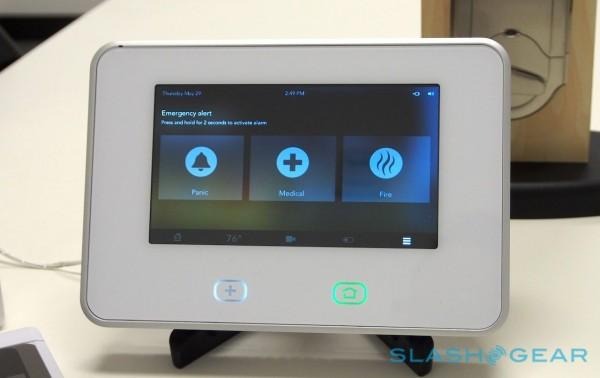 There's also the familiar "emergency" button, which puts residents in contact with Vivint's call center and, following on from that, the full emergency services. The company handles thousands of such calls a week, Pedersen told me, while the cloud system currently sees as many as a million state-changes a day from the 800,000 installed systems across North America. That's only going to increase with Sky's roll-out.
Vivint Sky is available for installation from today, with packages ranging from $53.99 to $69.99 per month, after a $99 activation fee and assuming a 43 month contract. Alternatively, you can pay more upfront and have the monthly cost come down.