Vision Mercedes-Maybach 6 Cabriolet is 20 feet of electric drop-top luxury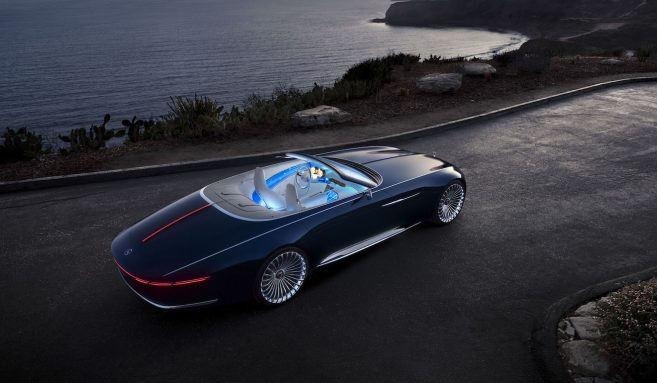 Last year, Mercedes-Benz revealed the Vision Mercedes-Maybach 6 concept, the closest thing you could get to a luxury yacht for the road, and now the German carmaker is back with the convertible version. Meet the Vision Mercedes-Maybach 6 Cabriolet, a near 20-foot long all-electric coupe, complete with its "boat tail" and 24-inch wheels. If last year's concept was a land yacht, the Cabriolet is a land speedboat.
Mercedes revealed the latest Vision 6 at the Monterey Car Week event in California on Friday. It measures 18.7 feet long and 6.9 feet wide, and it still only has two seats. The car's Art Deco-inspired design features a single arched line that runs the length of the entire body, a front grille that borrows lines from a pinstriped suit, and, of course, a hood that's longer than modern compact hatchbacks — all finished in Nautical Blue Metallic paint.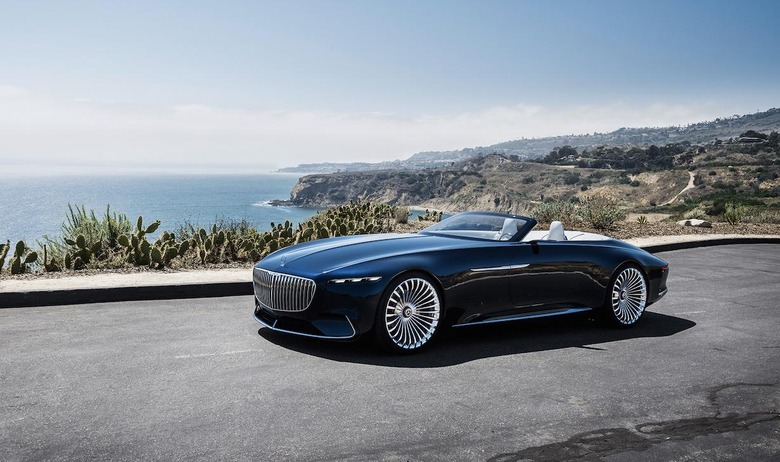 But underneath all the refined, luxurious looks the Mercedes-Maybach is packed with the latest electric vehicle tech. The all-wheel drive electric drivetrain uses four compact permanent magnet synchronous electric motors to produce the equivalent of 750 horsepower. With a top speed of 155mph, it can go from zero to 60mph in under four seconds, and a flat battery positioned under the vehicle's floor gives it a range of 200 miles on a single charge. Mercedes also says its advanced fast charging system can provide up to 60 miles of range in just fives minutes.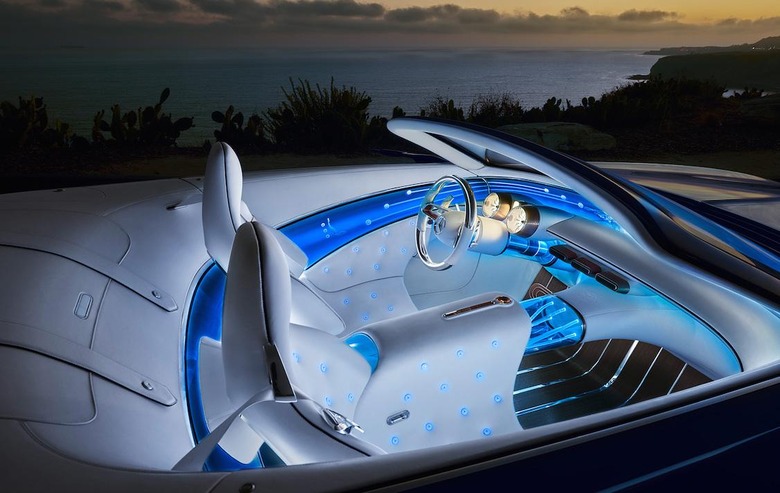 The interior is covered in Crystal White leather and paired with a wooden floor laced with aluminum inlays — another yachting reference. The real eye-catcher, however, is the transparent center tunnel filled with blue fiber optics that's designed to visualize the car's electrical energy flow. As Mercedes describes it, "a light wing flows in a curve across the door trim and the center tunnel into the seat landscape, creating a 360-degree open-air luxury lounge."
Drivers will find themselves behind an instrument cluster that features classic round gauges with working needles. The navigation system is linked to touchscreen displays, while an intelligent concierge system uses voice commands to provide information based on location and time of day.
There's almost zero chance the Vision Mercedes-Maybach 6 Cabriolet will actually enter production, so those attending this year's Pebble Beach Concours d'Elegance will have one of the few opportunities to see it in person.
SOURCE Mercedes-Benz