Daimler drops details on Vision Mercedes-Maybach 6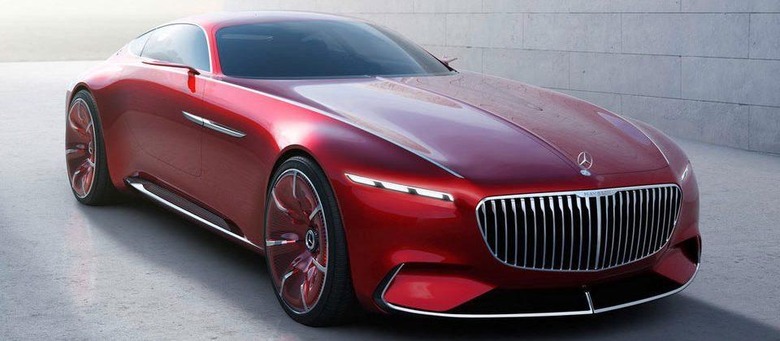 Daimler has finally offered up a bunch more detail on that sexy and massive Vision Mercedes-Maybach 6 car that will be seen in person for the first time at Pebble Beach this month. We already knew that the car was almost 6-meters in length and we have been wondering what sort of power the luxury concept would use. As it turns out the car is designed to be an electric vehicle, dashing my dreams of a big V12 under the hood. The electric system makes 750hp and the car can reach 100km/h in less than four seconds with a top speed of 250 km/h.
Daimler says that there is a shallow under floor battery that offers a range of over 500km according to the NEDC and over 200 miles according to the EPA. The official debut of the car will be August 16 and it will be on display through August 21. The design of the car is meant to recall the aero coupes of the past, but Daimler is clear that the car isn't meant to be retro but a reinterpretation of classic aesthetics.
"Our glamorous coupé, the Vision Mercedes-Maybach 6, represents the ultimate in contemporary luxury. It is hot and cool", states Gorden Wagener, Head of Design at Daimler AG. "With its intelligent appeal and reduced, technoid look, it perfectly embodies our design philosophy of sensual purity and our pursuit of aerodynamic efficiency."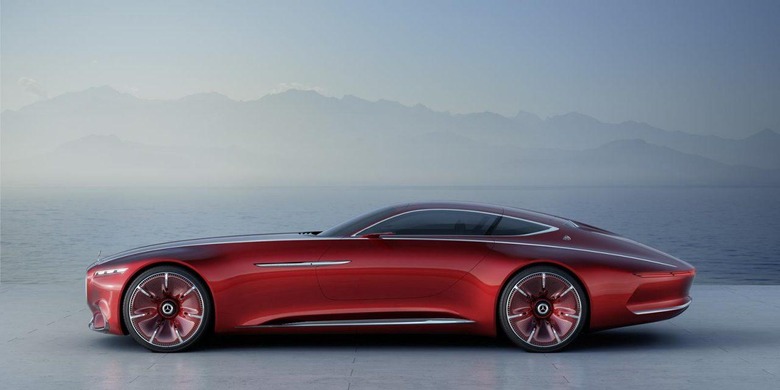 The paint color is called Maybach red and the grilled was inspired by a pinstripe suit. The doors on each side of the coupe are gull wing and in the rear, the car has a round "boat tail" design meant to recall a luxury yacht. The rear windows have a split design and there is a rear diffuser with air outlets behind each of the rear wheels. Inside the car, rose gold is used with seating surfaces given a Chesterfield look. The floors are covered in elm wood to evoke the feeling of a yacht. Two custom suitcases are in the front luggage area of the car and picnic and personal items will fit as well. A glut of images of the car were released recently.