Vision Mercedes-Maybach 6 concept images tip lots of high-tech luxury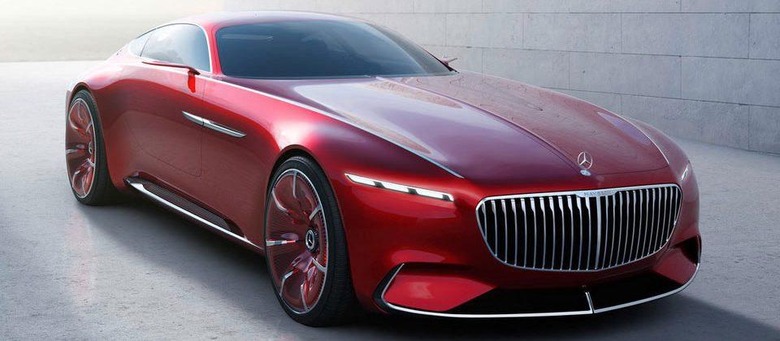 A bit more than a week ago we caught our first glimpse at the teaser images that Mercedes-Maybach were tossing online to taunt us with visions of the new and massive luxury coupe concept that would be unveiled at the Pebble Beach Concours d'Elegance. The images showed nothing but a dark photo with a bit of the outline of the 6-meter long car. This week a bunch of images of the concept car have landed online showing us the inside and outside.
Among the images are several of the outside of the car and the ride does look fantastic. It has the cockpit area pushed very far back on the chassis giving the Vision Mercedes-Maybach 6 concept a very long hood that should accept any variety of massive engines. The long and streamlined shape does remind of Mercedes concept cars of the past including that Maybach Excelero from back in 2004.
Among the images are also a slew of renderings that show what the concept will look like on the inside. High-tech is a word to describe that interior with an augmented reality windshield and what appears to be a glass structure in the center console area and a wrap around screen of sorts that swoops around the dash and comes all the way back around the driver and passenger seats.
The seats wear white material that has lots of tufted buttons. The interior does manage to keep a sporty appearance and the seat material wraps around the center console and door areas. Rather than armrests the doors have straps, you pull to close the doors similar to some Porsche models. The official public debut of the concept car is still set for Pebble Beach and perhaps we will hear more of what powers the car at the event.
SOURCE: Carscoops