Virgin Mobile USA MiFi 2200 on sale now for $149.99 contract-free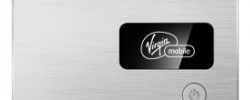 As expected, Virgin Mobile USA has launched the Novatel MiFi 2200 as its latest mobile broadband offering, pairing the mobile WiFi hotspot with various pre-pay data packages.  Priced at $149.99 for the MiFi itself – which is capable of sharing an EVDO Rev.A 3G connection with up to five WiFi-connected clients – service plans range from $10 for 100MB through to $60 for 5GB of data.
Virgin Mobile USA are claiming users will see up to 4hrs active use from the MiFi 2200 or up to 40hrs standby time.  Recharging is via microUSB, and we're guessing that – as with the other versions of the MiFi 2200 on sale through Verizon and Sprint – hooking up via USB to a laptop switches the 2200 into standalone modem mode.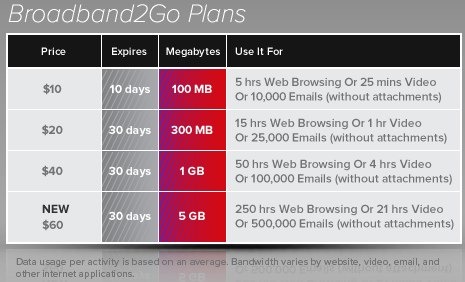 Press Release:
Virgin Mobile USA First to Launch Nationwide Prepaid MiFi Intelligent Mobile Hotspot

New Broadband2Go MiFi product is industry's first Intelligent Mobile Hotspot without a contract allowing customers of any Wi-Fi enabled device to stay connected at home or on-the-go

WARREN, N.J., Jun 29, 2010 (BUSINESS WIRE) — Providing an innovative new offer for the ever-evolving mobile broadband market, Virgin Mobile USA today announced the addition of MiFi(R) 2200 to its Broadband2Go portfolio, offering customers the industry's first prepaid Intelligent Mobile Hotspot. This new device allows those using any Wi-Fi enabled device to connect to 3G, prepaid wireless Internet service without an annual contract, monthly subscription or activation fee.

Virgin Mobile is launching the Novatel Wireless MiFi 2200 Intelligent Mobile Hotspot for $149.99 (excluding taxes). Operating on the nationwide Sprint 3G network, the Virgin Mobile MiFi 2200 will be available beginning today at Best Buy and RadioShack and online at BestBuy.com, Walmart.com and VirginMobileUSA.com.

In conjunction with the launch of MiFi, Virgin Mobile USA recently lowered the price of its initial broadband product, the Ovation(TM) MC760 USB device, from $99.99 to $79.99 (excluding taxes). Also developed by Novatel Wireless [NASDAQ: NVTL], the Ovation MC760 carries the distinction of being the world's smallest EV-DO Rev. A USB device.

"We have seen the popularity of MiFi, heard the requests from our customers, and are excited to give them the freedom to pay for what they use when they use it, and the flexibility to change plans as they need," said Neil Lindsay, chief marketing officer, Virgin Mobile USA.

Rob Hadley, chief marketing officer from Novatel Wireless, said, "We're thrilled to support Virgin Mobile USA as the first operator to launch the MiFi 2200 nationwide with prepaid plans and continue to support their visionary market approach and bring true mobility to the masses."

According to recent research from IDC, the U.S. mobile broadband market is expected to grow from 6.5 million subscribers in 2009 to 30.2 million in 2014, which accounts for a compound annual growth rate (CAGR) of 36.1% during the forecast period.

"Mobile broadband is no longer just for the early adopters and heavy mobile broadband business users," Lindsay said. "Many of today's mobile broadband options in the market have prohibited mass adoption. Combining the MiFi 2200 with a prepaid Broadband2Go plan will encourage a wide variety of consumers to connect at home or on-the-go. With Virgin Mobile USA, it's simple. A MiFi 2200 with a Virgin Mobile or Broadband2Go Top-Up card will support all your mobile broadband connectivity needs for your laptop, iPad, iPod, gaming devices and more – whenever you need it – whether at home or on the go."

MiFi creates a mobile hotspot that can be easily shared among up to five users at a time using a variety of WiFi-enabled devices. Key features of the Novatel Wireless MiFi 2200 Intelligent Mobile Hotspot include:

Easily fits in the palm of your hand – Dimensions: 3.50 x 2.32 x 0.35 inches; Weight: 2.05 oz.

Brushed aluminum finish

Provides mobile broadband Rev. A Internet access

Supports up to five WiFi-enabled devices

No software installation required

Universal Wi-Fi compatibility

Advanced security through WPA-PSK, WPA2-PSK, WEP and SPI Firewall

VPN capability

Battery provides four hours of user time, 40 hours standby on single charge

Easy top-up landing page with ability to top up from any device with an Internet browser

Automatic connectivity for Wi-Fi enabled devices

The activation of the Broadband2Go service and the MiFi 2200 Intelligent Mobile Hotspot is simple, and there are no activation fees. Megabytes can be added as often as needed with credit/debit cards or Virgin Mobile and Broadband2Go Top-Up cards, and customers can easily monitor data usage with the near real-time usage meter located on the "My Account Page" at virginmobileusa.com after log-in. Broadband2Go plans range from $10 (data expires after 10 days) and $20 to $60 (data expires after 30 days), with the $60 plan offering 5GB.