Virgin Galactic's Branson vows "the dream lives on"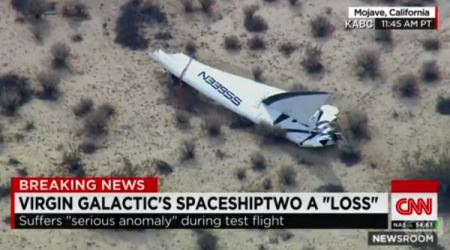 Sir Richard Branson, founder of Virgin Galactic, has spoken publicly on the crash of SpaceShipTwo, promising to not only figure out what brought down the craft during a test flight last week, but hopefully continue working toward the dream of space tourism. The incident, on Friday, saw SpaceShipTwo explode over the Mojave desert in California during a test of the new engine, killing one pilot in the process and leaving the other with major injuries. Second explosion of a private space endeavor in the space of a week, it has renewed questions around commercial space flight.
"We owe it to our pilots to find out exactly what went wrong," Branson said during a press conference in Mojave, where he had flown out so as to be with the Virgin Galactic crew.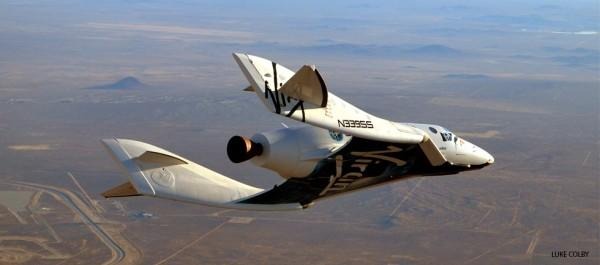 While there is plenty of speculation as to what prompted the engine to explode, it will take a full inquiry to get to the root of the issue. However, Branson is adamant that – assuming it can be addressed for future missions – the Virgin Galactic journey will continue.
"If we can overcome it," he told press, "we will make absolutely certain that the dream lives on
The National Transportation Safety Board confirmed it would be sending an investigation team to Mojave to look into the causes of the crash. That team will be led by Senior Investigator Lorenda Ward.
In a statement on Friday, Virgin Galactic CEO George Whitesides praised the first-responders in the Antelope Valley, and said the company would push ahead with its plans for commercial space travel:
"Space is hard and today was a tough day. We are going to be supporting the investigation as we figure out what happened today. We're going to get through it. The future rests in many ways on hard days like this, but we believe we owe it to the team, that has been working so hard on this endeavour, to understand this and to move forward. And that is what we'll do" George Whitesides, CEO, Virgin Galactic
Michael Alsbury has been named as the test pilot from Virgin Galactic partner Scaled Composites who died during the crash. He was responsible for flying SpaceShipTwo's first powered flight, in 2013, and had amassed 1,600 hours of flight time in research aircraft for the company.
In Virgin Galactic's image, below, he is second from left talking with Branson after having completing the 2013 flight.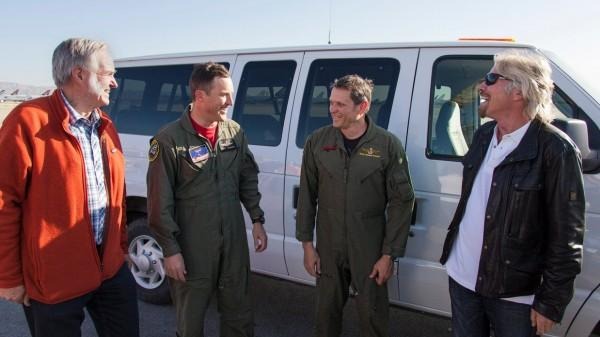 Meanwhile, the second pilot, Pete Siebold is still recovering in hospital, after sustaining what have been described as "severe injuries" in the crash.
The flight was the first time testing a new type of rubber-nitrous oxide engine which burns nylon from a polyamide-based fuel grain. Ignited by laughing gas, it replaces the existing rubber-hybrid engine that Virgin Galactic had used in previous tests.
The company had switched on the basis that the new engine would be more powerful, and thus allow for faster flights at higher altitudes.
On Monday last week, Orbital Sciences' Antares rocket exploded shortly after take-off as it attempted the company's third resupply mission to the International Space Station. Unmanned, there was no loss of life involved, though the launch facility suffered damage.
SOURCE Richard Branson's blog; NTSB