Virgin Galactic's SpaceShipTwo crashes in engine test [Update]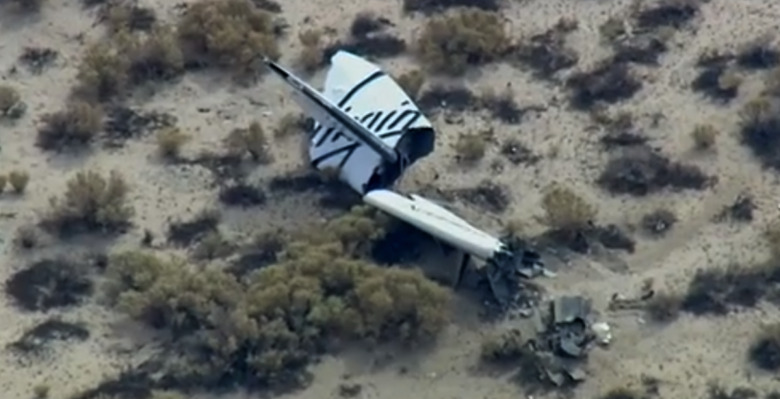 Virgin Galactic's SpaceShipTwo has crashed during today's test flight, with the high-speed rocket plane coming down east of Mojave. Virgin Galactic first confirmed an incident had taken place via Twitter, with a terse message saying the space plane "has experienced an in-flight anomaly," and promising additional information on the situation to follow. According to local reports, which also confirmed the crash, there has been one fatality and one injury, with SpaceShipTwo itself in pieces on the Californian desert.
Director of the Mojave Air and Space Port Stu Witt told the Kern Golden Empire News that a press conference would be held this afternoon. According to the site, scanner traffic suggested at least one fatality is involved.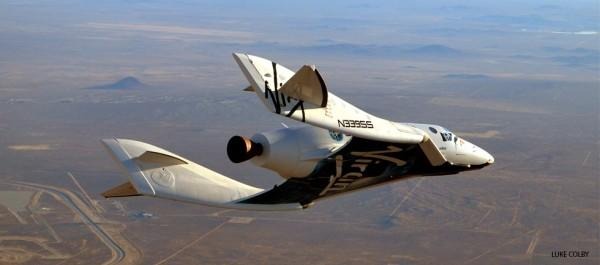 SpaceShipTwo flies with two pilots onboard. ParabolicArc's Doug Messier was on-site in Mojave, and reported on Twitter that he had seen the space plane encounter issues with its engines.
Back in Mojave now. Ss2 had trouble with engine burn, blew up, came down in pieces near Koehn Lake. — Parabolicarc.com (@spacecom) October 31, 2014
Saw on of crash sites. Body still in seat. — Parabolicarc.com (@spacecom) October 31, 2014
Today's test was to be only the fourth powered flight for SpaceShipTwo, and indeed the first time since January that the engines were used.
It was also an opportunity for Virgin Galactic to test a new rubber-nitrous oxide engine which burns nylon from a polyamide-based fuel grain. Replacing the existing rubber-hybrid engine, the new system was expected to be more powerful and thus allow SpaceShipTwo to fly higher in the Earth's atmosphere.
Virgin Galactic's goal is to take space tourists to around 62 miles above the planet. At that altitude, the plane would officially be considered to be flying in space, traveling at speeds of up to 2,485 mph.
In follow-up comments from Virgin Galactic, the company said that fatalities were yet to be confirmed, but has not given any further indication of what caused the crash itself.
UPDATE:Virgin Galactic's partner Scaled Composites conducted a powered test flight of #SpaceShipTwo earlier today. (1 of 4) — Virgin Galactic (@virgingalactic) October 31, 2014
During the test, the vehicle suffered a serious anomaly resulting in the loss of SpaceShipTwo. WK2 landed safely. (2 of 4) — Virgin Galactic (@virgingalactic) October 31, 2014
Our first concern is the status of the pilots, which is unknown at this time. (3 of 4)

— Virgin Galactic (@virgingalactic) October 31, 2014
We will work closely with relevant authorities to determine the cause of this accident and provide updates ASAP. (4 of 4) — Virgin Galactic (@virgingalactic) October 31, 2014
The crash follows the failure of the unmanned Antares rocket earlier this week, which exploded on takeoff as it began a resupply mission to the International Space Station.
Update: According to the AP, one pilot was killed and the other is in a critical condition and being transported to a medical facility. Wreckage of the plane can be seen from the air, CNN reports.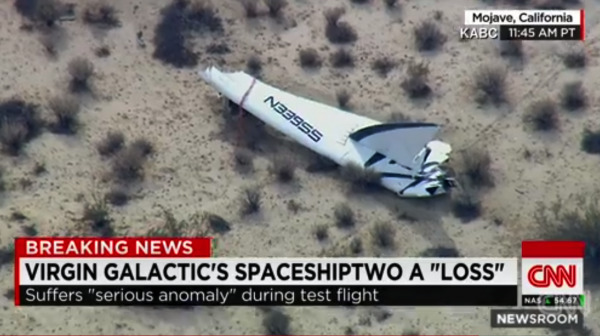 Update: Richard Branson has said he is flying to Mojave to be with the team at the crash site.
Thoughts with all @virgingalactic & Scaled, thanks for all your messages of support. I'm flying to Mojave immediately to be with the team.

— Richard Branson (@richardbranson) October 31, 2014
SOURCE Virgin Galactic