Vine upgraded with mentions and front-facing camera support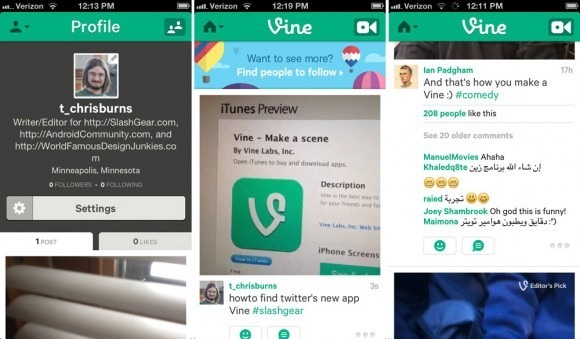 An update for Vine is rolling out today that brings a few new features to the social app as well as various bug fixes. One of the major updates included is the added support for front-facing cameras. By pressing the button located on the bottom left corner of your phone, you can switch over to your front-facing camera and send 6 second messages that way. We're expecting many users to abuse this new feature with selfies and whatnot.
The second new feature being added is a Twitter classic. You are now able to mention users in your Vine messages by using the @ symbol. By typing @ and a person's username or real name, you will be offered suggestions of people you would like to mention in your message. This new feature will promote social interaction in Vine and encourage more conversations and usage of the app.
For those of you who don't know, Vine is a social app released by Twitter that allows people to send each other short video messages. Each message can be up to 6 seconds long, and is easily shared to the internet. You can choose to upload your content to only Vine, or you can choose to upload your content simultaneously to Twitter and Facebook as well. Once your content is uploaded, it will be in public view for anyone to see.
Currently, Vine is only available for the iPhone and the iPad, but it should be making its way to Android devices sometime in the future. It's unsurprising for these apps to head to iOS before they're ported over to Android. The same thing happened with Instagram, which came to Android 2 years after its debut on iOS. Now 50% of Instagram users come from Android, which shows developers the importance of bringing their apps to both operating systems. If you want to take advantage of the new Vine update, you can download it from the App Store right now. For those of you patiently waiting for Vine to head over to Android, it shouldn't be too long now before that'll happen.