Vine becomes top free app in iTunes App Store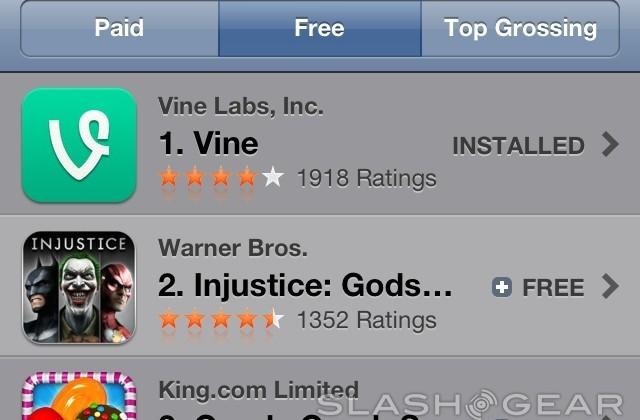 After first releasing back in January, Twitter's popular, yet controversial social app Vine is now at the top of the free app chart in the iTunes App Store. The app has slowly been making its way to the top of the charts, but after not being well-received by some users due to the app's porn problem, Vine is now sitting pretty at number one.
This marks the first time that Vine has hit the number one spot in the iTunes App Store, and frankly we're surprised that it took this long, even despite app's controversy. Vine's co-founder and creative director, Rus Yusupov, tweeted the announcement today with a sort of wise-guy attitude, saying "Hey guys, remember that time we made the No. 1 most popular app in the world?"
The app's controversy stems from an issue that saw adult content being posted on the service, without a 17+ age warning. Of course, this is against Apple's terms of service for the iTunes App Store, so Vine was required to tack on an age warning. However, that didn't stop Apple from removing the app from its list of Editor's Choice apps for the week.
Vine is available for free on iOS devices, but it's mysteriously missing on Android. While it's been reported that the company was looking for Android developers, we have yet to hear anything about an Android version of the app making its way to Google Play, but it could be anytime soon, as an Android version would surely take off.