Viliv X7 and X10 Android tablets, X70 Win7 tablet, get official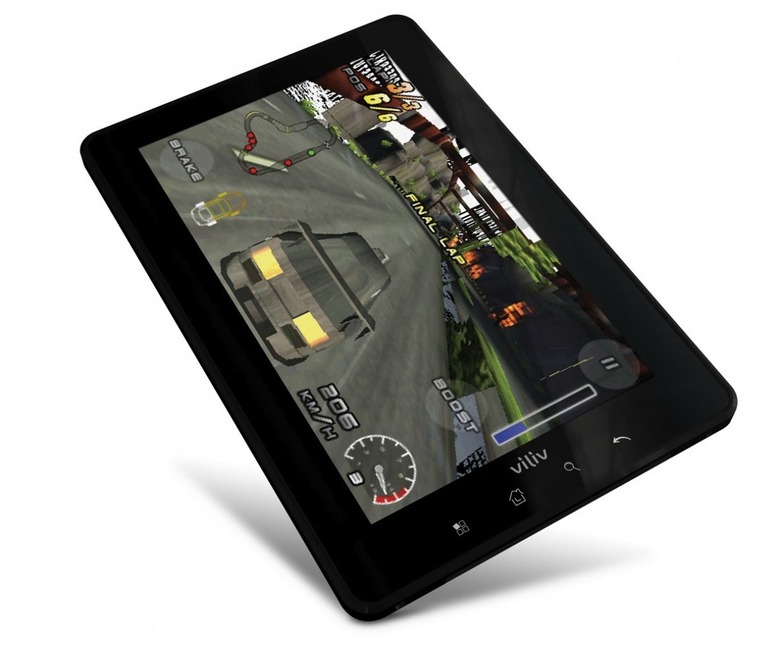 Viliv has outed its range of three new tablets at CES 2011 this week, as promised, the Viliv X7 Android Tablet, Viliv X10 Android Tablet, and the Viliv X70 Windows 7 Slate. Each Android tablet is powered by a 1GHz Samsung Cortex-A8 processor with Power VR SGX 540 GPU and 512MB of memory, the X7 having a 7-inch, 1024 x 600 capacitive touchscreen while the X10 has a 10.2-inch 1024 x 600 capacitive touchscreen. Meanwhile, the X70 Windows 7 slate runs an unspecified "next-gen" Intel CPU with a 7-inch 1024 x 600 capacitive touchscreen.
Both Android models have WiFi b/g/n, optional 3G HSPA or WiMAX or EVDO wireless conenctivity, Bluetooth and GPS, along with a rear 3-megapixel camera and a front 1.3-megapixel camera for video calls. There's also HDMI, microUSB and a microSD card slot to augment the 8GB, 16GB or 32GB of onboard storage. Sensors include an accelerometer, ambient light, and digital compass. The X7 has a 5,600 mAh battery, good Viliv says for up to 9.5hrs runtime, while the X10 has an 8,300 mAh battery, good for over 10hrs
As for the Windows 7 based Viliv X70, that has 1GB or 2GB of RAM, a choice of 32GB or 64GB SSD and either the Starter or Home Premium versions of Microsoft's OS. There's WiFi b/g/n, Bluetooth, optional HSPA/WiMAX/EVDO and GPS, together with the same cameras as the Android slates. Ports include HDMI, microUSB and microSD, and the 5,600 mAh battery is good for up to 6.5hrs. Impressively, it weighs a mere 420g and is just 14.3mm thick.
The Viliv X7 Android tablet and Viliv X10 Android tablet will go on sale in March and April 2011 respectively. No word on availability for the Viliv X70 Windows 7 Slate, nor pricing for any of the three. Viliv say the Android version is also undecided, and could be either 2.2 Froyo or Honeycomb; however, if rumors of Honeycomb being restricted to dual-core processors are true, that could force Viliv's hand in the wrong direction.
[via jkkmobile]
Press Release:
"viliv X7 Android Tablet", "viliv X10 Android Tablet" and "viliv X70 Windows 7 Slate" Introduced at CES

Substantializing the Leadership of Anywhere Internet Connectivity Longest battery life among existing Android devices.

Las Vegas, US, January 6th, 2011 – A leading Tablet PC manufacturer, viliv (Yukyung Technologies Corporation) today announced two new lineups, the Android Tablet X7 and X10. The tablets are powered by Android 2.2 / 3.0(TBD), with a Cortex A8 1GHz CPU and Power VR SGX 540 GPU chipset. The X7 and X10 are expected to be launched worldwide in March 2011 and April 2011 respectively.

The viliv X7 and X10 allow users to experience true anywhere connectivity with options for 3G HSPA, EVDO, or WIMAX. The new X7 and X10 lineup also feature a best in class battery life, the highest of any current or soon to be released Android devices, continuing to demonstrate viliv's dedication to creating powerful mobile devices that are truly connected and allow for a full day of productivity.

With support for full HD playback, the viliv X Series Tablets brings consumers a realistic multimedia experience when watching movies, playing games or viewing pictures. Storage can be expanded via the integrated micro-SD card slot (supports SDHC up to 32GB) to provide even more space to store your media. The integrated HDMI-out port even allows you to share them all with friends and family when connected to an HDTV.

With a lightweight design to allow for ease of use, the X Series Tablets includes a number of supportive features such as 802.11 b/g/n WiFi, Bluetooth, stand-alone GPS, a rear 3MP camera and front 1.3MP camera enable users to communicate with substantial quality. The front camera provides for easy video conferencing, while the rear 3MP camera catches images and produces video with clarity that can be shared and edited.

"We face new information technology everyday and viliv tablets can be a solution provider to make our life easy and simple. This fast-changing environment creates demand and we are able to meet customer's expectation with our decades-old experience in mobile technology." said Dr. Seung-Jin Yoo, COO/Executive Vice President, viliv by Yukyung Technologies. "Thanks to our understanding of mobile environments, viliv is able to see the opportunities in the field and its tablets take a unique position in the market. IT environments have been changing so fast and people's expectations are higher than ever. viliv's brand-new tablets can satisfy all these high expectations."

In addition to the X Series Android tablets, viliv also unveiled the X70 Windows 7 Slate, proud that it is the slimmest and lightest Windows 7 based tablet in the world. The X70 Slate is the second version of viliv's existing model, the X70EX. It features upgraded functionality such as Intel next generation mobile CPU, 2GB memory and a smooth capacitive multi-touch LCD. Its 14.3mm ultra- slim design and 420g (0.926lb) weight enhance its portability.

viliv X7 Android Tablet

Longest battery life powered 7 inch Android

Samsung Cortex A8 1 GHz CPU with Power VR SGX 540

512MB Memory

Android 2.2 / 3.0 (TBD)

7 inch (1024x600) Clear Type LCD, 16M color

Capacitive Multi-Touch

1080p Video Playback

Wi-Fi: 802.11 b/g/n

3G HSPA or WIMAX or EVDO

Bluetooth

Stand-alone GPS

Rear 3MP Camera / Front 1.3MP Webcam

HDMI l Micro USB l Micro SD/SDHC supporting 32GB

Storage: 8GB (16GB/32GB available)

Accelerometer/Ambient Sensor/Compass

5600 mA/h, 21W, 9.5 hours Operation

398g / 0.877lb,

14.3mm / 0.56inch Depth Design

viliv X70 Windows 7 Slate

Slimmest and Lightest Windows 7 based Tablet in the world

Next-generation Intel CPU

1GB / 2GB Memory

Windows 7 Starter / Home Premium

7 inch 1024 x 600 Clear Type LCD, 16M color

Capacitive Multi-Touch

1080p Video Playback

Wi-Fi: 802.11 b/g/n

Bluetooth

3G HSPA or WIMAX or EVDO

HDMI l Micro USB l Micro SD/SDHC supporting 32GB

Stand-alone GPS

Storage : Fast 32GB SATA SSD (64GB available)

Read/Write : 100M/70Mbps

Rear 3MP Camera / Front 1.3MP Webcam

Accelerometer/Ambient Sensor

5600 mA/h, 21W, 6.5 hours Operation

420g / 0.926lb

14.3mm / 0.56inch Ultra Slim Design

viliv X10 Android Tablet

Longest battery life powered 10.2 inch Android

Samsung Cortex A8 1 GHz CPU with Power VR SGX 540

512M Memory

Android 2.2 / 3.0 (TBD)

10.2 inch (1024x600), 16M Color, 400 nits, Wide Angle

Capacitive Multi-Touch

1080p Video Playback

Wi-Fi: 802.11 b/g/n

3G HSPA or WIMAX or EVDO

Bluetooth

Stand-alone GPS

HDMI l Micro USB l Micro SD/SDHC supporting 32GB

Storage: 8GB (16GB/32GB available)

Rear 3MP Camera / Front 1.3MP Webcam

Accelerometer/Ambient Sensor/Compass

8300 mA/h, 31W, +10 hours Operation

680g / 1.50lb