ViewPad 7 vs Galaxy Tab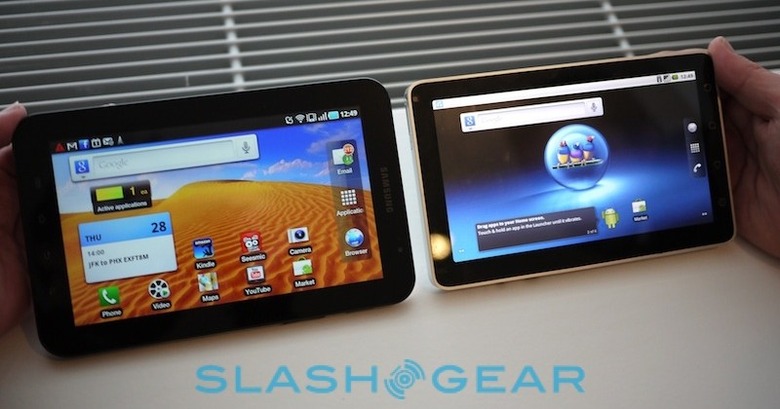 Two 7-inch Android tablets, two versions of Froyo and two pretty different price tags: the Samsung Galaxy Tab and ViewSonic ViewPad 7 are each taking on the iPad, but they're also challenging each other in the process.  We pitted a production version of each against the other to see whether there was a clear winner.
The Tab is slightly thinner – around 3mm – but also slightly longer and broaded; both can be held comfortably with a single hand, though the ViewPad 7's homescreen is locked in landscape orientation while the Samsung's can be used in portrait or landscape.  The displays themselves are significantly different, too: the Galaxy Tab uses a 1024 x 600 panel, while the ViewPad 7 is more akin to an oversized smartphone with its 800 x 480 screen.  The upshot is that graphics and text on the Tab look crisper, though there are some titles in the Android Market that don't play nicely with the higher-resolution and instead float at WVGA in the middle of the display.
Inside, the ViewSonic packs WiFi b/g and Bluetooth 2.1+EDR, versus the Samsung's WiFi b/g/n and Bluetooth 3.0, though we don't imagine either will make a significant difference in day-to-day use.  Each also gets quadband GSM and triband UMTS/HSDPA, and can be used as a 3G mobile hotspot.  Where the cheaper ViewPad 7 has a 600MHz ARM11 Qualcomm MSM7227 chip, the Galaxy Tab has the faster 1GHz ARM Cortex-A8 Hummingbird of Samsung's own making; the Quadrant benchmarking scores confirm it's significantly faster, with the ViewSonic scoring just 420 versus the Tab's 1040.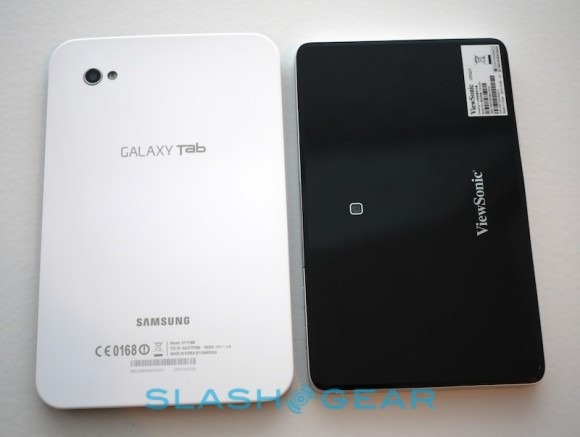 We'll have to spend more time with the ViewPad 7 to figure out exactly what sort of impact that shortfall has, but out of the box it means the cheaper tablet can't handle Flash Player 10.1.  That's a common complaint about the iPad and an equally touted feature of Android-based rivals; Advent's similarly budget Vega slate costs £150 less than the ViewPad 7, has a bigger, 10-inch display and can cope with Flash thanks to its Tegra 2 chipset.  Meanwhile we've had no issues multitasking on the Galaxy Tab, with browsing being particularly swift.
Both slates have roughly the same rear-mounted camera (3-megapixels on the ViewSonic, 3.2 on the Samsung) but the Galaxy Tab has an LED flash; each has a front-facing camera for video calls.  Each can also make voice calls, either using the tablet as a speakerphone, holding it to your head or with a wired/wireless hands-free kit.  Samsung best ViewSonic on accessories, meanwhile, offering a QWERTY keyboard dock, HDMI dock for high-def media playback and more.  Still, you'll pay handsomely for the privilege.
The ViewPad 7 is a surprisingly strong contender, though we've still got some concerns over future upgrade potential; ViewSonic wouldn't confirm that a Gingerbread – or indeed any OS – update was on the roadmap, whereas Samsung is making more positive noises about later upgrades.  Pricing is, potentially, the great divider.  The Galaxy Tab is a hefty £530 (in the UK) while the ViewPad 7 comes in at £400; if you've got an old netbook, you could shave up to £100 off that with ViewSonic's trade-in program.  Each fits into an inside jacket pocket, should last you a day's runtime and – no matter what Steve Jobs thinks – offers a more impressive browsing experience than a regular smartphone.