Verizon's Pocket eDGe gets detailed: WiFi-only version confirmed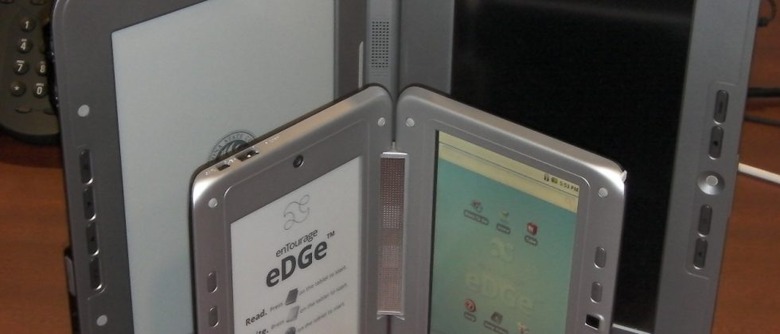 After Verizon's EnTourage Pocket eDGe was spotted making its first, unofficial debut, the company has relented on its prolonged silence and spilled the details.  The Digital Reader met up with EnTourage and snapped some hands-on pictures – here you see the mini version nestling up with the original eDGe – with the new clamshell confirmed to have a 6-inch E Ink touchscreen on the left and a 7-inch WVGA LCD touchscreen on the right.  Two versions are planned, one WiFi-only and the other with embedded Verizon 3G.
Unfortunately, the E Ink panel is the company's previous-gen Vizplex screen, not the newer Pearl as seen on the third-gen Kindle.  The camera has switched sides, from above the LCD to above the e-paper display, and the controller nubbin on the right has been swapped for an optical trackpad.  It's also lost some connectivity, being down to a single USB Host port, and the full-sized SD card slot of the original eDGe has been replaced with a microSDHC slot due to size constraints; the battery is now non-removable.
Otherwise the controls are basically the same as before, as are the CPU and the apps the Pocket eDGe will launch with.  As for that launch, no word on pricing but both the WiFi-only and the Verizon models will apparently drop late in October 2010.