Verizon Wireless Customers Want the iPhone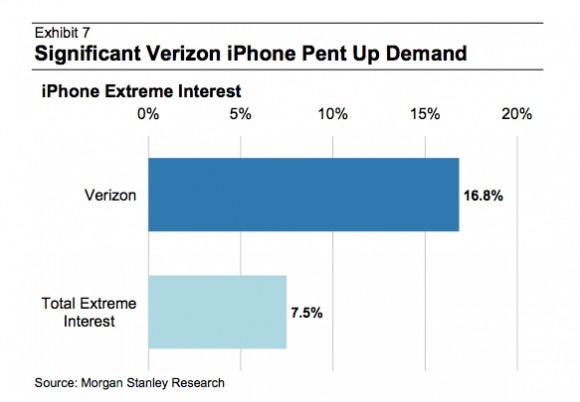 At least, that's what a new report from an analyst says. How many of them? Not all of them, as some people might think, but a pretty healthy number. The trouble is, it sounds to us like AT&T still has an exclusive deal with the iPhone, and it doesn't look to us like Apple's Steve Jobs is going to come out on stage and announce another carrier for the Cupertino-based company's handset. Then again, there's definitely rumors galore with the iPhone HD making an appearance on Verizon Wireless –and now even Sprint–, so just how many Verizon Wireless customers want the iPhone?
16.8%, according to the report from Katy Huberty, from Morgan Stanley, writing in a research note published today. She theorizes that nearly 17% of people currently on Verizon Wireless would upgrade if given the opportunity. Huberty says that there is "substantial pent-up iPhone demand within the Verizon installed base," and went on to add that 16.8% of customers were "very likely" to buy an iPhone if given the chance.
Curiously enough, that almost 17 percent is higher than the current 14.6% interest in the iPhone for AT&T customers, and "well above the overall iPhone extreme interest of 7.5 percent." Huberty also claims that, over a two-year period, Verizon Wireless would sell anywhere between 7 and 8 million iPhones. Interesting numbers, but that doesn't make a Verizon iPhone any more real, or any more likely to get announced at WWDC in just a couple weeks. But, keep in mind that we'll be there live to tell you all about it, so if something incredible does happen, you'll see it here, first.
[via Digital Daily]