Verizon LTE Galaxy Nexus price tipped via ad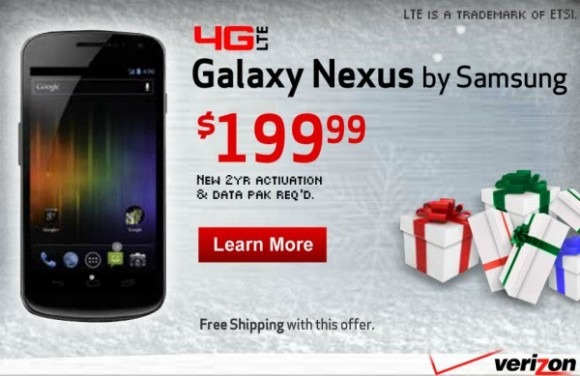 We have no idea if this ad is legit or not, but this is the price that we were hoping for. The Samsung Galaxy Nexus smartphone has been price tipped via an ad. Apparently, the ad you see in the photo below is some sort of flash ad that is running somewhere. I've got most ads blocked so that may be the reason I haven't seen it.
The ad claims that the LTE packing smartphone will sell for $199.99. That would put it at the same price as the iPhone. I had suspected the device would be more than the traditional $199.99 price tag. I hope the ad is correct and not some sort of fake. That volume issue that the phone suffered from is supposed to be fixed now.
We reviewed the Galaxy Nexus a few days back and found that it is the best Android device on the market right now. The device has a slick curved screen that supports 720p resolution. The screen is very large at 4.65-inches and is a Super AMOLED HD unit.