Verizon LG VX9600 Versa released February 22nd 2009?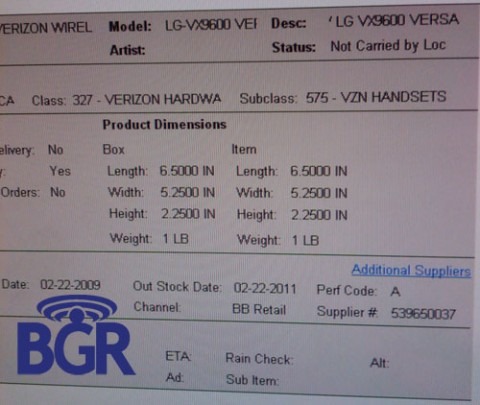 Having seen photos of the LG VX9600 Versa only this morning, now we have news on its release date.  According to the latest information from Best Buy Mobile's inventory system, the innovative device – which has a removable QWERTY keyboard and promises add-on gamepad, stereo speaker and WiFi modules – will land on February 22nd 2009.
The LG VX9600 Versa marks a design departure for the manufacturer's handsets with Verizon, with the QWERTY keyboard that marked out handsets like the Voyager being shifted to a removable clamshell slice.  According to the initial leaks regarding the Versa, LG and Verizon will eventually make additional, optional add-on peripherals that can take the place of the keyboard depending on how the owner wishes to use the phone: a gamepad has been suggested, as has an internet module that would give the VX9600 WiFi capabilities.
Otherwise, the LG VX9600 Versa has a 3-inch touchscreen, camera, and Bluetooth with support for the A2DP wireless stereo profile.  EV-DO is also onboard, and we'd expect that to be in the shape of the faster Rev.A variant.  No word on pricing as yet, but don't expect the Versa to come cheap.