LG VX9600 images leak: Detachable QWERTY confirmed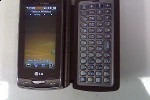 Images of the upcoming LG VX9600 Versa smartphone for Verizon Wireless have leaked, confirming the handset's innovative detachable QWERTY keyboard.  The VX9600 is normally a standard touchscreen device, with a large interface and minimal hardware buttons, but when a user wishes to enter large quantities of text a snap-on QWERTY keyboard can be added.
Other modules reportedly in development include a gamepad attachment, a stereo speaker attachment for using the VX9600 as a media player, and an internet attachment that would add WiFi capabilities.  In this way, the VX9600 Versa could have the usability of previous clamshell LG devices on Verizon, but with the option to reduce the bulk when a keyboard was not required.
The LG VX9600 cleared the FCC in September last year, when the specs were said to include a 3-inch touchscreen, EV-DO and Bluetooth with support for the A2DP wireless stereo profile.  Neither LG nor Verizon have officially confirmed the handset.
[via Krunker]