Verizon KIN One and KIN Two on sale now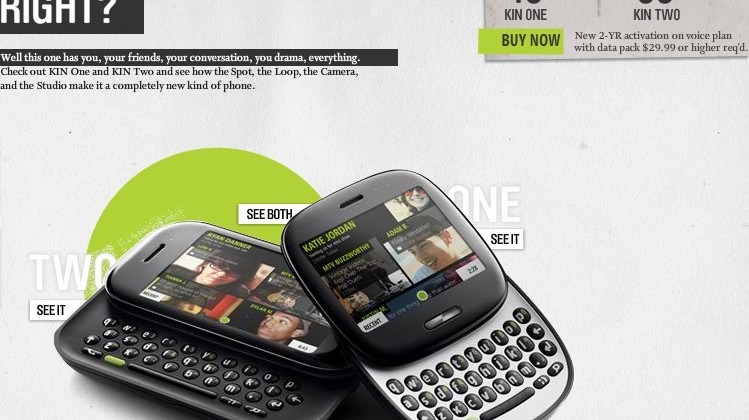 Are you a member of GenUpload?  Are you – or your parents – sufficiently loaded to afford a $69.98 monthly agreement for two years?  Then you'll be pleased to hear that Verizon have put the KIN One and KIN Two up for preorder, priced at $49.99 and $99.99 with a new, two year contract.  If you want to play before you pay, the two phones should be in Verizon stores on May 13th.
To be honest, without even looking at the abilities of the two handsets, the pricing seems way off.  At around $1,780 over the course of the two year agreement, they're very expensive featurephones indeed; for the same money you could pick up a "proper" smartphone.  Verizon may have to think twice about their data package pricing, especially with Sprint announcing some incredible deals under their Virgin Mobile brand today.
As for the KIN handsets themselves, we'd point you in the direction of SlashGear columnist Michael Gartenberg and our guest feature from 17 year old Chaim Gartenberg, who actually falls into Microsoft's "GenUpload" category.  While it's easy for us to dismiss KIN, it remains to be seen whether the youth market it's intended for will take to the concept (and whether they – or their parents – will be willing to pay).