First Hands on with KIN One and Two - Where Mobile and Social Networks Collide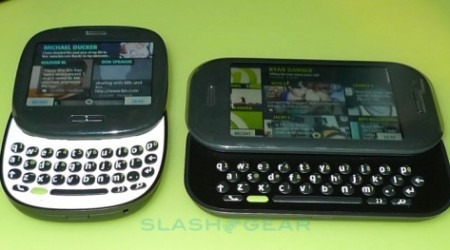 The KIN embargo is now lifted and I can now talk about the devices experience as well as pricing. Here's some initial thoughts.
Device pricing – The KIN One is $49 and the KIN Two is $99. That price includes a $100 rebate. That's pretty reasonable and in line with most high end feature or low end "smart" devices. The truth is KIN is neither of those things, although I expect a lot of folks to compare it to one, the other or both. The reality is the KIN is really a cloud phone. Its value is derived from cloud services, as well as the KIN Studio on the web. There's a lot that's different about these devices and a good deal of what Microsoft does here will be dependent on how well they can message this to their target demographic.
Service pricing – No matter how the market defines the phone, Verizon clearly looks at the KIN family as smartphones and therefore they require the smartphone data plan of $29.99. I don't think this is an issue for the older demographic using the device but certainly might be an issue short term for younger audiences. Ideally, pricing could have been one of the differentiators of the devices as they came to market. At this point KIN will need to separate itself from devices like BlackBerry or the HTC Incredible on Verizon as well as iPhone on AT&T. It's not a going to hurt the device vision long term but it makes the story a lot harder to tell.
The KIN Experience – I spent the better part of today working through the devices and I mostly like what I saw. Most folks who I showed both devices agreed that the KIN One was somewhat more compelling visually. The KIN Two looks like a nice generic slider. KIN One is 4GB and KIN Two 8GB, and as storage is mostly used as cache, that's not as big a difference as you might think. Music can be synced through the Zune client. Mac music sync will be available but wasn't at press time. The camera on K2 is also higher resolution and can do Hi-Def video (but Hi-Def video isn't synced to the cloud).
The Out of Box experience was pretty straightforward. Enter your Live ID, add in your credentials for Facebook, Twitter, MySpace and Windows Live and you're good to go. You can define favorites, add in RSS feeds, and add in mail support for most popular services, including Exchange. Contacts are limited to social networks and there's no calendar feature. I had no problem seeing my Google calendar through the web interface. Music is handled through Zune Pass and can be streamed live. It's a great feature and I suspect KIN will do a lot to help drive more Zune users.
Overall performance is pretty snappy, thanks in no small part to the Tegra chip powering the device. There's great fluidity to the experience and it feels quite natural to use. The social experiences are well integrated but varied. For example I can send photos to Facebook and MySpace but not Twitter. Likewise, basics like @replies must be done from the status bar "command line" style instead of clicking on a tweet and responding. Twitter integration overall is pretty low and is something I hope gets more robust over time.
The KIN camera is excellent on both devices and snapping and sharing happens quickly and easily once you grasp the overall KIN metaphor, which takes a few minutes to get comfortable with.
One of the real beautiful parts of KIN is the Studio, a web based app that gives you a reflection of what's on your device and is your long term storage option. Content flows seamlessly from the device to web with older content being archived to the web interface. You can mark pictures to stay on the device if you want them there all the time. In practice, the device-res version of the image stays on the phone – only the high res image goes up to the cloud. So, although Favorites keeps the whole image on there and promotes it, the user never has images they took unexpectedly disappear from the device.
The Studio experience is fluid, rich and visually appealing. This is one of the hallmarks of the device and it's something that Microsoft needs to show off to demonstrate the full value of the KIN experience.
Bottom line? KIN is something new. It's not a feature phone or a smartphone. It's something different with aspects of both. I've talked in the past at how this is likely to appeal to a specific demographic and psychographic that's socially connected. Is it the phone for me? Probably not. I'm closer to Gen AARP than Gen Upload and I need my device to do different things. (although I'd love to see a Studio type feature as part of all Windows phones along with Mac music sync). Is there a market for KIN? Absolutely. The key challenge will be how well Microsoft and Verizon can tell the KIN story to the target market. Neither the analysts, pundits or journalists will make or break this platform, the real and only question is how well the message resonates with target audience.
Kin hands-on video from launch day:
[vms de9d18c350cdf64c5aa3]