Kin One & Kin Two hands-on [Video]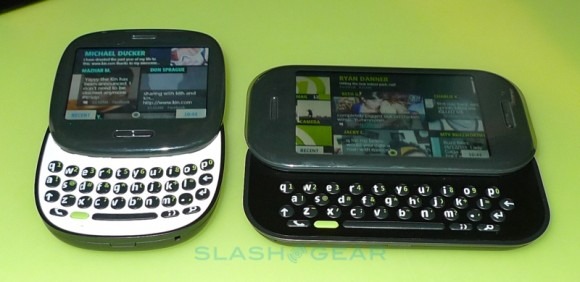 We're not sure whether we count as part of "Generation Upload", but after Microsoft's Kin One and Kin Two feature-phones were announced we grabbed some hands-on time with the two devices.  It's clear that the focus of the handsets is resolutely consumer, the youth market – who might usually go for a Sidekick – in particular, but we've always argued that Sidekick-style features like remote backup, cloud storage and tight social networking integration have appeal for more than just teens.  Check out our hands-on first impressions after the cut, together with video.
The Kin One is the smaller of the two, and Microsoft expect most people to use it single-handedly.  It's reassuringly sturdy, and the slide clicks up in a satisfying way, while keyboard responsiveness is surprisingly good.  The QVGA capacitive touchscreen certainly isn't huge, but Microsoft's Loop UI manages to fill it with a decent amount of content and the whole thing feels responsive.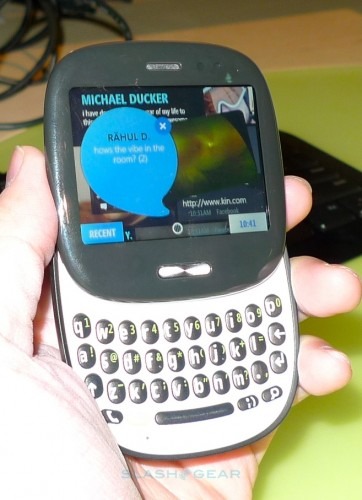 As for the Kin Two, that has a more traditional slider form-factor with a broader keyboard more suited to two-handed use.  That has meant the display can be bigger and higher resolution – QVGA in fact – but it's the aspect ratio difference that makes it easier to use overall.  Web browsing requires a little less zooming since you can fit more page-width on screen at any one time.  As with the Kin One there's EVDO Rev.A, WiFi and Bluetooth; we'll have to wait until fall 2010 for the GSM versions that will arrive on Vodafone in Europe.
We're left feeling a little confused by both devices, though we can certainly see the appeal in what Microsoft are trying to offer.  Social networking is one of the biggest uses for mobile devices today, and it certainly makes sense to bring the Sidekick-style experience up to date with a new, touchscreen-focused UI.  Hardware wise, the absence of basic things like microSD card slots seems needlessly controlling, but we guess Microsoft is hoping the Kin One and Two take their place as components in a digital world – where you stream music, or regularly refresh it via your Zune Pass subscription – rather than being seen as standalone phones.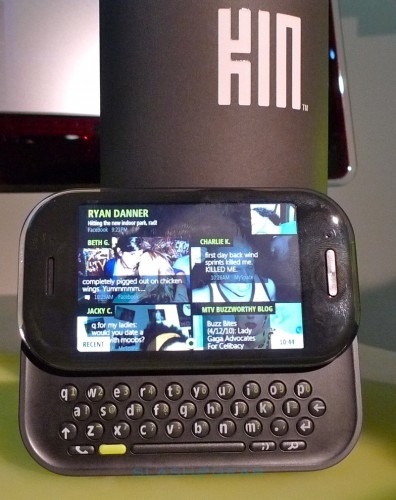 Check out our hands-on video and gallery below, and let us know what you think in the comments.
[vms de9d18c350cdf64c5aa3]