Verizon Jetpack MiFi 4620L mobile hotspot review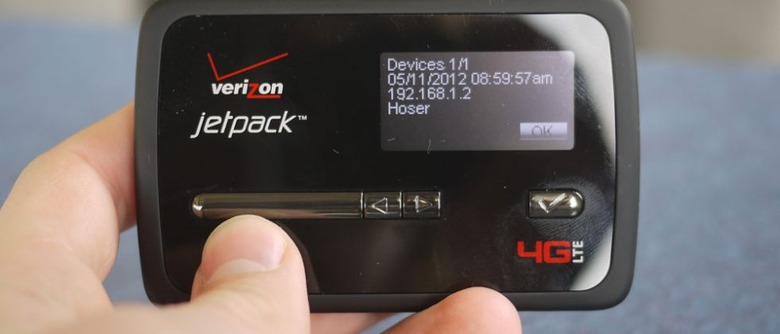 There's little to be said at this point about how powerful Verizon's 4G LTE network really is – we've found no more comprehensive coverage in the country at this point in history – but how well does this newest Verizon Jetpack MiFi 4620L mobile hotspot harness that power? Verizon has several mobile hotspot devices in their store right this second, this being Novatel Wireless' newest look at pushing this LTE network to your many wonderful devices. You'll be getting fabulous data speeds in a tiny package – and this device has a lovely display, as well – but what's the difference when it comes down to it between this and the rest of the hotspots currently available at Verizon?
Here with this new Jetpack, you've got a pocketable mobile hotspot with a tiny display on top with a left and right button and a checkmark button. These buttons allow you to move back and forth through a simple menu on the display which allows for connecting and disconnecting the mobile network while you've got the device powered on and for seeing messages Verizon sends to all hotspots, these messages being mostly alerts on updates for the device and the Verizon range. You can also see your wireless password from this display, and it can all be seen in direct sunlight since it is, indeed working with E Ink.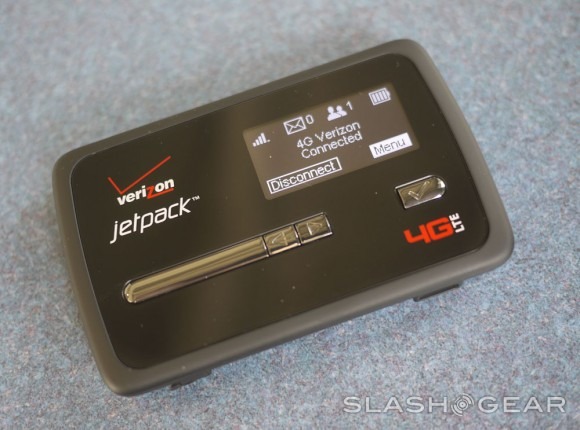 This mobile hotspot comes with a 1500mAh battery in the box and Novatel Wireless will be releasing an extended battery at 3000mAh sometime in the near future. Both batteries will last you longer than you'll need them to last, of course, with our deadly test at CTIA 2012 showing the hotspot with the 1500mAh battery to be lasting half a day with heavy, heavy use. You can use this device with data from full power all the way down to nearly out of power entirely, both while its draining power and while its plugged into either the wall or your computer's USB port for power.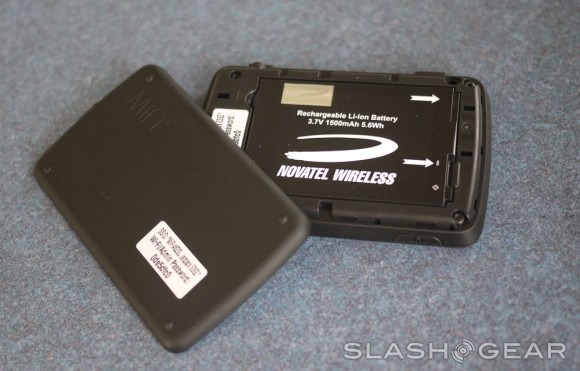 The two places I checked speeds for this device were in Minneapolis / Saint Paul, Minnesota and New Orleans, Louisiana. Both locations turned up ping times of around 50ms, upload speeds between 4.0Mbps and 10.5Mbps (with results tending to hit the higher end of this spectrum more often than the lower) and download speeds between 8.5Mbps and 12Mbps (again with the higher end popping up more often than the lower.) The only time I ended up being disconnected during the entire test period was in the deepest of evil places: during the CTIA keynote 1 where my MacBook Pro turned up a list of Wifi connections several time the length of the computer's display. Other than that, no disconnections whatsoever.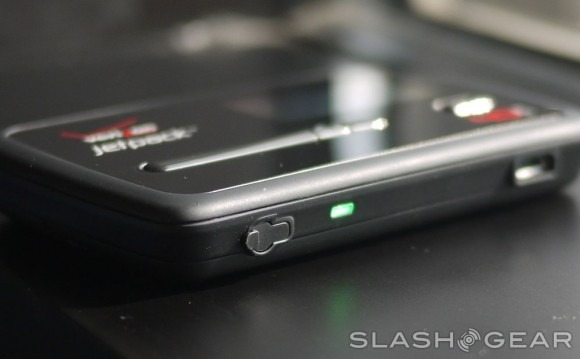 This hotspot will be ready for heavy use for the next couple of years for you without question. If you're heading to Verizon this week to pick up a new mobile hotspot, this is the one you'll want to be picking up. Grab it without doubting it a bit.