Verizon ICD Ultra LTE Tablet Hands-On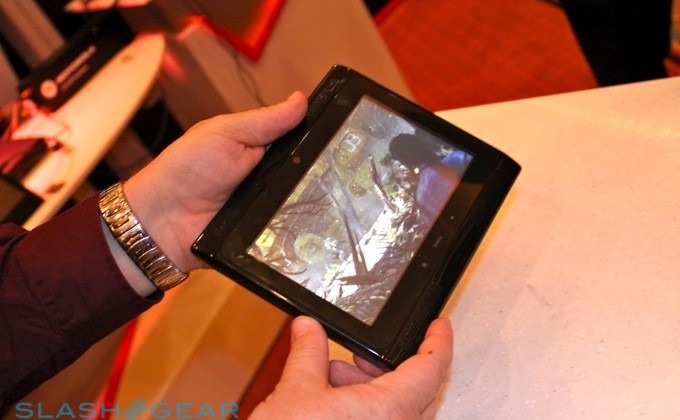 After showing you the T-Mobile ICD Vega tablet in action earlier on, did you really think we'd leave you hanging for its 7-inch LTE Ultra counterpart that Verizon announced a short while ago?  SlashGear sat down with the carrier at their exclusive LTE Innovation Center at CES 2010 earlier today to see the ICD Android slate – which uses NVIDIA's Tegra 2 chipset and a Motorola LTE radio – in action.
Updated with video after the cut!
Since it has a screen half the size of the Vega, the Ultra is obviously smaller and more suited to mobile use.  Despite that, thanks to the Tegra 2 it's capable of outputting 1080p Full HD video via a mini HDMI port; Verizon had their demo Ultra hooked up to an HDTV and were playing Avatar clips, and the film was crisp and smooth.  Playback on the Android tablet's own 7-inch display was just as good, albeit at a lower resolution.  You can find full specifications of the ICD Ultra here.
The resistive touchscreen obviously lacks some finesse in comparison to what we've come to expect from capacitive displays, but worked well nonetheless, and the onscreen QWERTY keyboard (the regular Android 'board) proved usable.  Unlike the Vega, the Android 2.0 build on the Ultra is fully functional (ICD locked down the Vega to make it more family-friendly); that means you can install your own apps and even make voice calls; in effect it's a large-screened LTE Android smartphone.   Verizon had a test LTE network up and running and, as you'd hope, streaming performance was impressive.  HD internet video loaded and played without pause – ICD developed the media app themselves – and web browsing felt as fast as a desktop broadband connection.  To be fair, since we were basically standing on top of the LTE transmitter a strong signal was a given, but we've high hopes for real-world performance.
Of course, there's not much point in commercial availability until Verizon have an LTE network in place for the Ultra to use; the carrier reckons it'll have 25 to 30 markets in service by the end of 2010, and wouldn't be drawn on when exactly the ICD tablet might arrive (nor for what price).  What they did say was that it would "be brought to market by Motorola", which seems to imply it will carry the Motorola rather than the ICD brand.
[vms 1a4be65601cc6ddc1520]