Verizon HTC One Max appears ready for Winter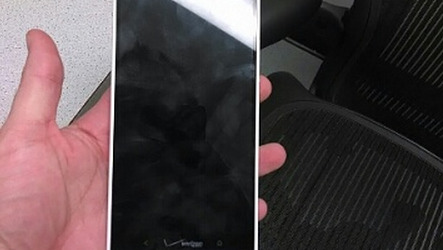 This holiday season you may well be looking to grab the larger relative smartphone of the HTC One from Verizon, so says a leaked set of photos showing this HTC One Max with its much-more-massive display and the carrier's logo up front. This would be an odd move for Verizon as they waited until the DROID DNA – aka the massive Butterfly S from overseas here in the USA – to expire before they released the HTC One. It would be strange because the HTC One Max might compete with the HTC One – but then again, so does the Galaxy Note 3 compete with the Samsung Galaxy S 4.
What would appear this week is the HTC One Max with a back-facing fingerprint scanner and – believe it or not – removable backside cover. This information comes from an anonymous source speaking in the Android Central forums, suggesting that both of these backside features are true, despite images of just the front of the smartphone. You'll also see an iPhone 5 or iPhone 5s near the device for a very basic size comparison.
If this device does prove to be legitimate, it'd be a rather large show of power from Verizon, right along the lines of the Verizon-branded home button for the Samsung Galaxy Note II. Here we'd see the Verizon logo not only sitting up front and center of the phone, but literally replacing the HTC logo altogether.
ABOVE: you'll find a set of photos from this and several previous leaks of the device internationally.
This logo would sit below the smartphone's massive 6-inch display with BoomSound speakers above and below, while the HTC One Max works with a body that takes cues from both the HTC One and the HTC One mini – extra plastic around the edges, after all. Have a peek at the HTC One Max timeline below for more – and expect this device to be revealed (if not launched) within weeks.