Verizon Galaxy S III pre-orders open for early July delivery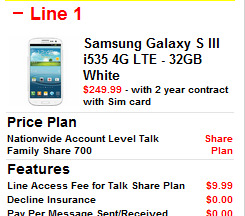 Verizon has thrown open the pre-order doors for the Samsung Galaxy S III, though buyers of the new third-gen flagship shouldn't expect to see their new toy until early next month. According to SlashGear readers who've stumped up the $249.99 Verizon is asking – plus two-year agreement, naturally – the estimated ship-by date is July 9 2012.
That means over a month of waiting before the CDMA/LTE version of the Galaxy S III – aka the Samsung i535 4G LTE – arrives in their hands. It's a little later than previous talk, which pegged a July 5 delivery, though Verizon does cover itself by saying the pre-order estimate is a "ship by" date.
Unusually for a Samsung device in the US, the aesthetic of the phone falls in line with that of the original GSM model in Europe. You also get the same 8-megapixel camera, 4.8-inch 720p HD Super AMOLED display and reskinned Android 4.0 Ice Cream Sandwich.
Of course, if Verizon doesn't take your fancy then there are four other carrier options: the new Samsung will hit AT&T, T-Mobile and others pretty much simultaneously. There's more on the European version of the Galaxy S III – with HSPA+ rather than LTE – in our full review.
[Thanks Brandon and Geoff!]