Verizon FiOS TV gets YouTube & web radio access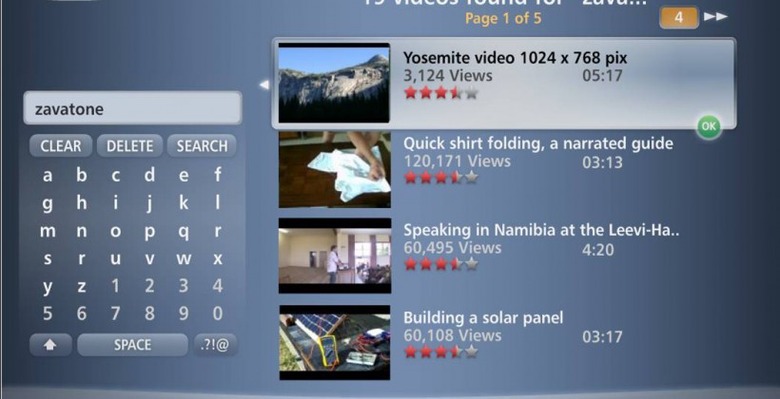 With HDTVs, Blu-ray players, DVRs, HTPCs and cable boxes all offering YouTube access, it's hard to believe there's a mainstream service out there which hasn't slapped streaming video into their offering.  Ironically – given it's all about having a fat pipe for accessing media – Verizon's FiOS TV is a latecomer to the field, with the service just now updated to support browsing and playback of YouTube content all from the TV screen, together with internet radio support.
YouTube joins blip.tv, Dailymotion and Veoh access through the Verizon service, though you'll need to be using the Verizon Media Manager app on a Windows PC in order to do so.  Once it's set up, though, you can either use the regular DVR remote to control it, or the recently launched Android remote apps.
Press Release:
Verizon Enhances FiOS TV With YouTube and Internet Radio

Verizon Further Redefines Home Entertainment by Expanding Internet Content on TV and Making Media Manager Available to All FiOS TV HD Customers

NEW YORK –Verizon is taking the next step in redefining the way people watch TV by adding YouTube to its innovative FiOS TV Internet Video capabilities. Qualified customers can now simply use their remote controls to search for and enjoy any YouTube video — right on their TV screens. Verizon is also introducing Internet Radio, for FiOS TV subscribers, providing access to hundreds of stations nationwide and the ability to stream music from the PC to the TV.

Verizon's Internet Radio and Internet Videos services are both accessible via Media Manager, which already allows subscribers to search and view on their TVs user-generated content from online video-sharing sites blip.tv, Dailymotion and Veoh. In addition, Verizon has expanded the Media Manager service, making it available to all FiOS TV HD customers. Previously, it was available only to DVR customers. The availability of YouTube, the world's most popular online video community, will add thousands more daily videos to the service.

"Adding YouTube and Internet Radio to FiOS TV further expands our customers' digital home-entertainment world by giving them access to an unprecedented amount of online content on the biggest screen in their home – their TV," said Shawn Strickland, vice president of consumer strategy for Verizon. "When customers connect their homes to our all-fiber network, their TV and Internet worlds seamlessly come together to create experiences cable can't deliver. We are working with some of the most popular companies on the Web to create a high-quality, engaging Internet-to-TV experience that will only grow richer with time."

Internet Radio, Internet Videos and all other FiOS TV features can be controlled via Mobile Remote, which Verizon introduced in February. Customers who have a Droid by Motorola or HTC Imagio mobile phone can use those devices as a television remote control. The mobile remote has virtually the same functionality as the standard FiOS remote, plus additional features including instantly transferring photos from the handset to the TV screen.

According to Steven Hawley, principal analyst and consultant of the industry research firm tvstrategies, these latest additions will markedly increase the value of FiOS TV to its customers and move FiOS TV further ahead of competing cable TV products.

"While other providers see the Internet as something of a threat, Verizon has embraced it in order to deliver the kind of socially-enabled personal media experience that so many of today's consumers want to see, and have been asking to have on their TV," said Hawley. "Rather than blurring the line between TV and the Internet, Verizon has moved the line to embrace them both, and has raised the bar against its competition.

Setup Is Easy

To watch YouTube on FiOS TV, customers need a FiOS TV DVR or high-definition set-top box and Verizon's Media Manager software – accessible for Window-based PCs. Users visit http://www.verizon.com/MediaManager to download and install free Media Manager software on their PC. They then access the service by selecting the "Media Manager" option on the FiOS TV Interactive Media Guide menu or through the Widget carousel. Subscribers already using Media Manager simply click on the upgrade prompt to receive the free software update, which will be automatically added to their service by Verizon.

Users can search YouTube and other available video-sharing sites individually, or all sites at once, using key words or by selecting "Most Watched" and "Top Rated" categories; view thumbnail screen grabs of videos that appear in search results and bookmark favorite videos –among other features. Consumers also have the option to watch videos in full-screen mode. Using the FiOS TV remote control, customers can log onto their YouTube account and view their favorite or self-uploaded videos stored with their online account.

In addition to the video-sharing features, Media Manager for PC includes Photo Manager and Music Manager features that help customers organize, manage and enjoy multimedia both on the PC and on TV. The service also includes a library of all personal videos, Internet videos from select websites, photos and music stored on a PC.

FiOS provides next-generation interactive services including an advanced interactive media guide; social-networking, news and entertainment widgets; remote DVR management via broadband or cell phone; multi-room DVR; Internet videos on TV; streaming of personal videos, photos and music from home computers to the TV; and many others.

For more information on FiOS TV, consumers can visit www.verizon.com/fiostv or call their local Verizon sales office or 888-438-3467. Check out the new 'Fans of FiOS' Facebook page to get breaking news on upcoming product releases. For the latest news, updates and information about FiOS TV, visit www.verizon.com/newscenter and http://www.verizon.com/athomeblog.