Verizon Ellipsis 7 Official: Low-End 7-Inch Tablet Battle-Ready

Today Verizon has made their Ellipsis brand official, starting with a compact tablet by the name of Ellipsis 7. This device works with a 7-inch display and Android inside, working with 4G LTE data and a front-facing camera for video chat. This is Verizon's first push into the tablet universe with their very own branded machine – every tablet carried by Verizon before now has been made by Apple, Samsung, LG, and the like.
The Verizon Ellipsis 7 will be appearing to compete directly with the Google Nexus 7. The Nexus 7 works with a multi-band radio inside allowing it to connect with Verizon's 4G LTE network, but as we saw earlier this year, Verizon hasn't been entirely keen on making it as easy to do so as it has with other carriers. In the Ellipsis 7, we see a very good reason why.
Inside the Ellipsis 7 we've got a 1.2Ghz quad-core processor running behind a 720p HD display. The display is IPS LCD in technology and works with a massive 4,000mAh battery. Inside right out of the box you'll find Android 4.2.2 Jelly Bean with room for upgrade in the future – though no word on when.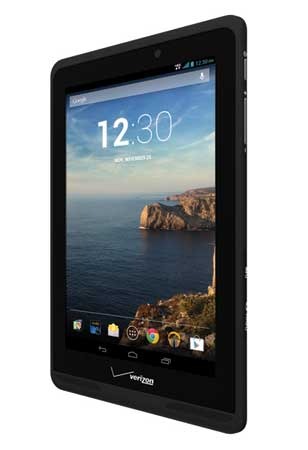 Also under the hood is 8GB of internal storage with a microSD card slot for expansion of up to 32GB more. There are two front-facing speakers on this tablet, both of them near the Verizon logo to its left and right. This device is appearing for a cool $249, but is also ushered in with Verizon's new tablet deal which puts it at $100 USD less, provided you're willing to get attached to a 2-year data contract. Sound alright to you?