Verizon Backs Samsung In Apple 4G Injunction Battle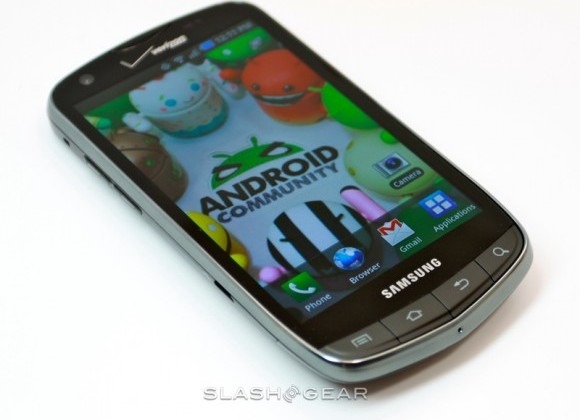 Verizon has demanded that US courts reject Apple's request for a preliminary sales injunction against the Samsung Infuse 4G, Galaxy S 4G, Droid Charge and Galaxy Tab 10.1, arguing that doing so would "run counter to the public interest." A ban on device sales, Verizon claims, would hamstring its 4G LTE roll-out plans, costing the carrier not only in wasted advertising and promotions for the holiday period, but potentially undermine "the job growth dependent on that network." Verizon's "amicus curiae brief," a way for a third-party to offer its views to the court, also suggests that by blocking Samsung's products such an injunction would also negatively affect governmental policy pushing for the expansion of US broadband networks.
Although Apple's request for a preliminary injunction against the quartet of Android-based devices is based on four patents, Verizon's argument addresses, ostensibly, only one. The carrier ignores the three hardware patents, and instead focuses on US Patent No. 7,469,381, which covers "list scrolling and document translation, scaling, and rotation on a touch-screen display."
"Verizon Wireless takes no position on whether a preliminary injunction should be granted if the Court finds a likelihood of success on the infringement of Apple's design patents" the carrier suggests, but continues that "an injunction may cripple the free flow of goods to Verizon Wireless, businesses and consumers." The fact that Apple has specifically called out LTE devices means "the proposed injunction would disproportionally affect the very devices that are most critical to adoption and expansion of Verizon Wireless's next-generation network" the carrier concludes.
There's a more in-depth analysis of the Verizon claims – and what the carrier is and isn't arguing – over at FOSS Patents (it's also worth pointing out that it's a subjective analysis by the author there). The US District Court for the Northern District of California judge presiding over the case will still need to decide whether to accept Verizon's statement, ahead of an October 13 hearing.
It's not Verizon's first outspoken policy opinion of the week. Speaking at an investors conference on Wednesday, company CEO Lowell McAdam backed AT&T in its T-Mobile USA acquisition plans, again taking the stance that blocking the deal would hamper 4G development. Later on, McAdam argued the Microsoft's Windows Phone platform would be the eventual winner in the platform battle between it and RIM's BlackBerry.