Verizon Announces Event for January 11th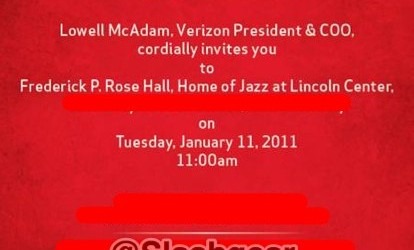 While the Consumer Electronics Show is in full-swing, and Verizon has taken a huge step in making their presence, and the devices launching on their network, known to everyone. But, that's not stopping the company from announcing that they've got something else coming. Our inbox has been hit with a new invite for an event that's happening in four days.
The event will take place in New York on Tuesday, January 11th. Details are obviously missing, but there's plenty of speculation as to what it could be. As we've heard earlier today, it's rumored that the iPhone will launch for Verizon's network on February 3rd. That's supported by the rumor that Apple retail employees are being told that a blackout will be issued for time off beginning at the end of January.
The rumor mill doesn't stop there, though. We've also heard that, starting at the end of January and running through the first week of February, Verizon retail employees are also being told that they will be facing blackout dates as well. It could be a coincidence, but looking back at the announcements that the wireless carrier has made at CES, one would have to wonder what's left to announce. So, as CES wraps up, we'll wait to see what Verizon has left to announce.
Anyone want to take a guess?