Velocity Mobile 103 VGA Smartphone SlashGear Review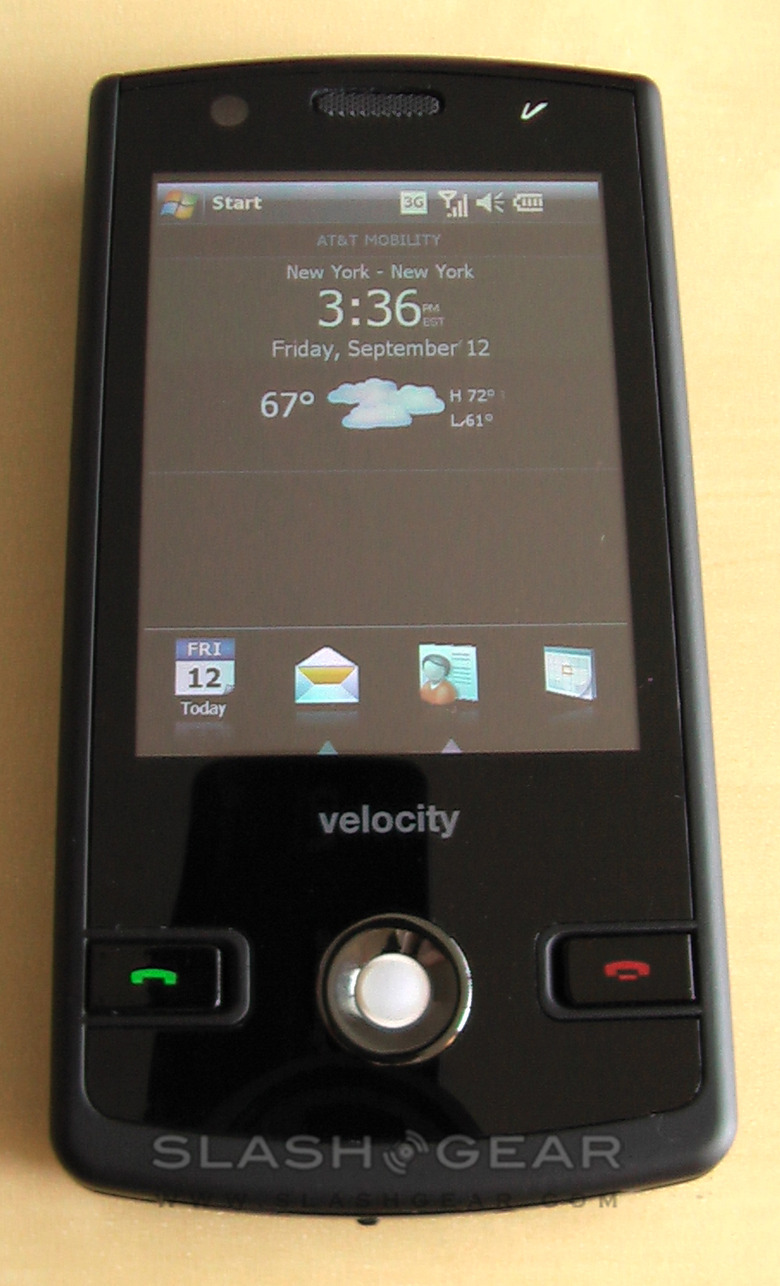 With the current economic climate and the hotly contested smartphone war, it's either a great time or a ridiculous time to be launching a new cellphone.  Velocity Mobile as a company aren't that green – in fact Phone Magazine played with their handsets earlier this year - but they've only just got around to commercially launching their first device, the 103.  With a VGA touchscreen, 3G HSUPA, WiFi, GPS and, as is the fashion these days, a custom GUI sitting on top of Windows Mobile 6.1 Pro, we've been putting the 103 through its paces over the past few weeks.Video demo, unboxing and Velocity Mobile 103 gallery after the cut
The spec sheet reads well, which is always a good start.  As well as quadband GSM and triband UMTS/HSDPA/HSUPA (850/1900/2100), there's WiFi b/g, Bluetooth 2.0 and GPS.  A two-megapixel camera lurks around the back, with a front VGA camera for video-calls.  Primary input is via the 2.8-inch 640 x 480 VGA resistive touchscreen, but there's also a trackball (with click-select) and call/end buttons on the front panel.  On the left-hand side there's a camera shortcut, volume control and shortcut to the Odyssey GUI, while on the right there's a microSD slot that you have to take off the battery cover to access.
On the base of the 103 is a mini-USB port for charging and tethering the smartphone, together with a 2.5mm headphone jack that doubles as an A/V output, and the stylus.  Two styli are supplied in the box, as well as the A/V cable, a USB cable, wired headset, soft case, AC adapter, manuals and a software CD.  The 103 measures a chunky 4.4 x 2.2 x 0.5-inches and weighs 4.5oz.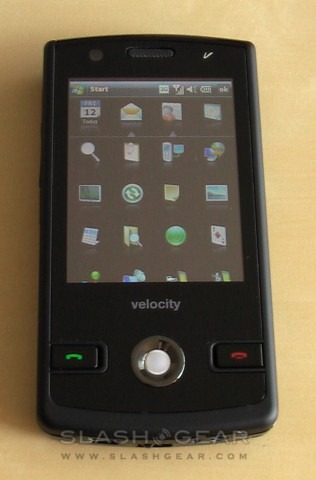 Switch on, and the first thing to impress is the quality of the screen.  2.8-inches isn't huge compared to some devices on the market, but VGA resolution, even at that size, and 262,000 colors makes for a vibrant display.  It's a shame, then, that the default Odyssey color scheme is black, black and more black; yes, it's unlikely to upset anyone, but it also fails miserably at showing off what's arguable the 103's best feature.
Odyssey, like HTC's TouchFLO 3D or Samsung's TouchWiz, is intended to make Windows Mobile more user-friendly.  It primarily consists of a two-stage app launcher, summoned either by swiping a finger up the screen or by tapping the shortcut key on the side, firstly in the form of a four-icon bar along the bottom and then a full 4 x 4 icon grid.  The usual Start menu and status bar remains along the top of the display.
Unlike TouchFLO 3D you can add, shuffle and generally customize the icons on offer, both in the full and smaller menus.  Add more than four apps to the latter and you can flick it from side to side (or scroll with the trackball) to access them.  Holding down on an icon gives an option to close the app altogether, which is a lot easier than Windows Mobile usual makes things.
That's the good side.  Where Odyssey falls down – like the Samsung GUI, as we tested on the Omnia i900 – is in not quite hiding the underlying OS enough.  Too soon you're dropped into the standard WM6.1 apps with little choice, in many cases, but to whip out the stylus and start stabbing.  The biggest culprit for this is the on-screen QWERTY keyboard, a minute affair that frustrates and infuriates in equal measure.
It's a shame, because the 103 has a lot to offer.  As well as being a world-phone with speakerphone, speed-dials, conference calling and the full gamut of messaging options, there's stereo A2DP Bluetooth, assisted-GPS navigation with preloaded Google Maps, Office Mobile and a remote desktop client.  The usual Microsoft Exchange support means push email is a straightforward setup, as well as synchronizing calendar and contacts, and the Velocity task manager does a great job of handling open apps, what of the 128MB RAM and 256MB ROM are free, and how much work the 400MHz Qualcomm CPU is doing.
Windows Media Player 10 Mobile is present for multimedia duties, and courtesy of the A/V output cable it's a straightforward matter to get video clips or recorded files from your Media Center PC showing on a bigger screen.  Whether viewed on the device or through the A/V output, footage ran smoothly and the audio was always in sync. 
One of the defining features of Velocity Mobile's handsets, and something the company is particularly proud of, is the Velocity Over-The-Air (VOTA) update manager.  Addressing the issue of software updates, VOTA basically allows for on-device firmware changes; tap "check" and it pulls up any new functionality, bug fixes or drivers for your 103 and offers them for download.  In many cases no reboot is required, and there's no need to hook up the smartphone to a PC.
It sounds simple, but Velocity Mobile were keen to explain the full extend of VOTA when we met with them at CTIA Wireless recently.  What the basic VOTA interface doesn't show you is that the updates can be totally personalized to your device.  The serial number is apparently kept on file together with full details of your handset, its original configuration, what carrier supplied it (if not bought unlocked) and what regional settings were selected.  New updates, rather than being downloaded and installed individually, are rolled together into a single file, streamlining the whole process.  It also means that, if your 103 software crashes irreparably, you can get straight back to your previous stable settings with the minimum of fuss.
In action, VOTA is something of an reassuring anticlimax, with all the complexity going on behind the scenes.  Since Velocity Mobile are yet to sign deals with any carriers, all handsets are being sold unlocked and without operator-customization to be taken into account.  Nonetheless, the couple of tweak updates we were presented with downloaded and installed in less than a minute over 3G and didn't even ask us to power-cycle the phone.
3G speeds generally are good – network dependent, of course – and voice quality even better.  There's little discernible background noise and callers reported all sounding clear on their end too.  The speakerphone is less impressive, however, suffering from a weak internal speaker and therefore limited usefulness.  WiFi range is good, on a par with a range of notebooks we had on hand, but throughput was more affected by distance.
GPS demonstrated a slow initial lock – taking around three minutes in the open air – but speedy reacquisition in no more than 30 seconds.  Google Maps for Mobile does a good job of offering gesture-controlled mapping, but we missed the intuitive pinch zooming of the iPhone.  However taking advantage of GPS, 3G and WiFi will see the 103's 1410 mAh Li-ion battery soon expire; rated for up to 4hrs talktime or 8 days standby, we managed to halve that former figure with some earnest use.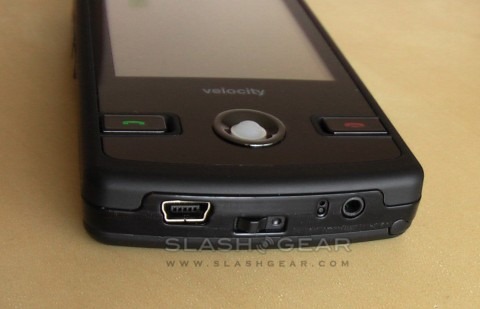 Equally frustrating can be the CPU.  It could be the VGA screen or it could be OS bloat, but 400MHz just doesn't cut it, not if you want the 103 to be snappy.  Thankfully the one time it might be a true deal-breaker, in multimedia playback, this shortcoming does not raise its head, but occasionally lagging touchscreen response and slow applications don't particularly endear the handset.
We're left in two minds about the Velocity Mobile 103.  On the one hand, it's always exciting to see a new entrant to the smartphone market, especially when they attempt to take Windows Mobile in hand and make it more user-friendly.  The 103 takes some early steps to do that, but it's too easy to marginalize Odyssey as a glorified app launcher rather than a true GUI.  It also has a broad palette of abilities and, once you switch to a brighter background, a screen you can be proud of flaunting.  We'd love to see Velocity offer a Google Android OS version, but when we discussed this with president and managing director David Hayes at CTI Wireless he described the company's reluctance to take on such a young, untried platform.
The downsides to the 103 are, inevitably, the price and the processor.  The former is a reality of putting out a full-cost, full-function smartphone among a sea of subsidized competitors.  Most buyers won't have ever paid full-price for their cellphones, and so the 103's $400-500 tag will cause a few intakes of breath.  As for the processor, it's not a deal-breaker but it robs the 103 of that sense of effortless ability that other, more powerful rivals possess.
Consider that it's the first handset from Velocity Mobile on the market, though, and you perhaps become a little more accommodating.  Nothing is truly bad about the 103, and some aspects – VOTA, the copious connectivity, the luscious display – are positively stand-out.  The 103 is a first-generation device and, based on what little we saw at CTIA of the upcoming Velocity line-up, it's passing the best of its DNA to its successors. 
Velocity Mobile 103 Unboxing Video:
Velocity Mobile 103 Hands-On Demo Video: