Samsung Omnia I900 WM6.1 Smartphone Review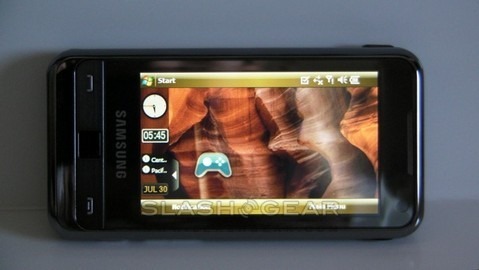 Talk about contentious: Samsung's Omnia i900 has been heralded as everything from the best Windows Mobile smartphone yet, to the oft-fabled iPhone killer.  Take a look at the spec sheet and you can see why, with a 3.2-inch touchscreen, 3G, WiFi, GPS, haptic feedback and a choice of 8GB or 16GB internal storage, the Omnia certainly has the goods on paper.  It's not exactly ugly, either, with metal where the iPhone 3G now has plastic and that clever little optical mouse.  So to the big question: is Samsung's flagship smartphone all mouth and no action?
Check out the video demo of the Omnia after the cut
Let's start with what they've got right.  First off, build quality is great, with just about every touch-point on the Omnia feeling top quality.  The brushed metal back might not be as functional as rubberised rivals, but it feels twice as expensive, as do the straightforward send/end keys on the front.  They flank the optical mouse – a plastic square that tracks your finger's movement and clicks in to select – with the rest of the controls being along the top (the power and reset buttons) and down the right side (menu shortcut, volume/zoom rocker and camera shortcut).
At 127g the 112 x 56.9 x 12.5mm smartphone is solid and generally reassuring.  On the left side you'll find a sturdy loop for fastening on the separate stylus, together with the proprietary Samsung connector for recharging the Omnia or plugging in a handsfree kit.  You'll find both AC adaptor and handsfree in the box, with Samsung providing a 3.5mm adaptor cable should you prefer your own headphones, together with a USB data cable and Windows Software CD.
Switch on, and it's a mixed bag.  The 3.2-inch 240 x 400 screen is relatively bright but not as color-rich as, say, the iPhone 3G or even HTC's Touch Diamond.  An accelerometer flips the orientation from portrait to landscape as you tilt the handset, though the rotation animation is not quite fast enough to avoid being annoying.  Rotation works in all apps aside from the camera.  One added extra above Apple's handset is the haptic feedback, although it's a love-it or hate-it feature.  Basically, the phone quickly vibrates whenever you touch the screen.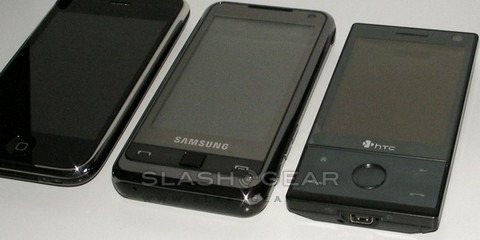 If we were particularly unkind, we might say that the reason for the Omnia needing haptics is because its screen is less than responsive.  Like every other Windows Mobile handset, the Omnia uses a resistive touchscreen; they're simply not as sensitive as the capacitive technology used in the iPhone's display.  The result is a handset where stroking and swiping can be jerky and inaccurate as, unlike the Apple cellphone, you need to keep a regular degree of pressure as you gesture.
Gesturing is something you'll be doing a lot of, as Samsung have followed in the lead of HTC and others by introducing a more "user friendly" graphical interface to Windows Mobile.  In this case it's a version of Samsung's existing TouchWiz GUI, as seen on their F480 'Tocco' and F490.  As with HTC's TouchFLO 3D, TouchWiz is intended to make the handset finger-friendly so that you need never actually reach for the stylus.
Thing is, both the Tocco and the F490 have capacitive touchscreens, and they also don't have the complexity of Windows Mobile 6.1 partially hiding under the surface.  That makes them less flexible, certainly, but in a more controlled environment it's easier to make the interface consistent.  It's consistency that's sorely lacking in the Omnia: the main menu is a joy of big, clear, jabbable icons, which then drop you either into the standard WM6.1 app or an uncomfortable hybrid of Microsoft and TouchWiz.  A little more advanced than the original version of TouchFlo, but several steps behind HTC's latest GUI.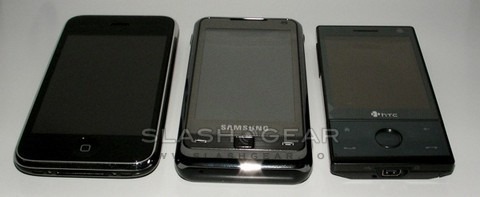 Similarly, the optical joystick is a neat idea but one with mixed results.  It can either mimic a traditional D-pad (up, down, left & right; push in to select) or give you control of an on-screen mouse, with the latter being perhaps more successful.  However the touchscreen rather negates the value of having a mouse at all, and in our general consensus a standard D-pad is more straightforward (in particular, you know exactly how many times you've clicked in a direction with a physical D-pad).  One neat feature (also to be found on the HTC smartphone) is the ability to silence incoming calls simply by turning the Omnia face-down on the table.  Samsung leave this off by default – probably so new users don't wonder why their phone sometimes doesn't ring – but it's useful and deserves to be flagged up in the initial tutorial.
Of course, no matter how you access it, Windows Mobile is a flexible and potentially powerful OS and the Omnia is no different.  There are thousands of third-party apps to be had, and Samsung themselves preinstall Google Maps, Shozu and a customized version of the esteemed Opera Mobile 9.5 browser.  There's the usual messaging suite, supporting SMS, MMS, POP/IMAP email and push-email from an Exchange account, together with Office Mobile (allowing for Word and Excel file editing and PowerPoint viewing), a PDF viewer and RSS reader.  Sadly TouchWiz is yet to extend fully into these apps too, leaving a variety of interfaces from basic navigation arrows to tiny scroll bars.
Perhaps Samsung think the Omnia is more likely to be used as a media device, as its entertainment functionality is much more successful.  The 'Touch Player' replaces Windows Media Player, an exchange few will mourn, bringing with it big buttons, an FM radio (with twelve presets and the ability to record shows) and a bevy of video codecs: MPEG4, h.264 and, more unusually, DivX and XviD.  An optional TV Out cable can be used to play footage back on a bigger screen.  Plug in the USB data cable and anything under 720 x 480 can simply be dragged across, though the Omnia's 65,000 color display might not do them full justice.  Sound quality, though, is excellent, with headphones being the obvious choice but even the built-in speaker doing a decent job.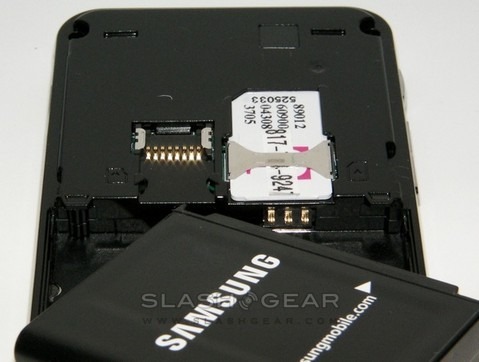 In a useful improvement over both the Touch Diamond and the iPhone 3G, the Omnia includes a microSDHC slot content with cards up to 16GB in size.  Pick the 16GB handset, then, and there's up to 32GB of space to play with; it's enough to make you forgive Samsung for hiding the memory card slot under the rear cover, where you'll need to take out the battery to get at it.
Also lurking around the rear cover is the Omnia's other multimedia weapon, a 5-megapixel camera with autofocus and a surprisingly bright LED flash.  Make no mistake, this puts the Omnia head and shoulders above other Windows Mobile handsets; options are various (resolution, flash, autofocus, exposure, ISO, saturation, contrast and more) and those commonly changed are easily accessed from the main preview screen.  Images can be GPS tagged and then edited on-device, and quality is good.  Video recording is limited to 640 x 480 resolution at 15fps, with files in MPEG4 format, though we found clips to be unduly jumpy in playback.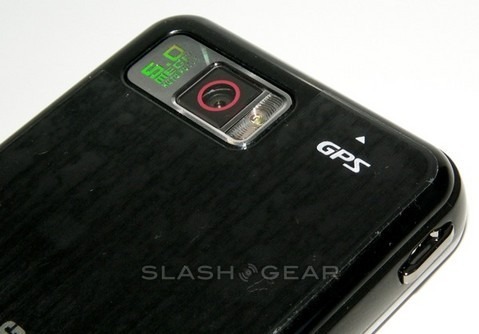 A second, lower-resolution camera is on the front of the Omnia, and that segues neatly into our biggest complaint about the handset: its 3G.  Or, to be more specific, the lack of 3G in the US.  Despite the Omnia being quadband GSM, its UMTS is 2100MHz only: that means the 7.2Mbps HSDPA so many would-be buyers had got excited about will only be available in Europe.  Instead, the Omnia maxes out at the distinctly mediocre EDGE in the US, meaning no video calls, no high-speed browsing using the wonderful Opera browser, and only the most basic of streaming media (music at a push, no chance for video). 
In the midst of testing the handset, we had the opportunity to ask Samsung's US reps about the decision to go with single-band UMTS.  Despite us seeing more than one person there with their own Omnia (all imported, since the handset isn't officially available in the US yet), nobody could explain the bizarre omission.  Nor could they comment on whether Samsung are planning a more US-friendly version for any point in the future.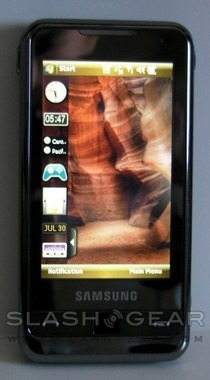 It's a shame, because generally as a phone the Omnia is decent.  Call quality is good, with minimal wind noise or background static and a surprisingly rich tone for both parties, while the speakerphone is as good with talk as it is with music.  The 624MHz Marvell PXA312 processor shows no lags even with multiple apps running (a long-standing bug-bear of WM) and we've had usage times pretty close to Samsung's claimed 500hrs standby or almost 6hrs talktime.  That's probably been helped by only using GSM not 3G.
There's a lot to like about the Samsung i900 Omnia.  The GPS and high-resolution camera both work well, battery life is good and it's undoubtedly a handsome phone.  You can take your pick whether to blame Microsoft for Windows Mobile 6.1's fiddly interface or Samsung for not fully covering it up with TouchWiz; hopefully future versions will do a better job.  What's most definitely Samsung's fault is the absence of US-spec UMTS, and for many of the power-users that would be the Omnia's obvious audience that could be the deciding factor.
If you can live without the 3G (or, of course, if you live in an area that has 2100MHz UMTS) then the Omnia deserves to be on your shortlist.  No, not an iPhone 3G killer, and not even "the best" Windows Mobile phone ever, but a solid option and likely to be a popular one.  If Samsung do the sensible thing and launch the Omnia in the US with right UMTS frequencies, however, you'd certainly be looking at one of the best WM smartphones around.
Click here for the full Samsung SGH-i900 Omnia gallery
Samsung Omnia Video Demo: