VAIO line adds software upgrades, color options, 15.5-inch model SE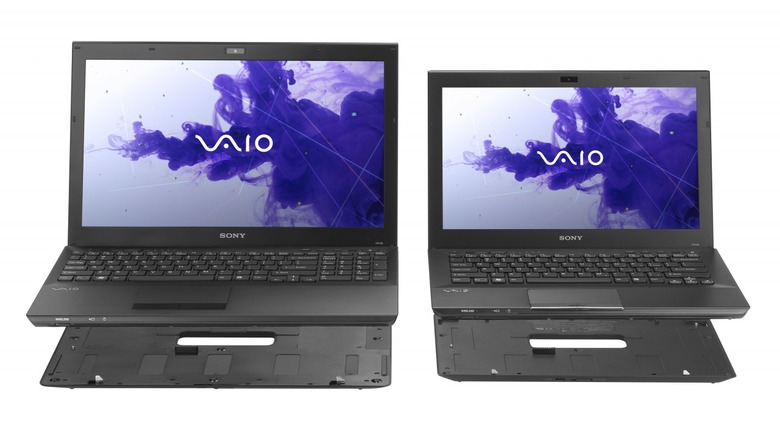 In an announcement that's got some lovely holiday bells attached to it, VAIO today let loose some words on its expanding line of notebook computers. Where earlier this year the VAIO SA 13.3-inch screen size-having member of the VAIO S series, now there's a 15.5-inch model called the VAIO SE. In addition to a larger screen size and a dedicated 10-key, the entire piece of hardware is less than 1-inch thick, the VAIO SE has AMD Radeon Hybrid Graphics (up to 1GB VRAM) as well as a cool sheet battery that'll "double" your battery life. In addition to this, a software update comes to VAIO F and VAIO L desktops.
The news came rushing in with another update, this time to the VAIO SB line with a new color option – red, added to the black, white, blue, and pink options already available. All three lines, SA, SB, and SE, feature 2nd generation Intel® processors ranging from Intel Core i3 to Core i7. Sound nice to you? The software updates to the other parts of the VAIO line will get you jumping for joy as well.
In this newest refresh, both the VAIO F and L CPUs ship with 2nd generation Intel Core processors as well as a slew of pre-installed software. Inside you'll find the Sony Imagination Studio Multimedia Edition, this including Vegas Movie Studio HD Platinum, ACID Music Studio, and Sound Forge Audio Studio. That's more than $200 USD worth of software in the machine right off the bat.
And you didn't think they'd update every other letter and leave the VAIO C and E to sit, did you? Now you'll be able to get the VAIO E with a Core i5 processor and the VAIO C with a Core i7 if you wish, and Y – there's a Y, too, will be coming out in black in addition to its already available pink and silver. AND, yes there's more, starting on 10/6/2011, VAIO customers get a free Music Unlimited plan for 180 days – if they're a new subscriber, that is.
It's a VAIO holiday for all!