Sony Debuts New VAIO E And C Series Laptops With More Colors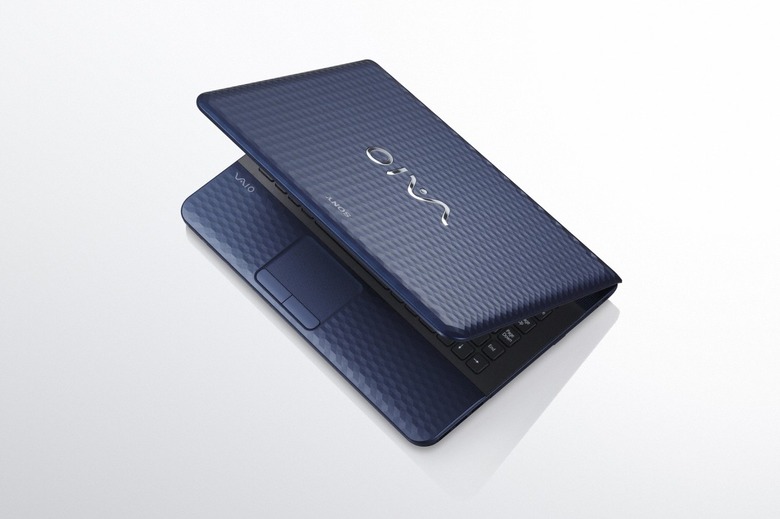 Sony today debuted the new VAIO E Series and C Series that all combine colorful stylish designs with good specs and affordable price tags for the everyday user. Both series come with multiple size and color options, with the the C Series available in a new neon red and thunder blue that's sure to grab some attention while you work or enjoy your multimedia on the go.
The Sony VAIO E Series laptops come in 14-inch and 15.5-inch models and are available in four colors: midnight blue, glacier white, charcoal black, and blush pink. There's also a 17.3-inch model, but it comes in only charcoal black or glacier white. A geometric pattern throughout the lid and palm rest areas adds a unique touch of style and is fingerprint-resistant.
Other than looks, the E Series packs a second-generation Intel Core i3 or i5 processor. The 15.5-inch model in charcoal black can also have the option of an AMD E-350 dual core processor with Radeon HD6130 graphics. The E Series will be available for pre-orders beginning June 19 on Sony's website and will be priced starting at $550.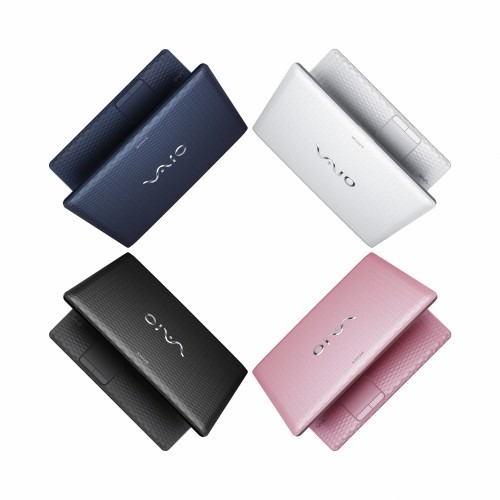 The Sony VAIO C Series laptops are available in two new colors of Neon Red and Thunder Blue and come in both a 14-inch and a 15.5-inch model. Select models come with the second-generation Intel Core i5 processor, Blu-ray Disc drive, and Radeon HD 6630M 1GB Hybrid graphics. Pre-orders for the C Series will also begin June 19 on Sony's website and will be priced starting at $730. The Neon Red color will be available this summer only through select retailers.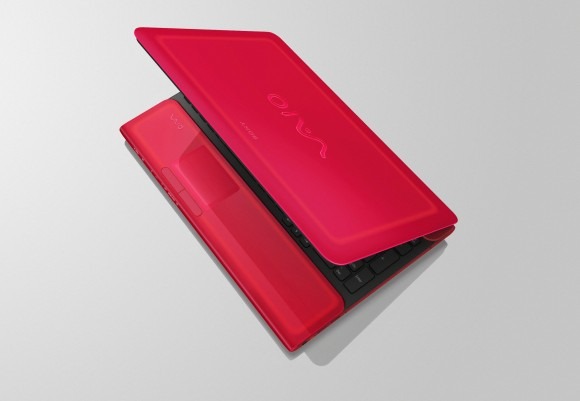 Press Release:
SONY VAIO E SERIES LAPTOPS BRING EXCEPTIONAL DESIGN TO EVERYDAY USE

SAN DIEGO, June 15, 2011 – Sony today debuted a new, artfully-crafted collection of its affordably-priced line of VAIO® E Series notebooks.

The E Series 14-inch and 15.5-inch notebooks are available in four stunning colors— midnight blue, glacier white, charcoal black and blush pink — while the 17.3-inch model comes in charcoal black and glacier white. Geometric patterns appear on the lids, and on matching palm rests, and all the colors are fingerprint-resistant to help keep the models looking brand new while users stay connected and entertained.

"The VAIO brand stands for excellent quality and standout design," said Mike Lucas, senior vice president of Networked Technology and Services Division at Sony Electronics. "The new E Series delivers both, plus entertainment and connectivity options, at a price the everyday user can afford."

On top of its great looks, the E Series' textured, dimpled touchpad, edge-to-edge isolated keyboard featuring an integrated number pad (15.5- and 17.3-inch models only), and three unique hardware buttons: WEB, VAIO and ASSIST provide a great user experience.

The WEB button provides a one-touch Internet connection without a full boot into Windows® while the VAIO button launches Media Gallery™ software, Sony's intelligent playback software. The ASSIST button opens VAIO Care™, a built-in troubleshooting and maintenance program.

Entertainment options abound in the new E Series. With the integration of Intel Wireless Display technology (select models), users can easily enjoy online and laptop-stored content like videos, photos, online TV shows and movies on their big screen TV (with an adapter, sold separately) with up to 1080p resolution. Also available on select models are Remote Keyboard, which connects the VAIO PC to a BRAVIA TV and a Blu-ray Disc™ players (select models). Also available is Remote Play for PS3, which allows access to content stored on the PlayStaton®3 over the internet.

Entertainment features available on all models include an LED backlit LCD screen for better clarity, detail, and crisp colors, an HDMI® output (cable sold separately) for a wired connection to an HDTV set, and a built-in microphone and web camera with face-tracking technology for crystal-clear video chats.

Processor options in E Series include a 2nd generation Intel® Core™ i3 or i5 processor with Intel ® Hyper-Threading and Turbo Boost technology 2.0, delivering the performance needed for multitasking. An AMD E-350 Dual Core Processor with AMD Mobility Radeon™ HD6130 Graphics Vision Technology for advanced graphics and beautiful detail also powers a 15.5-inch E Series notebook which is available in charcoal black.

Pricing and Availability

The VAIO E Series notebook will retail starting at about $550. It is available for pre-order starting June 19 online at http://www.sony.com/eseries. It will also be sold at Sony Stores and at other major retailers around the country starting next month.

Editor's Note: For complete specifications and digital images, members of the news media are invited to visit Sony Electronics' news and information web site at www.sony.com/news. For all things VAIO visit www.sonyelectronicscommunity.com.
BRIGHTEN YOUR SUMMER WITH SONY'S NEW VAIO C SERIES LAPTOPS

WHO:

Sony Electronics

WHAT:

New Sony® VAIO® C Series laptop:

Get portability, performance and multimedia entertainment in the new Sony VAIO C Series laptop. It is available in two new colors, Neon Red and Thunder Blue, and in 14-inch and 15.5-inch screen sizes. A second generation Intel® Core™ i5 processor (select models), Blu-ray Disc™ drive (select models) and AMD Radeon™ HD 6630M 1GB Hybrid graphics (select models) give you visibly smart performance and amazing picture quality all in a one-of-a-kind design.

Intel® Core™ i5 processor for visibly smart performance with a boost

Intel® Core™ i3 processor visibly smart performance starts here

Windows® 7 Home Premium

Create, edit & share your digital life with Sony Imagination Studio™ Suite 2 VAIO® Edition (for Signature Collection models only)

The 14-inch model provides up to nine hours of battery life and the 15.5-inch model offers up to eight hours of battery life with the standard lithium ion battery

Share your laptop content wirelessly on your HDTV with Intel® WiDi (adaptor is sold separately)

Type and chat in dim light with backlit keyboard with number pad (select models) and HD web camera powered by Exmor™ sensor technology

Hybrid Graphics deliver power when you need it and lowers power consumption when you don't (select models)

Shortcut buttons provide quick access to the web, Media Gallery™ software and VAIO Care™

WHEN:

The VAIO C Series laptop will be available for pre-sale on June 19 at http://www.sony.com/cseries for a starting price of about $730. It will be available in Neon Red this summer exclusively through select retailers include ABT Electronics, B&H Photo, Fry's Electronics, J&R Electronics, MicroCenter, Nebraska Furniture Mart and Sony Stores. It will also be available in Thunder Blue at other major retailers around the country starting next month.