VAIO Hybrid PC Featuring Sony's Thunderbolt Port?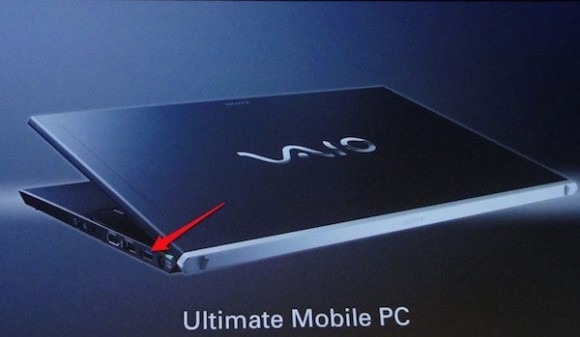 Have a peek at the image below and tell me what you see. Does that look like a Thunderbolt port to you? According to a "trusted source" speaking with Engadget it is. What's important here, perhaps even more important than the idea that this actually is a port that supports Sony's upcoming Thunderbolt interpretation is that this could mean that Sony is indeed sold on the idea of Thunderbolt and instead of going with Apple's Mini DisplayPort implementation, they've chosen a USB port.
This Type-A USB jack on what's being called Sony's new Ultimate Mobile PC VAIO Hybrid PC, of which not a whole lot is known other than whispers of "USB 3.0 jack, HDMI, Ethernet, AMD Whistler discrete graphics, and a Blu-ray Disc writer." Plus it's got a dock that attaches to VAIO's Thunderbolt jack. What does that mean? Is it on their newest laptop here or is it on some sort of dock?
Another site sure of the idea that Sony will be using USB to implement Light Peak (now called Thunderbolt) is GulaDigital, they being very excited that Sony would use an industry standard rather than a new port like Apple has done. This raises the question up to you, the reader – do you think it's a better idea to have a whole separate port the way Apple's done it on their newest wave of MacBook Pros and etc, or do you think an upgraded USB port is best?
See Apple's Thunderbolt Port: A Closer Look for more information on the Mac interpretation.

Think while you're thinking about it how limited both choice is. For the USB choice, you've got no speedy video delivery. For Apple's version, you've got a limited amount of choices for cords that can plug in that port. Intel is not convinced, Canon camera is opting in, and Lacie's already got an external HD almost ready. Is Thunderbolt here to stay?