US Cellular's Moto X launch date leaks as August 26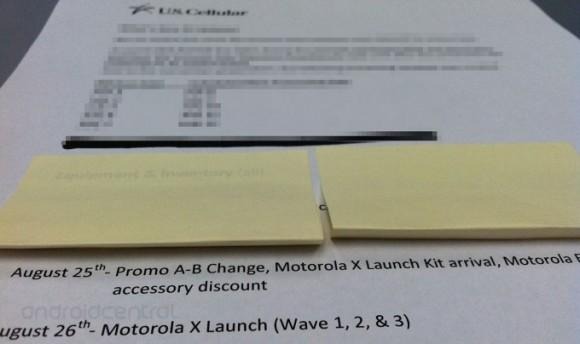 We're still waiting to hear something official from Motorola and carriers about when the Moto X will be making its way to consumer hands, but a leak has surfaced suggesting that it won't be too much longer. On the Moto X forums over at Android Central, a picture of an internal US Cellular document has surfaced with all the data blanked out except for two dates, with one showing the handset's launch.
According to the leaked image, the Moto X will be launched on August 26, with the carrier receiving the "Motorola X Launch Kit" the day before that. The image specifies the launch on that day will be "Wave 1, 2, & 3", which is being suggested as possible US Cellular retail stores in various markets. If that is true, certain other markets could see a delay in getting the handset.
The Moto X has been seen in numerous leaks, with everything from specs to videos and back again. Earlier this week, a video surfaced showing an official Rogers promo for the Moto X, giving a look at its functionality, including its voice commands capabilities and a brief look at the camera software. The video seems to confirm what we already heard – that in Canada, it will be a Rogers exclusive.
Aside from many images that have cropped up said to be of the handset, it was spotted in use by Google's Eric Schmidt. We've also already seen the purported launch dates for the flagship offering on Verizon, which is pegged at August 23. You can see the rest of the (quite numerous) leaks in our Moto X tag portal.
According to leaked specs, the handset will feature either a 4.3- or 4.7-inch 720p display, as well as Bluetooth 4.0 + EDR and support for 802.11AC wifi. The Android on the device is said to be either stock or near stock, according to some leaks, and, of course, the handset will be available with numerous customization options, including engravings and different colors.
SOURCE: Android Central